The Final SRT Demon Countdown: The Last Dodge Challenger SRT Demon to be sold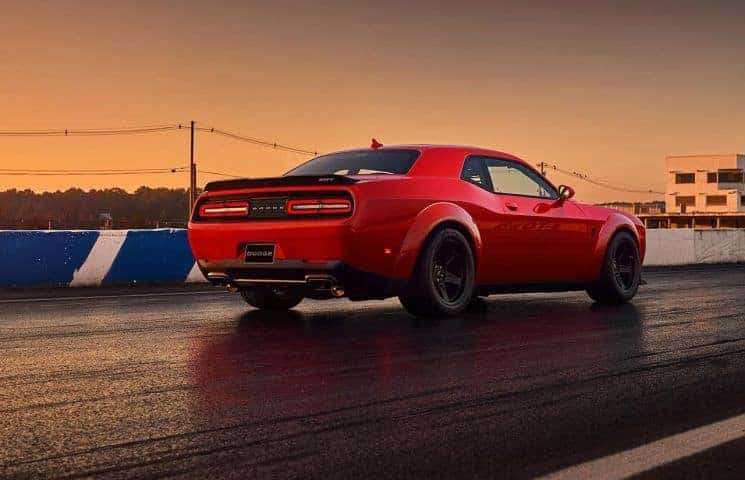 There's an upcoming auction for the last production model of the 2018 Dodge Challenger SRT Demon. Unfortunately, this red hot muscle car a.k.a. the Dodge Challenger SRT has a limited production of just 3,300 models for the 2018 model year. During the same auction of the Dodge Challenger SRT Demon, the last remaining model of the 2017 Dodge Viper, will be auctioned in tantum.
What's Included for the Highest Bidder?
There's no mistaking the sheer performance and speed each vehicle possess, and the bidding of both vehicles could go up to several hundred thousand dollars. The name Viper has become ingrained in the heritage of great American muscle that was eventually surpassed by the speed and power in the Dodge Challenger SRT Demon. Time will tell, but certainly there's no mistaking owning both will provide owners with two of the fastest, best American made cars that will no longer be produced. The winning bidder will have their hands on two production cars that rewrote the history of muscle with a combined 1,485 horsepower between both vehicles! That kind of speed might be too much for one person.
Both vehicles are painted in an exclusive Viper Red exterior color and include exclusive badging, specific VIN documentation build package and come together as part of one auctioned price. This is a once-in-a-lifetime memorabilia auction that also includes the Demon Crate with custom Dodge car cover, black interior Alcantara leather seats, front passenger seat and trunk carpet kit.
More on Each Vehicle
The 2018 Dodge Challenger SRT Demon carries unmatched speed as the fastest production vehicle. Drivers will feel the power going from 0-60 MPH in 2.3 seconds, and attract eyes like no other muscle car on the road today. The world's most powerful production engine, the prize of the Dodge Challenger lineup, is only found in the supercharged 6.2-liter HEMI V8 engine inside the SRT Demon. This engine produces up to 840 horsepower and 770 lb-ft of torque.
The 2017 Dodge Viper is also a powerful performance vehicle that delivers up to 645 horsepower from its 8.4-liter V10 engine. The 2017 Dodge Viper has a 2-person seating capacity and delivers as a fast performance vehicle. This is the last chance for collectors to get their hands on either vehicle, included the last produced Dodge Viper and Dodge Challenger SRT Demon ever made.
Where and When the Auction Begins
The final production for the 2017 Dodge Viper was at the Conner Avenue Assembly Plant in Detroit in the fall of 2017. It will be joined by the last production model of the SRT Demon as they travel to the Mohegan Sun Resort in Uncasville, Connecticut for the auction which runs from June 20-23, 2018.
This is the only chance any one will have to own a piece of history. "An avid collector could search a lifetime to try to put two vehicles of this pedigree together and never find it, it's that elusive," said Steve Beahm, head of Passenger Car Brands, Dodge//SRT, Chrysler and FIAT – FCA North America.
Where To Find Dodge Vehicles
Your friends at University Dodge are professional, helpful and can help you find the vehicle you want. If you're hoping to drive a new 2018 Dodge Challenger, we have plenty for you to choose from. We welcome you to check out our newest vehicles and our collection of pre-owned vehicles. If you're in the market to trade-in or sell your vehicle, we can help you out as well.
Stop by and experience the difference you'll find at University Dodge and we look forward to helping you drive away in a fantastic vehicle. If you're in need of vehicle servicing, we can help even if you didn't do any business with us, we'll be happy to support you. From oil changes to tire rotations, we'll take care of your current vehicle needs. A simple appointment will help us get ready to repair and service your vehicle. Stop by today!