University Dodge Events and Davie Community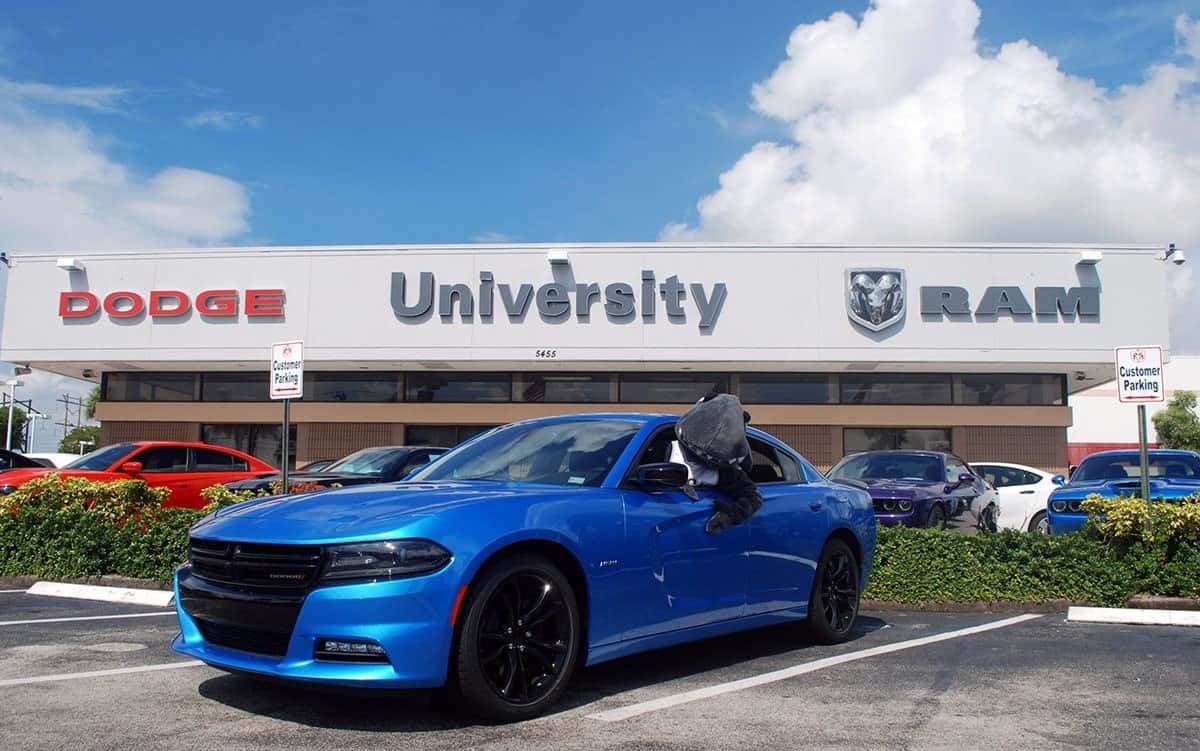 Located in Davie, near Fort Lauderdale and Miami in the heart of South Florida, University Dodge loves our community. Each year, we are very involved with a variety of local events. In addition to our major events at the Davie Pro Rodeo and the Mopar National Car Show, we have also partnered with Nova Southeastern University for the 2016 and 2017 year. Below are details about what we have been involved with this year and what is to come.
Additionally, we are the largest volume Dodge and Ram dealership in South Florida, so we get the exclusive limited-edition Ram and Dodge vehicles before other dealerships. Details on those vehicles are included below.
Nova Southeastern University Athletics and University Dodge Sponsorship
University Dodge is sponsoring the athletic events held at Nova Southeastern University for the 2016 and 2017 academic year. From August to June, we are working with NSU's coaching staff, alumni, professors, employees, students and talented athletes in support of NSU's athletic program.
Throughout the year, University Dodge will be attending volleyball, soccer, basketball and baseball games giving away prizes and cheering on the athletes. Occasionally, we'll even have one of our vehicles on display at the Don Taft University Center so everyone can get a closer look at all of the excellent features available on Dodge vehicles and Ram trucks. For more information on our specials and attendance at Nova Southeastern University, click here.
Davie Pro Rodeo Sponsor
Year-round, at the Bergeron Rodeo Grounds in Davie, FL
Each year, there are five Davie Pro Rodeo events held at the nearby Bergeron Rodeo Grounds and we sponsor all of them. With big GVWR trucks being a staple among cowboys and riders that trailer horses, we always have the biggest and baddest trucks on display at the rodeo. The annual events include: the Orange Blossom Festival and Rodeo in February; the Festival of the Americas at the Davie Pro Bull Riding event in April; Davie Pro Rodeo events in June and September; and the year ends with the Southeastern Circuit Finals Rodeo in November.
Fort Lauderdale International Auto Show and Ticket Giveaway
March 24-27, at the Broward County Convention Center in Fort Lauderdale, FL
To assist Fiat Chrysler America (FCA) at the Fort Lauderdale International Auto Show in 2016, University Dodge partnered up with nearby Hollywood Chrysler Jeep, to display the FCA brands, Jeep, Chrysler, Dodge and Ram at this year's Fort Lauderdale International Auto Show.
As a brand that is known for horsepower and speed, University Dodge had a 2016 Dodge Viper ACR Edition and a 2016 Dodge Challenger SRT Hellcat, a vehicle that produces a jaw-dropping 707 horsepower on display for visitors to see.
At this past year's show, which was held on the same weekend of the debut of Batman v Superman: Dawn of Justice, a movie which partnered up with Jeep and Dodge, both dealerships gave away free movie tickets and $100 gift cards to auto show attendees.
Annual Florida MOPAR Nationals Car Show and Swap Meet
Sunday, March 5, 2017 from 10 a.m.to 4 p.m. at University Dodge
Each year, University Dodge clears out our lot to make way for more than 150 cars and hundreds of spectators that attend the Annual Florida Mopar Nationals Car Show and Swap Meet and AMC. The 2016 event was a success as usual and the next event is scheduled for March 5, 2017.
The car show is open to all MOPAR and AMC vehicles and vehicles will be evaluated by trained judges. "Best of Show," "Dealer's Choice," and "Participant's Choice" awards are given in both the classic and modern categories, and all participating cars will receive a gold, silver or bronze plaque. There will be a model car contest presented and judged by Model Car Creations of South Florida.
Event attendance is free and open to the public. All proceeds will go to the Darrell Gwynn Quality of Life Chapter of the Buoniconti Fund to Cure Paralysis. The fee to enter a car in the car show is $25 and you can register online at www.floridamopar.com, or at the show.
The show is presented by the Florida MOPAR Connection Car Club and sponsored by Rob Lambdin's University Dodge and Darrell Gwynn Quality of Life Chapter of the Buoniconti Fund to Cure Paralysis, Rob Lambdin's University Dodge is located at 5455 South University Dr. in Davie, Florida.
Special-edition Dodge and Ram Trucks
University Dodge always gets the limited-edition vehicles made by Dodge and Ram because it is known that our community likes to drive something unique. This year, Dodge released the limited-edition Go ManGo color on the Dodge Charger and Challenger lineups, and Ram Trucks has released two limited-edition truck models, the Ram 1500 Yellow Stinger Sport and the '16 Mopar Ram Rebel, and we are one of the only dealerships to have a complete selection of all of these limited-edition models available.
New 2017 Dodge Charger Daytona and Challenger T/A
In August, Dodge released the news of the newest Charger and Challenger models, which will be available this fall. Both models are throwbacks to previous race-inspired models. We can't wait to start taking orders for both models. Orders for the Charger Daytona open up in September and orders for the Challenger T/A open up in October. More information on both models here.
'16 Mopar Ram Rebel
Ram is only making 500 of these models, and University Dodge has a black '16 Mopar Ram Rebel available now! The base vehicle is a Ram 1500 4×4 Rebel crew cab and it features a unique selection of Mopar performance parts and accessories from Mopar, the service, parts and customer-care brand of FCA US LLC. While Mopar Custom Shops has created several limited-edition Mopar vehicles in the past, they hadn't stepped into the truck segment until now.
Ram 1500 Yellow Stinger Sport
Following up to the high-demand for the Texas-only special-edition color, "Yellow Rose of Texas", Ram added a yellow Ram 1500 Yellow Stinger Sport, a limited-edition model to the lineup and we have a few of the trucks available!
The new truck is available in Crew Cab 4×2 and 4×4 configurations and the new color is just another addition to the bright collection of signature Mopar cars. Among the truck's standard features are a 395-horsepower HEMI V-8, 8-speed TorqueFlite transmission, dual chrome-tipped exhaust and 22-inch wheels (20-inch on 4×4 models). More information on the Ram 1500 Yellow Stinger Sport here.
Go ManGo Dodge Challenger and Dodge Charger
This spring Dodge announced the return of 'Go ManGo' as a paint option on all of the Charger and Challenger trims. Since the orange-based hue was introduced in 1970 on the Challenger, demand for the vibrant color has continually increased – as the paint color is directly associated with high collectability and the "Mopar-or-no-car" legacy.In addition to being available on the Charger and Challengers, 'Go ManGo' is also available on the 2016 Dodge Dart.
Our Go ManGo inventory is available here.