Dodge Won't Sacrifice Performance During Electrification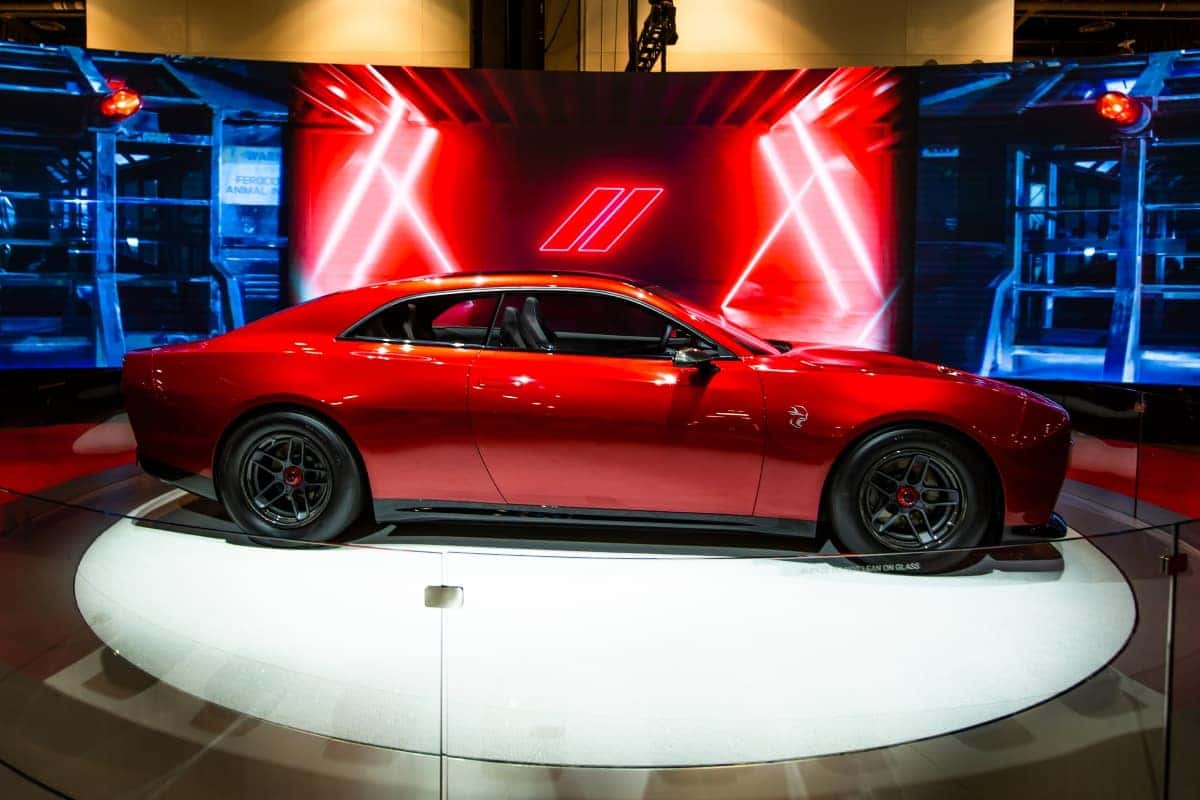 Dodge plans on making muscle cars well into the future even if traditional internal combustion engines are going extinct. The automaker has taken baby steps to slowly introduce its enthusiasts to its electrification plans, putting the Dodge Charger Daytona SRT Concept and Dodge Charger Daytona SRT Stryker Red Concept on display throughout the year (2022). The brand's message was clear–Dodge and its muscle prowess won't be sacrificed in the name of electrification. 
"We're not designing an electric car. We're designing a muscle car that happens to be electric," said Tom Sacoman, Head of Dodge Product. 
Dodge's electrification plans are part of parent company's Stellantis' broader picture of full blown electric conversion for all its brands by 2030. "We are setting the course for 100 percent of sales in Europe and 50 percent of sales in the United States to be battery-electric vehicles (BEVs) by the end of this decade. And we plan to offer more than 75 battery-electric vehicle models and reach global annual BEV sales of 5 million units by 2030," said Stellantis in a press release. Stellantis plans to use three all-electric, modular unibody platforms and one body-on-frame platform across 16 brands. The fully electric platforms are referred to as STLA Small, STLAMedium, STLA Large, and STLA Frame. Dodge plans to build its electrified muscle cars on the STLA Large platform; yielding a range of up to 500 miles on a single charge. Dodge's electrified muscle cars will use a multi-speed electro-mechanical transmission and operate on an 800-volt system.
Dodge believes some of its enthusiasts will be early adopters, just like with any other technology change, but the brand also knows many others may take a while to come around. To combat enthusiasts' doubts and concerns, the brand promises not to compromise when it comes to muscle. Recently, Dodge announced its battery-electric vehicles will feature varying levels of strength–a concept aptly named "eStage." The goal for Dodge remains the same: make a better car than the last one. With every display of its Charger Daytona SRT Concept, Dodge hopes enthusiasts can grasp a clear indication of what the brand's future is going to look like.
Dodge Charger Daytona SRT Concept
The Dodge Charger Daytona SRT reimagines what electric vehicles can be, offering a glimpse at the automaker's battery-electric future. Unveiled as a two-door concept at Michigan's M1 Concourse, the Charger Daytona SRT was part of a larger Speed Week reveal which included other Dodge performance products. Dodge introduced a new propulsion system powering the Charger Daytona SRT, making it unlike any other vehicle on the road today. Exceeding Dodge's SRT Hellcat image was a big task for the automaker, but the all-new concept even comes with an industry-first EV exhaust sound. Dodge looked to the past for inspiration, incorporating subtle heritage cues while also opting for the most modern aerodynamic targets as well. On the inside, the Charger Daytona SRT creates an immersive experience for both passengers and drivers alike with the addition of sounds, displays and other lighting features that change with the push of a button. 
"The Dodge Charger Daytona SRT Concept exists because performance made us do it. Dodge is about muscle, attitude and performance, and the brand carries that chip on its shoulder and into the BEV segment through a concept loaded with patents, innovations, and performance features that embody the electrified muscle of tomorrow. The Charger Daytona SRT Concept can do more than run the car show circuit; it can run a blazing quarter-mile. And when it comes to product cycles, it outruns Darwin. Charger Daytona does more than define where Dodge is headed, it will redefine American muscle in the process," said Tim Kuniskis, Dodge Brand Chief Executive Officer–Stellantis.
In the meantime, explore the latest that the Dodge Performance lineup has to offer here at University Dodge. Check out our Dodge Charger and Dodge Challenger inventory and schedule your test drive today. Be sure to follow University Dodge on social media for the latest Dodge news and offers.
Photo Source/Copyright: Stellantis