Dodge Charger Daytona SRT Concept Stryker Red Debuts at 2022 SEMA Show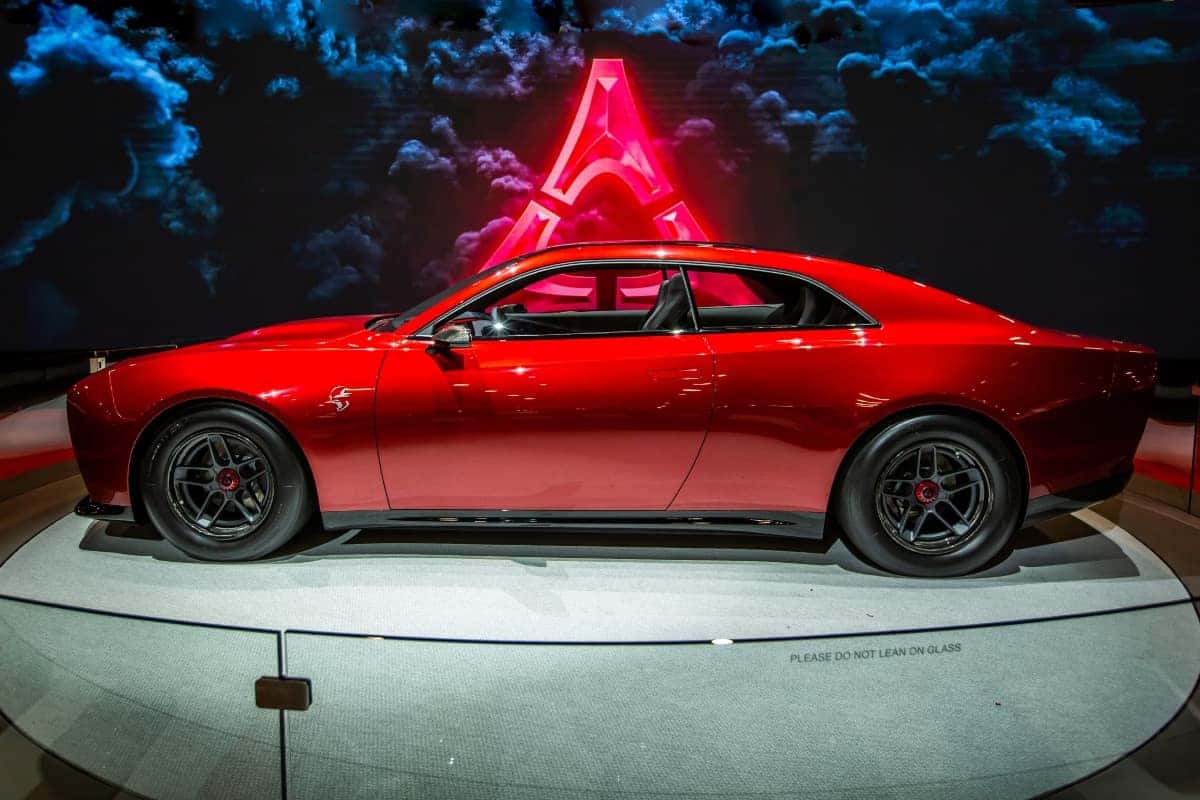 Performance enthusiasts got a glimpse of Dodge's future product lineup as they await the launch of the world's first electrified muscle car. Once again, Dodge will have its Dodge Charger Daytona SRT Concept on display at the 2022 Specialty Equipment Market Association (SEMA) Show in Las Vegas. Automotive builders and tuners will get a peek at Dodge's future starting November 1st. SEMA is notorious for being the world's largest automotive trade event. Dodge has a 19,500-sq.-ft. display, complete with six Dodge "Last Call" 2023 Dodge Charger and Challenger special edition performance cars, a Banshee-powered battery-electric muscle car, and several Direct Connection crate engines. 
"The SEMA Show is one of the great gatherings of the performance culture, and Dodge isn't going to shy away as we develop the next generation of muscle car–one that just happens to be fully electric. Technology moves forward, and the customizers and tuners move right along with it. We're demonstrating how old-school hot-rodding will thrive in an electrified muscle-car future," said Tim Kuniskis, Dodge Brand Chief Executive Officer–Stellantis.
Dodge initially had the Dodge Charger Daytona SRT Concept on display during its Dodge Speed Week event. The Dodge Charger Daytona Concept now lands on the SEMA stage with a few changes. Dodge features three different battery-electric power levels at SEMA, along with two additional Dodge Direct Connection performance upgrades for every power level. Perhaps the most exciting announcement from Dodge at SEMA was when the automaker revealed nine different powertrain outputs regarding the all-electric muscle car concept on display. 
Performance is key when it comes to Dodge vehicles, and the electrified variant is no exception; the all-new concept comes with a 400-volt system capable of impressive outputs such as 456 horsepower or up to 590 horsepower in some cases. Of course, these figures correspond to the yet-unannounced Banshee powertrain package, rumored to  come in two different output levels (340 kWh and 440 kWh), with two different eStage configurations. How will Dodge make these different output levels possible? Direct Connection offers Stage 1 and Stage 2 performance upgrades which rely on a "crystal" key that plugs directly into the dash. Dodge will announce the upgrade levels for the 800-volt Banshee at a later date, but it's definitely confirmed to be in the works. 
Dodge Charger Daytona SRT Concept Stryker Red
For SEMA, Dodge brought its Charger Daytona SRT concept in a tri-coat Stryker Red exterior shade. The latest paint addition was chosen to celebrate the recently-announced Stage 2 Banshee performance upgrade. Additionally, the Stryker Red concept even features "Stage 2" badging and 18-inch Direct Connection lightweight carbon-fiber concept wheels. Dodge also displayed a variety of Charger Daytona SRT Concept configurations on a video display wall, complete with color options, performance configurations, and wheel designs. Dodge hoped to highlight the hallmark of its designs and how the past will continue to inform the future of its vehicles. There are nine unique paint colors, as well as nine wheel combinations–all mated to nine different performance upgrades and Direct Connection configurations Dodge hopes its enthusiasts champion down the line.
In the meantime, explore the latest that the Dodge Performance lineup has to offer here at University Dodge. Check out our Dodge Charger and Dodge Challenger inventory and schedule your test drive today. Be sure to follow University Dodge on social media for the latest Dodge news and offers.
Photo Source/Copyright: Stellantis