2018 Dodge Durango Police Vehicle?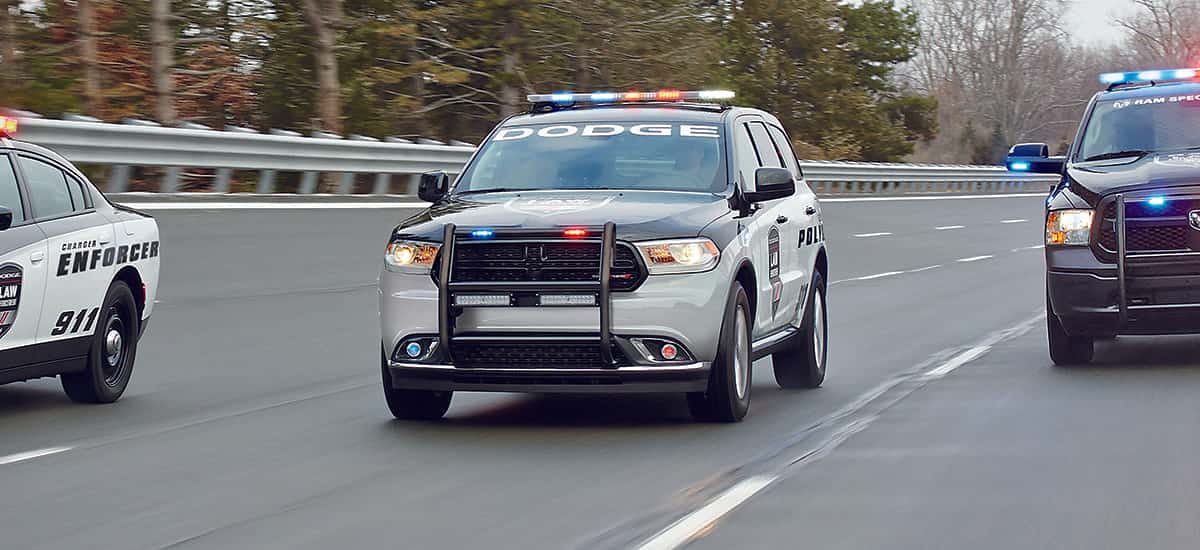 The 2018 Dodge Durango is going to have a new model added to the lineup. However, the new model isn't going to be for the public as the new Durango will be the Durango Pursuit, and like the Dodge Charger Pursuit, it's exclusively for law enforcement officers (LEOs).
Included in the 2018 Dodge Durango Pursuit is the impressive 5.7-liter HEMI V8 coupled with a full-time, active all-wheel-drive (AWD) system. The included HEMI engine with Fuel Saver Technology delivers best-in-class 360 horsepower and 390 lb-ft of torque. The 2018 Dodge Durango Pursuit also provides a two-speed transfer case for true low-range off-road capabilities. Improved heavy-duty, anti-lock brakes that can stop the vehicle in as short as 134 feet from 60 mph to zero.
Rear-wheel-drive-based drivetrain is the foundation for Durango's outstanding on-road driving and the segment's longest wheelbase of 119.8 inches is what separates this vehicle from other options that were in consideration. With Dodge, drivers can always rest assured in a quality vehicle with power and performance that exceed expectations. As evident by the choice to make the 2018 Dodge Durango an option for police fleet vehicles, there's a lot of reasons that many agencies and police forces have chose the 2018 Dodge Durango Pursuit as their choice for SUV needs.
The Pursuit of Perfecting Police Performance
"Unofficial testing results at the Michigan State Police 2018 model-year vehicle evaluation event created such a stir among law enforcement agencies that we simply had to find a way to build this vehicle," said Steve Beahm, Head of Passenger Car Brands, Dodge//SRT, Chrysler and FIAT – FCA North America. "The Dodge Durango is already known as the Charger of SUVs, so it is only natural that the new Durango Pursuit complements the Charger Pursuit in police fleets across the country."
The difference between the 2018 Dodge Durango Pursuit is quite different than the normal Durango model. Additional add-ons are as follows eight-speed automatic transmission delivers quick shifts, 8.1 ground clearance (even higher than the 2018 Dodge Durango SRT 8-inch ground clearance) and the segment's longest wheelbase (119.8 inches) provides added stability and improved handling, and the rear-wheel-drive-based drivetrain is the foundation for Durango's outstanding on-road driving performance. Standard AWD further enhances driver confidence by leveraging the SUV's 50/50 weight distribution.
Some features like the best-in-class 7,200-pound towing capability, are found in the consumer 2018 Dodge Durango and while this vehicle is unfortunately not available to the public for purchase, don't feel discouraged. There's plenty of 2018 Dodge Durango models available at University Dodge and they are ready for you to test-drive as soon as today!
Find Your Own Dodge Durango With Us
Our lineup of new 2018 Dodge Durango vehicles are ready for you to test drive. Our courteous staff is professional and can help with any purchasing, selling, trade-ins or leasing options you request. If you're looking to go home with the power and performance in any Dodge vehicle, you've picked the right place with University Dodge.
We treat our customers with respect and also support any servicing, even if you haven't bought with us for your current vehicle. With a simple appointment, we can make sure to help you out with any oil changes, alignments, tire rotations, servicing brakes and more! We look forward to seeing you for your vehicle needs.