Yes, There's a Dodge Challenger Convertible Available Now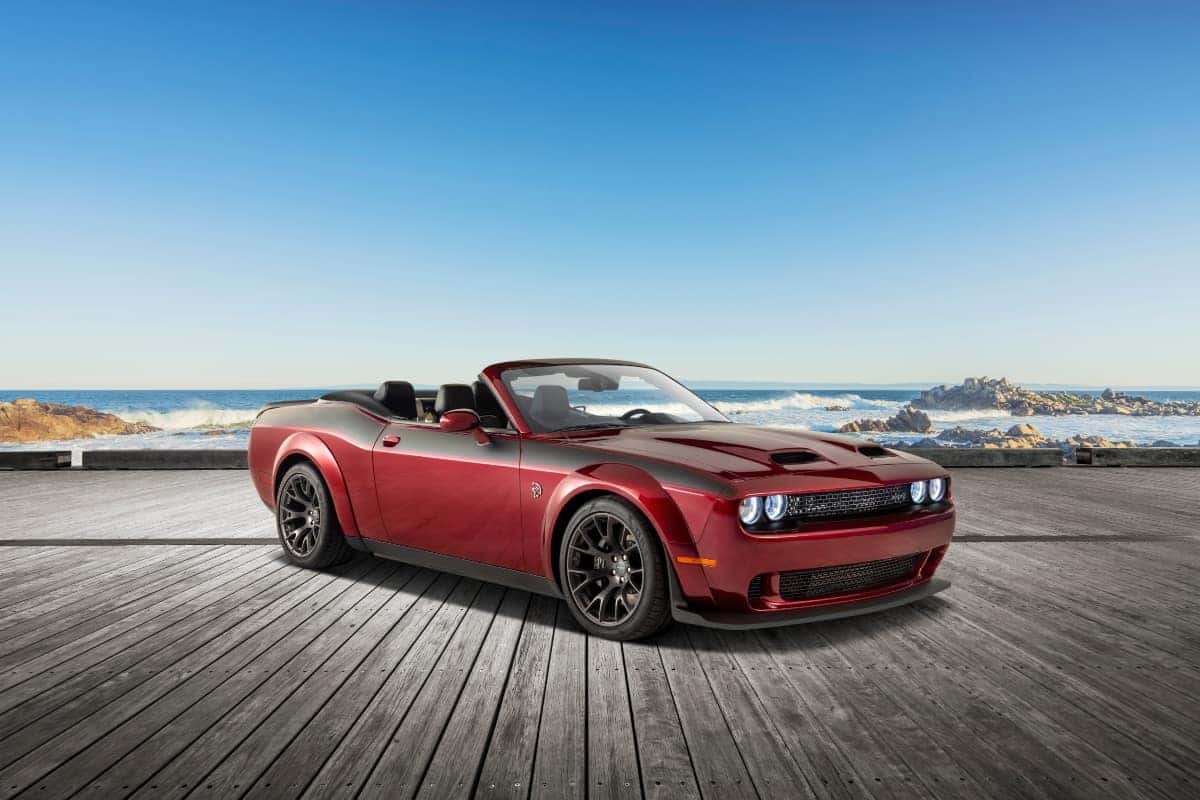 It feels counterintuitive, but the 2022 Dodge Challenger can officially feature a convertible top. Going forward, Dodge will allow third-party modifications to turn the iconic Challenger into a convertible thanks to Drop Top Customs, known as the oldest convertible coachbuilder in the U.S. The latest process introduced by Dodge allows buyers to place third-party orders and pick up the finished vehicle of their dreams at participating Dodge dealers. As of August 16 (2022), Dodge dealerships will be able to take retail convertible orders. Additionally, the peculiar option is also available for the 2023 Dodge Challenger when the automaker opens up its order books for the following model year. Dodge made the groundbreaking announcement at its Dodge Speed Week event series at the M1 Concourse in Pontiac, Michigan. 
"While we hit the throttle toward our new performance path, Dodge is also having fun on this victory lap by celebrating decades of muscle car power. What better way to commemorate how far we've come than to make it easier for Dodge Challenger customers to create a throwback convertible look. We may not upfit them, but those who want a convertible Challenger can get one faster, expedited from the factory to Drop Top Customs. Owners can order third-party modifications through our Dodge dealerships, then pick up their finished convertible at the dealer once the vehicle is complete," said Tim Kuniskis, Dodge Brand Chief Officer–Stellantis.
Dodge only offered convertibles of its famed Challenger model in 1970 and 1971. Fast forward half a century later, and Dodge dealers are now equipped to help customers order the convertible Challenger of their dreams thanks to a simple and integrated transportation process. Buyers who opt for a Dodge Challenger convertible will work closely not only with Drop Top Customs, but with their Dodge dealership as well to be sure their vehicles are built to their specifications. Once the order is placed, the dealership is responsible for scheduling the vehicle's transport from Stellantis' Brampton Assembly Plant directly to Drop Top Customs to expedite the customization. Dodge is also offering an expedited shipping option for all Top Drop Customs clients.
Drop Top Customs
With over 46 years of modification experience, Drop Top Customs is the go-to customizer when creating convertibles, including the iconic (and modern) Dodge Challenger. Drop Top Customs installs a fully hydraulic power top that includes structural reinforcements that work to reduce body flex while maintaining the interior space the Challenger is known for. Buyers can expect not only quality design, but also a padded roof and a heated rear glass window for optimal sound, comfort and insulation. Drop Top Customs' third-party Challenger convertible top retails at $25,999, although final pricing is negotiated and confirmed with the dealer. Buyers can learn more about customization, including warranty information, via Drop Top Customs.
In the meantime, explore the 2022 Dodge Challenger here at University Dodge. Check out the latest Dodge inventory and schedule your test drive today! Follow University Dodge on social media to stay up to date with the latest Dodge news and offers.
Photo Source/Copyright: Stellantis