Why the 2022 Ram 1500 TRX Is a Cut Above the Rest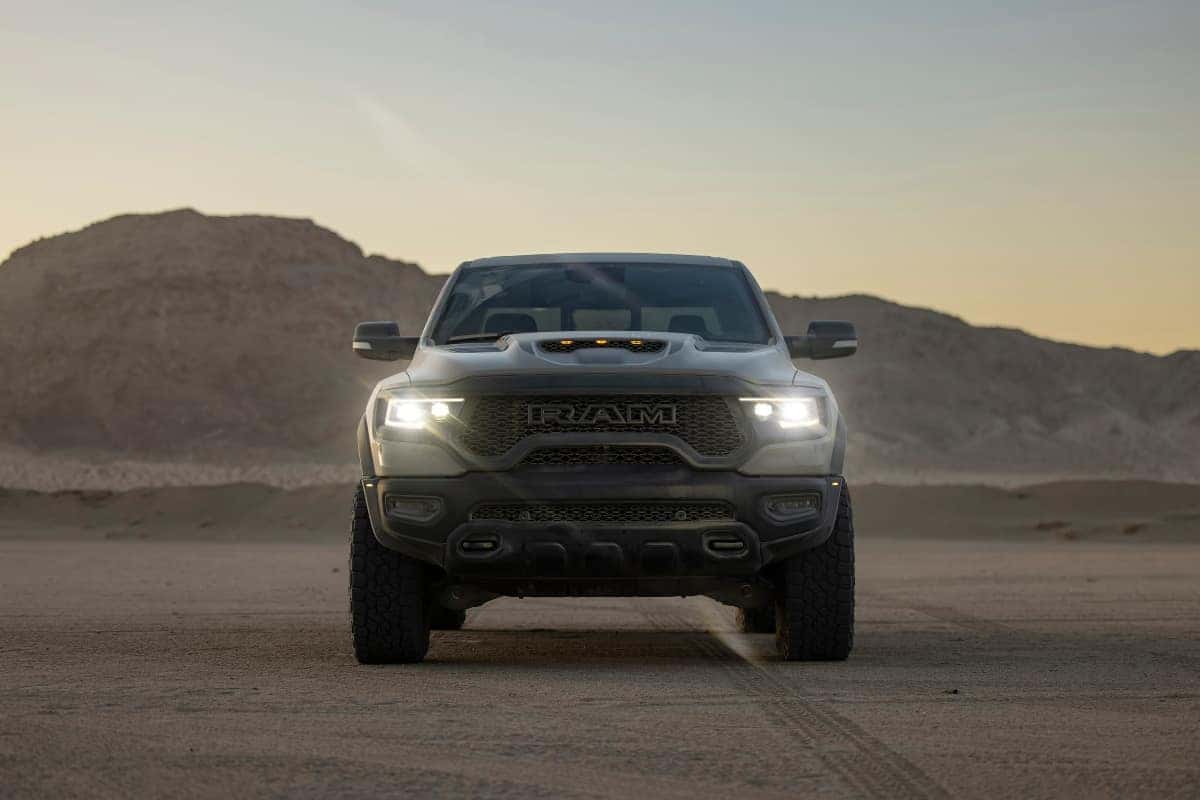 Usually we find monster trucks on closed courses and within arenas, but the 2022 Ram 1500 TRX is the exception to the rule. Ready to be unleashed on public streets, the Ram 1500 TRX is a juiced-up trim of the Ram 1500 that is not only dramatically wider and much more menacing, it's also got a supercharged V8 engine beneath its hood to the tune of 702 horsepower. Sure, sister brand Dodge sells vehicles with far more horsepower than this, but the Ram 1500 TRX completely eclipses its competition when it comes to the full-size pickup segment. The 450-horsepower F-150 Raptor can't hold a candle to the Ram 1500 TRX as the truck is an apex predator. Even when Ford's long-awaited Raptor R arrives on the scene with its 700 horsepower, it'll still face an uphill battle to compete with the TRX's incredible interior and refined on-road manners.
What's New for 2022?
For the 2022 model year, Ram introduced a limited-production Ignition Edition trim to the TRX. Only 875 units will be produced and they'll be easy to spot thanks to their bright orange paint job. Buyers can also expect special bedside graphics, a center console badge, 18-inch black wheels with machined faces, orange and copper-colored interior accents, and contrast stitching throughout the cabin. Ram also added the Ram 1500 TRX Sandblast Edition to the mix and it comes fully loaded with unique 18-inch wheels, an exclusive Mojave Sand paint color, and fully loaded thanks to the Level 2 Equipment Package.
Hellcat 
Beneath its hood lies an impressively supercharged HEMI V8 engine like we mentioned prior, commonly referred to as the Hellcat engine. Not only does the Hellcat grant the 2022 Ram 1500 TRX 702 horsepower, the pickup also features an impressive 650 lb-ft of torque as well. In just 3.7 seconds, the Ram 1500 TRX can accelerate from 0-60 mph and can cover the quarter mile in just 12.3 seconds at an incredible top speed of 110 mph. It remains the quickest pickup on the market. Of course, the TRX was designed to play on any terrain, including mud, sand, and rocks. Thanks to its beefed up suspension and reinforced steel frame, the 2022 Ram 1500 TRX offers more than 13 inches of bendable travel. Riding on 18-inch wheels clad in 35-inch all-terrain tires, the 2022 Ram 1500 TRX offers buyers up to 11.8-inches of ground clearance and water fording capacity up to 32 inches. Every TRX pickup also includes underbody plating to protect it while out in the wild, an electronic-locking rear differential, Bilstein remote-reservoir dampers, and bold 15.0-inch front brakes.
Visit us at University Dodge and check out the all-new 2021 Ram 1500 TRX. If you're looking for something more akin to a work truck, check out the Ram 1500 Classic or the revamped Ram 1500 — both models are more than capable of getting the job done. Follow University Dodge on social media and stay up to date with the latest offers and news. 
Photo Source/Copyright: Stellantis