Uconnect Overview + Features Found in New Dodge vehicles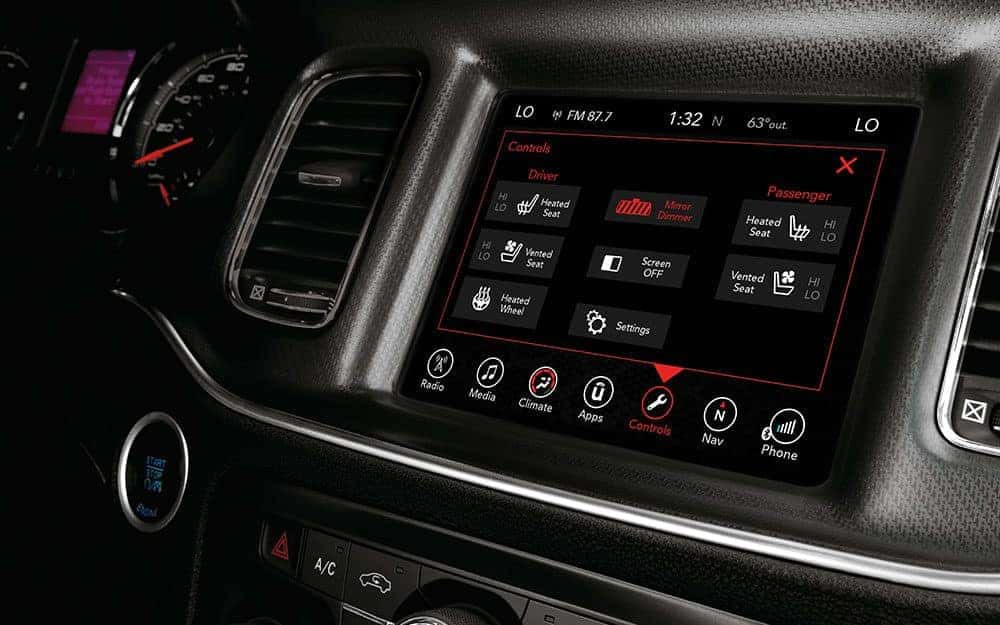 Recently purchased a new car with the Uconnect system? You're about to love your driving experience a whole lot more. Uconnect is the signature infotainment center system adapted and fitted in numerous car brands for one reason: user friendly, superior technology designed to make life easier for drivers on the road.
Uconnect is officially used by Chrysler, Dodge FIAT, Jeep and Ram vehicles, all of which you'll find at University Dodge. Uconnect provides updates to enhance features to make drivers and passengers have an even better experience every time they are in a Ram or Dodge vehicle.
The best part about Uconnect is how much it provides. Uconnect is available as a complete navigation, entertainment and full-scale communication tool. Uconnect offers modern day technology and has made it easier than ever for drivers and passengers to enjoy long drives and the daily commute. With a ton of useful features presented on an advanced and easy-to-use 5, 7 or 8.4-inch touchscreen, you're bound to embrace many aspects of what Uconnect offers.
If you love listening to music, then you'll love Uconnect. Uconnect makes it easy to navigate through radio and audio options and it offers users multiple ways to access various entertainment sources, including two USB ports and the available SiriusXM satellite radio. SiriusXM satellite radio provides a veritable plethora of specialized radio stations that include every style of music, talk shows, news and sports radio. Audio is delivered in rich sound for all passengers to enjoy, and upgradeable premium choice audio options include Beats Audio, Infinity, Boston Acoustics, Alpine, or Harman Kardon speakers.
Stay Connected to your Technology
Can't go a few minutes without your phone? There's a better solution than using it while driving. Uconnect connects to Apple CarPlay and Android Auto, so your smart devices pop up on the touchscreen device in the middle console of your vehicle. Both Apple CarPlay and Android Auto allow Uconnect users access to their smartphone to make phone calls, read and send text messages, listen to music and more. Don't text and drive, use Uconnect and keep your eyes on the road.
In addition to GPS and entertainment features, Uconnect also offers other convenience features like SiriusXM Guardian. SiriusXM Guardian allows drivers to stay in touch with their vehicle wherever they are, helping locate a parked vehicle, providing SOS messaging, roadside and stolen vehicle assistance.
Uconnect Theatre Package
With more than 100 available safety and security features, the Uconnect Theater rear seat entertainment system and a full array of comfort and convenience technologies. Available in the Chrysler Pacifica and Pacifica Hybrid, perfect for the entertaining anyone.
Backseat passengers can bring their lives along for the ride by connecting compatible devices view their content on the two 10.1-inch high-definition touchscreens in the second row. Users can also play their media through the Blu-Ray player.
 Uconnect Theater provides individual control, with a touchscreen and audio experience that's personalized to each second-row passenger. Both Bluetooth-connected touchpad remote controls or swipe-controlled touchscreens let users play built-in games and apps or control the in-vehicle temperature through the Climate Control app. A pair of digital headphones are included for private high-fidelity sound, but you can also stream media over the vehicle's high-definition sound system.
Uconnect has become highly integrated for drivers and passengers to easily use their electronics with their vehicle and with the Uconnect Theatre system, it's even easier.
Find Uconnect In Your Next Vehicle
If you want to experience how Uconnect has shaped these great vehicle brands for the better, check out first hand this award-winning technology at University Dodge to experience Uconnect in a new ride for you today! We have new and pre-owned vehicles on our lot and our professional staff is ready to help you with any trade in, buying, leasing or selling when you come in.
Even if you haven't made a purchase with us, we'll help you with any servicing needs. With a simple appointment, we can make sure to help you out with any oil changes, alignments, tire rotations, servicing brakes and more!