Top Five Cars at University Dodge for Less than $80k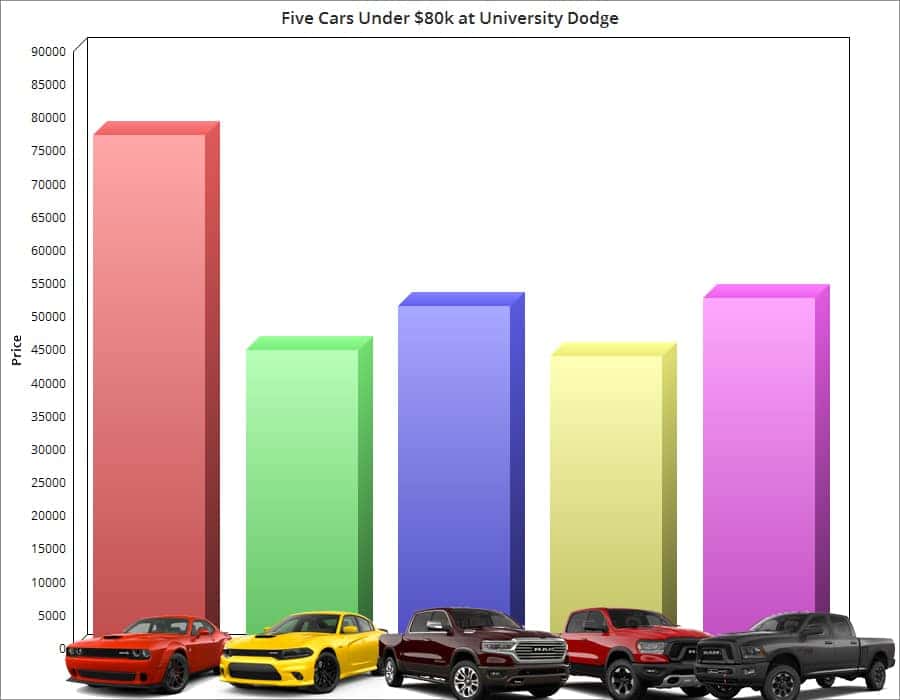 Looking for vehicles with high performance but stuck on a budget? That's not a problem, friend. Here at University Dodge, we have Dodge and Ram vehicles that can turns heads without turning out the insides of your pockets. Whether you have a need for speed, or looking for something capable of more than burning rubber, we have you covered. Check out some of the fan favorites below.
If you thought the 2019 Dodge Challenger SRT Hellcat sounded nice, then you should really check out the Widebody Package. Some appearance changes here, some performance changes there, and a Dodge Challenger SRT Hellcat with the Widebody Package is a force to be reckoned with. The 707hp supercharged 6.2-liter V8 engine is still under the hood, but the Widebody package adds a $2995 automatic transmission, has tweaked the traction control system to offer more security and handling, and has added an adaptive three-mode suspension and electric-assist steering for better control. In terms of looks, the Widebody package adds 20-inch "Devil's Rim" aluminum wheels wrapped in (optional) Pirelli P Zero summer tires, extended fender flares to the body, a blacked-out rear lip spoiler, and a scalloped hood.
There has yet to be an official price announced, but the starting MSRP so far is $63,795 (plus destination fee). The Widebody package costs $6000, and with the automatic transmission charge, the total shapes up to be $77,275 (plus destination fee). All of this under $80k – not bad.
2018 Dodge Charger Daytona 392
Having returned for the 2018 model year, but no word on a 2019 debut, the Dodge Charger Daytona series was a callback to the time Dodge spent in NASCAR. Part of the seventh generation of the Dodge Charger, and the third generation of its kind, the Charger Daytona is available in two trims – the regular Daytona and a Daytona 392. Go for the Daytona 392, powered by a 6.4-liter SRT V8 HEMI engine, optimized with a Multi-Displacement System for better fuel efficiency (25 mpg on the highway). Upgraded with the Super Track Pack designed by Dodge, both Daytona trims come with a sport-tuned suspension, custom brake linings, and Goodyear Eagle F1 Tires.
The starting MSRP for the 2018 Dodge Charger Daytona 392 is $44,995 (plus destination fee).
2019 Ram 1500 Laramie Longhorn
Me, oh my, have you heard of the 2019 Ram 1500 Laramie Longhorn? Mercy me, if this isn't a throwback to the old west, then what is? Able to be configured with a crew cab with either a 5-foot 7-inch truck bed or a 6-foot 4-inch truck bed, the Laramie Longhorn is a luxury truck for the masses. Made with premium materials, the wood, metal, and leather elements, the Laramie Longhorn cabin is filled with traditionally handcrafted, time-tested wares such as the antique pocket watch, hand-tooled leather cowboy boots, and a horseman's saddle. A segment-exclusive, hand-wrapped, 100-percent full-grain leather dashboard greets the driver, but nothing says "welcome" like embossed alligator skin pattern leather upholstery.
Get all of this and more when buying the 2019 Ram 1500 Laramie Longhorn, with a starting MSRP of $51,490 (plus destination fee).
We did say there would be performance vehicles as well as capable ones. Although the Longhorn is more of a truck for luxury, can anyone forget the Ram 1500 Rebel? Returning to 2019 with new 18-inch wheels wrapped in 33-inch Goodyear Wrangler DuraTrac tires, the 2019 Ram 1500 Rebel comes with an electronic-locking rear differential, coil spring suspension, a one-inch factory lift, and designed Bilstein shocks. Ram's active-level four-corner air suspension is an available add-on, but for hardcore off-road truck buyers, this is all the capability you'll ever need. And to think, the Ram Rebel is not only off-road capable, but can also tow a maximum of 11,540 pounds (when properly equipped). What a beast.
Starting MSRP for the 2019 Ram 1500 Rebel is $43,995 (plus destination fee).
2018 Ram 2500 Power Wagon
Speaking of beasts, the Ram 2500 Power Wagon is another contender to meet. Powered by a strong 6.4-liter HEMI V8 engine that generates best-in-class 410-horsepower and 429 lb-ft of torque, the Power Wagon rides on 17-inch wheels wrapped with 33-inch Goodyear all-terrain tires. With a maximum towing capacity of 12,000 pounds, the 2018 Ram 2500 Power Wagon sure is strong, but like the Ram 1500 Rebel, it's also an off-road icon not to mess with. Equipped with heavy-duty rear axles and Bilstein shocks, a unique Ram "Articulink" front suspension system and sway-bar disconnect system for additional flexibility and axle articulation, and able to get up to 14.3-inch of ground clearance, the Power Wagon can do it all.
Starting MSRP for the 2018 Ram 2500 Power Wagon is $52,795 (plus destination fee).