The All-new Pentastar V6 Engine with eTorque is a 10 Best Engines Winner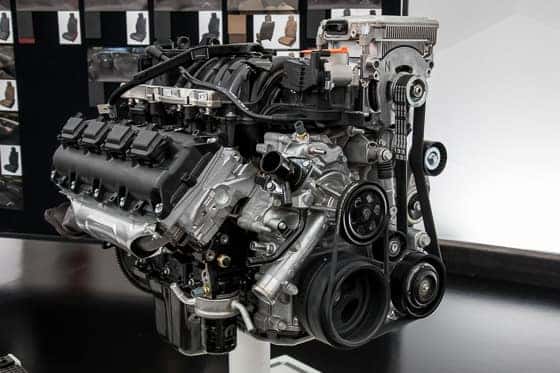 WardsAuto, an American organization that's covered the automotive industry for over 80 years, recently named Fiat Chrysler Automobiles' (FCA) 3.6-liter Pentastar V6 engine enhanced with the eTorque mild-hybrid system as one of the 10 Best Engines for 2019. The Pentastar V6 engine with eTorque made its debut in the all-new 2019 Ram 1500 and is already racking up awards – all without sacrificing horsepower, torque, or capability. Capable of generating 305 horsepower and 269 lb-ft of torque, this V6 requires no extra effort from the driver as the eTorque works to improve fuel economy.
Fuel economy of the 2019 Ram 1500 (with rear-wheel drive) is U.S. EPA rated at 20 mpg in the city and 22 mpg on the highway, while the four-wheel-drive variant offers 19 mpg in the city and 24 mpg on the highway. When compared to the previous models, this latest Pentastar has a city mpg rating that boasts an 18 percent improvement and a 10 percent improvement on the combined mpg rating. Drew Winter, senior content director at WardsAuto, lauded the power of the eTorque system and how the fuel-saving stop-start system works almost imperceptibly.
Additionally, Winter also stated: "The Pentasar V6 engine with eTorque shows how electrifying components of conventional engines can create magic under the hood. The all-new 48-volt mild-hybrid eTorque system provides a dollop of electrical propulsion during launch and while shifting gears, creating seamless, buttery smooth power to the wheels and improved fuel economy."
A traditional alternator is no longer needed as the eTorque mild-hybrid system functions as a replacement with a belt-driven motor generator that's capable of performing several functions. While working with a 48-volt battery pack, the motor generator unit improves fuel efficiency, drivability, performance, and value with nearly seamless stop-start functions and easily recovers energy through brake regeneration technology. Speaking of seamless stop-start capabilities, the eTorque system is so efficient at delivering nearly unnoticeable engine restarts thanks to its ability to send up to 90 lb-ft of supplemental torque to the crankshaft. Within 400 milliseconds, the torque travels to the wheels, more than twice as fast as many other starter-motor engine stop-start systems.
The latest iteration of FCA's classic Pentastar V6 engine features other advanced technologies, such as a two-step variable-valve lift and wide-range variable valve-timing (both help reduce the pumping losses), as they deliver the best blend of power and fuel economy catered specifically to each driver's demands. An all-new cooled exhaust gas recirculation system also enables improved fuel economy and emissions performance at higher payloads. As for the engine itself, it is a compact, 60-degree, all-aluminum block that includes cast iron bore liners, cast aluminum pistons with friction-reducing coating and piston rings, and drive-forged connecting rods. This Pentastar V6 engine with eTorque runs on regular 87-octane fuel to help reduce the cost of ownership.
Wards has been handing out awards for 25 years now, and within those 25 years of 10 Best Engines awards, nine of FCA's engines/systems have made the cut and earned over 19 different awards. The 2019 Ram 1500 hasn't only graced the 10 Best Engines list, it also earned top honors on two other prestigious lists this calendar year, including: Best Interiors and Best User Experiences. And not to mention that the 1500 was also recently named Motor Trend's Truck of the Year – all in all, the long-awaited revamp of the Ram 1500 seems to be paying off for FCA.
So what do you say – don't you want to get behind the wheel of the latest award-winning pickup truck? Pass by University Dodge and check out the all-new 2019 Ram 1500 inventory. Experience the engine that delivers the power you've come to expect from a Ram, but smooth handling and fuel economy savings that are sure to surpass even your most demanding expectations.
Photo Source/Copyright: FCA