Recap of New Dodge Challenger SRT Demon Teasers and Info!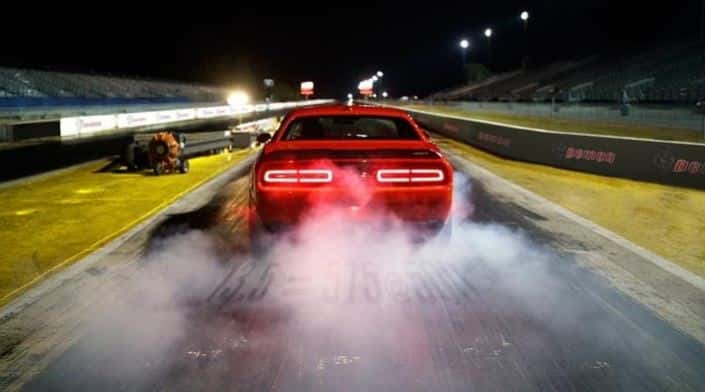 Since we announced Dodge's plans to resurrect the Dodge Challenger Demon, Dodge has revealed a lot more news and the new model definitely has our attention. The more we learn, the more it seems that the SRT Hellcat may become the second fastest two-door muscle car in the world.
So far Dodge has released nine teaser videos that give audiences brief glimpses of what Dodge has up their sleeve. From massive tires, to a special tool crate, to the latest performance pages video, things are looking great. Here's a recap of what we have learned, so far.
Video 1: Cage
The first video to give us a closer look at the new model hints at the fact that this is no normal Challenger. The new Dodge Challenger SRT Demon needs some restraint because it is packing power.
Video 2: Reduction
Do you know how to multiply performance without even tweaking the engine? Lighten up the car — and that's exactly what Dodge has done. So far, we know that the new Dodge Challenger SRT Demon will be 200 pounds lighter than other Dodge Challenger models.
Video 3: Wide Body
There were rumors of a wide body Dodge Challenger and we are now wondering if that is what this is, or if there are going to be two wide body Dodge Challenger models. This widebody will give the Challenger SRT Demon a more fierce appearance and better balance at high speeds.
Video 4: Crate
This video has held everyone's attention and Dodge has finally provided more details about the mysterious crate. Each new Challenger SRT Demon will come with a crate that contains the essential tools to help owners transform their street-legal car to a drag-ready car.
Video 5: Forced Induction
Don't worry, the Dodge Challenger SRT Demon will still have power even when cruising in the heat of summer. The resurrected Demon will have a special hood scoop to suck in cold air (cold air is more dense so it has more oxygen than warm air) to feed the engine as much oxygen as possible, and more oxygen equals more power.
Video 6: Multiplication
This is a jaw-dropping look at what all of the Challenger SRT Demon's power does to drag radial tires. Vroom vroom.
Video 7: Third Law
So now things are getting a little hotter. This video reveals that the 2018 Dodge Challenger SRT Demon combines the best of both mechanical and electronic tuning to deliver maximum launch force while still maintaining precision directional control. And from one of FCA's press releases, we now know that the SRT Demon is the first-ever factory production car with mechanical/electronic drag-race-specific suspension tuning.
Video 8: Race Hardened Parts
All that power requires more strength to reign in all of those horses. This video and press release let us know that Dodge has taken some serious measures to ensure the SRT Demon will be able to produce and maintain power in all types of situations, even on the drag strip.
Video 9: Performance Pages
Only way to get better at something is to know where you need to improve, so Dodge has upgraded Uconnect's performance pages in the Challenger SRT Demon. Drivers will have access to all types of vehicle information including coolant temperature, reaction time, real time display of horsepower and torque, and a lot more specs that will help drivers improve their driving.
If you are on the hunt for a new performance or muscle car, come by University Dodge and check out our selection of Dodge Challenger models. We have the largest selection of SRT Hellcats in the Southeast U.S. You can view our Dodge Challenger inventory here.