Ram Truck Files New EV Trademark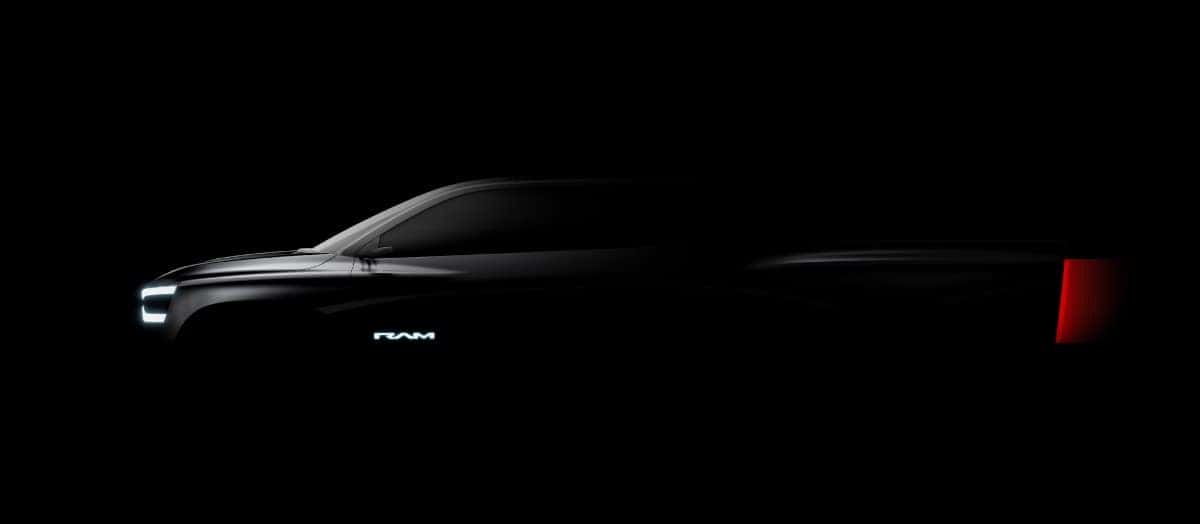 As luck would have it, it turns out that Ram Revolution was simply a "working title" for the upcoming Ram EV pickup. Now, the truck is slated for its big reveal at the 2023 CES Show and a new trademark filed with the U.S. Patent & Trademark indicates there's a new name in the works. If accurate, the upcoming Ram EV will feature the following nameplate: Ram 1500 REV. The pickup's big reveal is slated for January 5th (2023), with a special focus on highlighting the future of Ram Trucks. Enthusiasts were sure the Ram 1500 EV would simply be called Ram Revolution–as Ram referred to the pickup by this name in the past, but it's increasingly obvious this was just another part of Ram's marketing strategy.
In late December of 2022 Stellantis filed a trademark application for Ram 1500 REV under the "land vehicles, namely passenger trucks" category. The REV in the nameplate can be a holdover from the Ram Revolution campaign, separating the battery-powered pickup from the rest. However, Ram REV can also be indicative of an EV pickup with a range extender as well. Although a trademark application isn't always a guarantee, enthusiasts can still gleam where Ram's electric future is headed. Stellantis gave very few details in the lead up to the 2023 CES Show, but the company's Dare Forward 2030 strategy indicates the truck maker aims for 50 percent of all sales to be electric by 2030.
Stellantis CEO Carlos Tavares first teased a Ram 1500 EV rendering in early March (2022), while announcing the pickup is slated for release in 2024. Tavares did say the following when referring to Ram's first EV pickup:
"According to our internal performance index, our Ram 1500 will outperform all competitors on the attributes customers care most about: range, towing, payload, charge time. Really thrilling! It's built on top of our new STLA frame architecture, designed specifically for full-size electric vehicles. Make no doubt, we will bring the best electric truck to the full-size segment. And Ram will continue delivering fully electrified solutions in the majority of its segments by 2025 and a full portfolio of electrified solutions for all of its segments no later than 2030."
Ram, the third of the "Big Three" automakers to debut its first EV pickup, will have its work cut out as stiff competition already exists. Ford was up first when it launched the F-150 Lightning earlier this year (2022), while Chevy debuted its Silverado EV, but gave no precise launch date for the pickup. Other brands, less-known for their pickups, will also roll out a few models by the time the Ram REV arrives. 
2024 Ram 1500 BEV
Ralph Gilles, Head of Design, is notorious for nailing automotive design, and his team is sure not to miss the mark when it comes to unveiling a new-and-innovative truck. The upcoming Ram 1500 EV will feature an illuminated 'RAM' logo on its front fascia in lieu of a traditional grille. Meanwhile, the LED headlamps will be framed by twin DRLs as a contrasting hourglass graphic perfects dynamism on the lower bumper. Ram also teased a raked cabin and rear pillars that hone in on the futuristic aesthetics. Additionally, on many of the teasers, we can see black inlays into the side sills and front fender moldings, while on the rear, there's a high bedside, illuminated RAM lettering in red, and full-with LED taillamps. 
Follow University Dodge on social media to stay up to date with the latest Ram news and offers. Visit us at University Dodge to check out the newest Ram Trucks inventory, including the Ram 1500 TRX and more! 
Photo Source/Copyright: Stellantis