Ram Truck Debuts Two New Concept Ram 1500 Pickups
Mopar and Ram Truck showed up and showed out at this year's (2022) Specialty Equipment Market Association (SEMA) show, thanks to two Ram Truck concept pickups. Ram and Mopar brought the Ram 1500 TRX Gold Shot and the Ram 1500 Backcountry X to the Las Vegas show, putting on many performance parts and accessories on display. Both concepts highlight the brand's perfect balance of its work-and-play approach.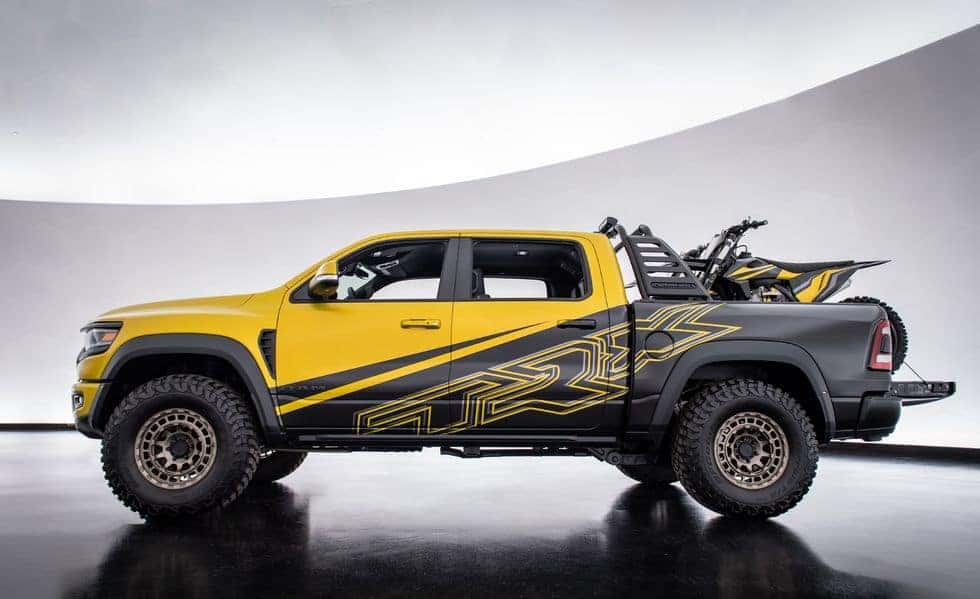 Ram 1500 TRX Gold Shot
The TRX-based concept focuses more on practicality for motocross lovers with its custom-designed step that automatically lowers for easier access. With only a gentle push, the custom-designed step quickly retracts to its stored position when not in use. There's also a set of rectangular LED lights in the truck bed, providing enthusiasts with up to 4,300 lumens of light, ideal for loading and unloading even when there's no sunlight. The cargo bed area of the Ram 1500 TRX Gold Shot even features a unique Mopar spray-in textured bedliner for longevity and protection. 
Ram even added custom metal skid plates at the front and back with etched-on Mopar lettering on this Hellcat-powered pickup for protection against very rugged terrain. There are also new rock rails protecting the side sills, and a front piece increases the overall approach angle by 2.3 degrees, making off-roading easier. At the rear, there are two five-inch Mopar pipes that help expand the rumble from the 702 horsepower resting under the hood.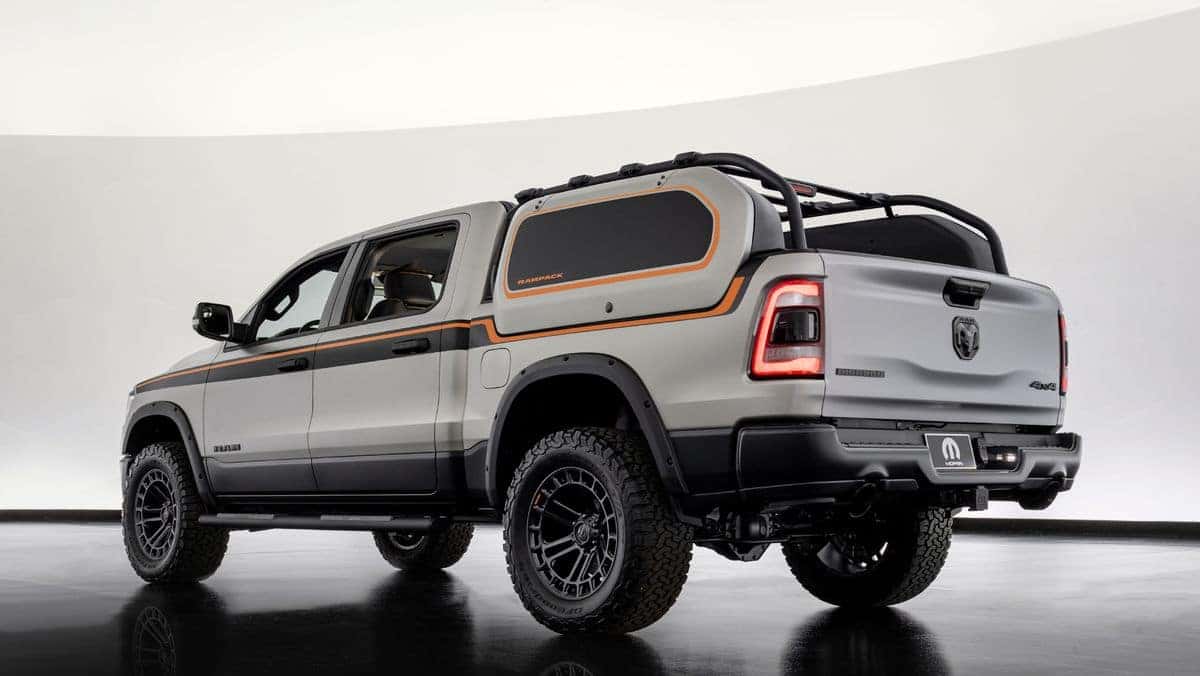 Ram 1500 Backcountry X
On the other hand, the Ram 1500 Backcountry X Concept is perfectly designed to suit owners who are all about combining work and play. Complete with the RamBox cargo management system, the Ram 1500 Backcountry X is filled with custom-designed features. Ram's RamBox system adds additional cargo space without compromising overall functionality, all while adding security. Other upgrades on the Ram 1500 Backcountry include RamPack storage compartments above each RamBox system on both bedsides. Owners can access these storage spaces through an existing carbon-fiber hatch. 
On the inside of the Ram 1500 Backcountry X enthusiasts can find neutral green and second-row bucket seats with contrasting orange accent stitching throughout, including the steering wheel, armrests, and door panels. Adding to the custom look are contrasting anodized orange air vent controls, while the front bucket seats even feature a special custom embroidered Backcountry X and Mopar logos.Ram went above and beyond on the work-and-play factor thanks to a deployable work surface between the front seats–it works via an integrated measuring system that slides out from the center armrest, providing 12 by 14 inches of extra workspace. A RamVac rounds out the exceptional features, making cleaning a breeze when returning from the trail or a worksite–the Ram 1500 Backcountry X really can do it all.
Stay tuned on University Dodge social media for the latest from this year's SEMA show. If you're looking to get behind the wheel of a Dodge or Ram Trucks vehicle, look no further than the latest Dodge and Ram Trucks inventory here at University Dodge. Schedule your test drive today! 
Photo Source/Copyright: Stellantis