Ram is Back and Better Than Ever With the Latest "Built for the Driven" Collection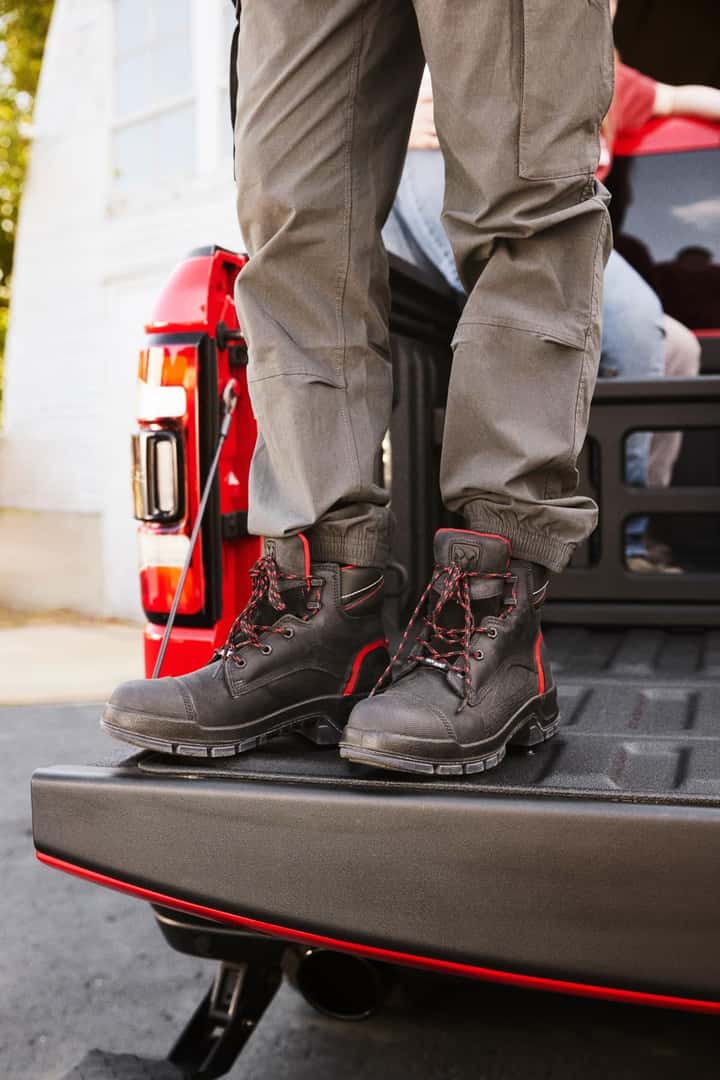 Ram is back and better than ever with the introduction of its latest "Built to Serve" collaboration, courtesy of Wolverine, a 139-year-old heritage work brand. This latest collaboration between the two industry giants benefits and celebrates skilled trades. To recognize the hard work and dedication of America's workers, both Ram Truck and Wolverine came together for a second consecutive year with a "Built for the Driven" collection featuring American-made boots, accessories, clothing, and much more. 
"Our collaboration with the Ram Truck brand has seamlessly allowed us to connect to existing and new consumers with our unique and purposeful product. Though most importantly, this co-branded collection is helping to inspire the next generation of skilled tradespeople to develop their careers and close the skilled trade gap that continues to exist in our country today," said Scott Schoessel, VP of Marketing at Wolverine. 
Ram and Wolverine offer not only two fan-favorite boot styles, and the collection also features new "Built for the Driven" products such as T-shirts, co-branded socks, sweatshirts, and a beanie. Each item is purposeful and reflects the quality and craftsmanship of both brands, inspiring the next generation of skilled tradespeople to pursue their passions with abandon. Additionally, alongside this product launch, Wolverine is also donating $75,000 to the SkillsUSA Hope Fund, which focuses on granting equitable access to youth opportunities in the skilled trade field. Ram Truck and Wolverine have a joint mission to support educational opportunities in skilled trades, an extension of Wolverine's long-standing Project Bootstrap. All items from the RamxWolverine collection are available on www.wolverine.com, with prices ranging from $15 to $229. 
"Together with Wolverine, we're excited to release our second licensed collection, 'Built for the Drive,' to create more awareness around educational opportunities in the skilled trades workforce. From the thoughtfully designed work boots to the graphic tees, this collection is designed to educate and empower young men and women entering the workforce about the many reputable career occupations available in skilled trades," said Marissa Hunter, Senior VP of Marketing, Stellantis North America. 
Built to Serv
Ram is no stranger to limited edition pickups. In the past, Ram Truck has offered special edition pickups that honored each of the five branches of the U.S. military. With plenty of patriotic cues, Ram called these special trucks "Built to Serve" editions. Ram offered five special edition pickups where buyers could choose between two colors pertaining to a specific branch of the military. The point of the color choices is to celebrate each branch's spirit, history, and mission.  
Ram made the Built to Serve package available to all body styles and allowed for them to have any powertrain.
 Besides the special one-of-a-kind exterior colors, the pickups also featured unique graphics — there was even a U.S. flag on the rear of the pickup accompanied by the words "Built to Serve" underneath. Badges, side steps, grille surrounds, and the exhaust tips were all in a black finish, while the 20-inch aluminum wheels in a Gray finish. These pickups had corresponding accent colors on the inside depending on the exterior paint job. Ram went above and beyond and attached velcro panels on each front seat's shoulder panels so that veterans could attach their own patches. There was also a Built to Serve badge across the dashboard, webbing on the front seats to attach additional equipment, and a black chrome interior. 
In essence, all Ram Trucks are built to serve as they're known for their capability and reliability. Explore the Ram lineup at University Dodge and schedule your test drive today!  Follow us on University Dodge social media to stay up to date with the latest Ram news and offers.
Photo Source/Copyright: Stellantis/Wolverine