Ram Introduces the 2021 Ram ProMaster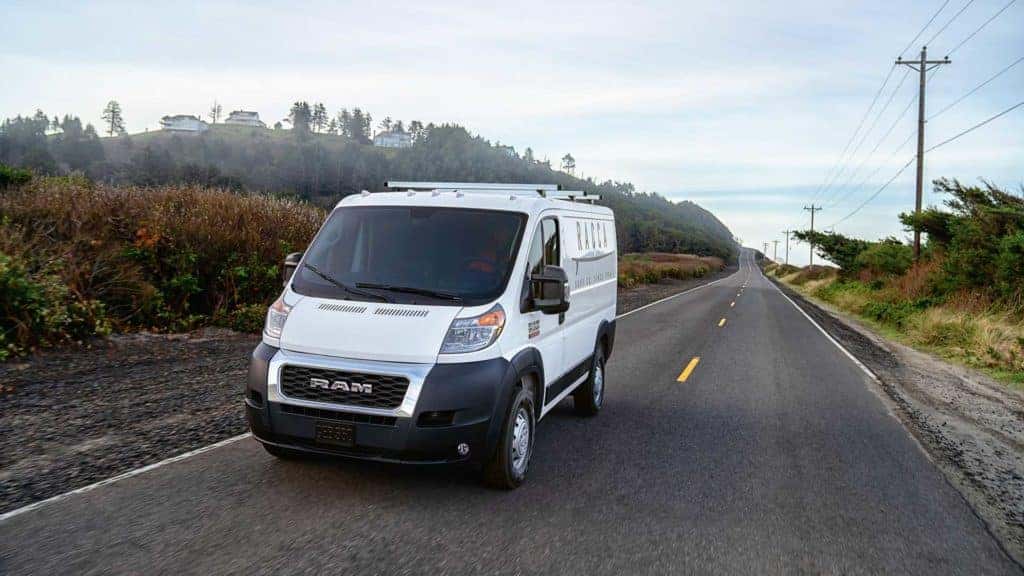 Ram had something special up its sleeve at the National Truck Equipment Association's (NTEA) "The Work Truck Show" in Indianapolis, Indiana. The truckmaker revealed the 2021 Ram ProMaster model, set to launch later this year (2020). As one of the most hardworking full-size vans designed for businesses, the Ram ProMaster is perfect for commercial fleets and construction job sites.
"Ram Commercial was formed in 2014 and our full-size van customers have enjoyed Ram's benchmark durability ever since. Ram Commercial continues to focus solely on trucks and commercial vehicles, allowing us to deliver confidence for hard working people every day, no matter their line of work," said Reid Bigland, Head of Ram Brand. 
Here's what's new on the 2021 Ram ProMaster:
There's a class-exclusive digital rearview mirror that's making its debut on the 2021 Ram ProMaster, the first of its kind to debut on a Fiat Chrysler Automobiles (FCA) vehicle. The new-and-improved available mirror is designed to replace the traditional rearview mirror with an LCD monitor that measures 9.2-inches wide. Unlike a traditional mirror that displays a reflection, this new digital mirror displays video in real time thanks to a rear-facing camera. The digital display can be turned off to revert back to a standard reflective mirror if necessary. Available on all ProMaster trims, the digital mirror provides an unobstructed rear view that's designed to prevent accidents and enhance safety while on the job. 
The 2021 Ram ProMaster also offers Crosswind Assist as a standard feature regardless of trim. Crosswind Assist was designed to keep the ProMaster stable even when the vehicle is faced with wind gusts that may push it off course. New available safety features include Ambient/Courtesy Lights, Blind-spot Monitoring, Rear Cross Path Detection, and Forward Collision Warning with Emergency Brake Assist. 
Ambient/Courtesy Lights enhance lower interior lighting with LEDs for owners who rely on the ProMaster to function as a mobile office and for upfitters as well. The feature is available on all 2021 ProMaster vehicles regardless of trim. 
Blind-spot Monitoring with Rear Cross Path detection is also an available safety feature that does exactly what it says. It's responsible for monitoring a driver's blind spots and will issue a warning when other vehicles, people, or objects enter the ProMaster's blind spot. This feature helps reduce the cost of ownership in the long run as it helps to avoid collisions, repairs, downtime, and increased insurance costs. 
Forward Collision Warning with Emergency brake Assist is another available safety feature that applies partial braking to lessen the chance of a collision and allow the driver to have ample time to react before impact. Just like the previously-mentioned features, this one helps to save on the total cost of ownership as well.
The 2021 Ram ProMaster model is available in 18 different roof height and wheelbase configurations and is powered by a 3.6-liter V6 engine under the hood that's paired with a six-speed automatic transmission. All ProMaster vehicles, regardless of trim, feature a class-exclusive front-wheel-drive system that makes driving a breeze. Best-in-class features include an exceptional turning radius, load-floor height, maximum cargo width, standard interior cargo height, and cargo width between wheel wells. Expect pricing of the 2021 Ram ProMaster to be announced closer to when the model becomes available during summer (2020). 
Searching for your next commercial vehicle? Visit us at University Dodge and check out our Ram ProMaster inventory. Our capable staff here at University Dodge can help you navigate the process of a commercial vehicle purchase, including incentives available and expense allowances. Reach out to us via University Dodge social media if you've got any questions. 
Photo Source/Copyright: Ram