Ram Gears Up to Steal Ford's Thunder, Teases Upcoming Ram 1500 EV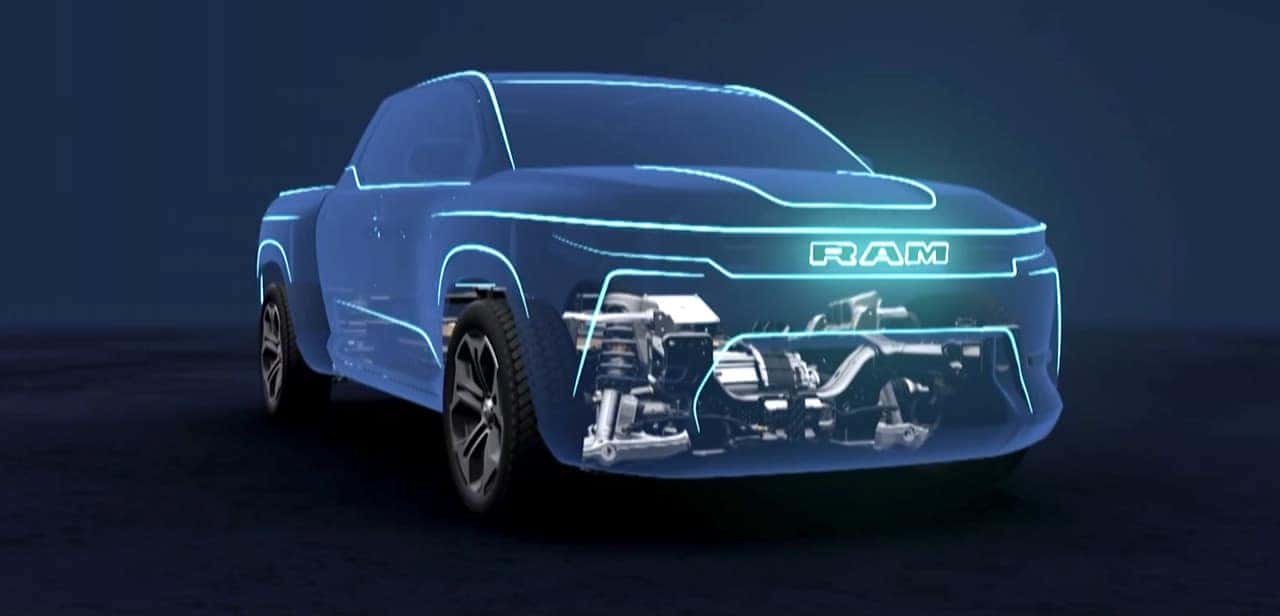 Ram is ready to steal some thunder from Ford as the truck maker teases its upcoming Ram 1500 electric pickup truck that's slated to go into production during the fall of 2022. Expected to be one of the first major long-range EV projects to come out of the Stellantis umbrella, the Ram 1500 EV is already an expert at building up anticipation. As for stealing some thunder, Ram's latest teaser is directly aimed at bitter rival Ford and its lightning-branded EV that just began rolling off the assembly line. 
What is clear about the latest teaser is the fact that Ram is taking better precautions as to how much of the truck it really wants to reveal. Last year, when the news about a Ram EV were declared official, some of the vehicle's design outlines were clearly visible in the teaser images, giving enthusiasts more of a glimpse of the pickup truck than Ram's marketing team would've preferred. Ram also confirmed it's working on an electric ProMaster delivery van that's poised to join Amazon's fleet in 2023. 
Time to steal some thunder. 😎
Unleashing Fall 2022. https://t.co/epaaYdKHj9 pic.twitter.com/m4wB9AjYBp

— Ram Trucks (@RamTrucks) April 25, 2022
By the time Ram finally releases its 1500 EV pickup, it'll be one of the few all-electric options in the market and will face heavy competition from the Ford F-150 Lightning and Rivian R1T. Chevrolet won't release its Silverado EV until 2024, while Tesla's Cybertruck is nowhere to be found. Electric pickup trucks have captured the attention of enthusiasts, with the segment often being lauded as the fastest-growing segment in the US car market. 
Stellantis, Ram's parent company, has been criticized for its slow warm up to electric vehicles when compared to both US and European rivals, but the automaker hopes to build momentum around its up and coming EVs. As the fourth largest automaker in the world, Stellantis has a robust and comprehensive plan to electrify the lineups of most of its brands, including iconic Dodge models, as well as popular Jeep models. 
Ram Revolution
Early in 2022, Ram launched an insider program that invites fans to join the truck maker on its journey to revolutionize the pickup segment once again – this time at the helm of the new Ram 1500 battery electric pickup. Ram Revolution, including its hub RamRevolution.com, allows consumers to form a closer bond with the brand and its approach to battery electric vehicles (BEV). Ram will offer meaningful updates as the pickup comes to fruition, as well as unique visuals and content. Ram will also push for open dialogue between fans so they may provide feedback as the truck maker develops its first EV truck. Ram hopes to electrify its entire lineup by the 2030 model year. Serving the next generation of Ram customers with products that can meet and exceed their real-world demands is the goal. The brand will push much harder–and further– than its competitors by incorporating technology along with more range, power, convenience, and productivity. 
Learn more about Ram's electrification dreams via University Dodge social media. Explore our latest Ram Trucks inventory here at University Dodge and schedule your test drive today! Come see what the industry's best pickup trucks have to offer, whether you're looking to hit paths unknown behind the wheel of a Ram 1500 TRX or need a bonafide workhorse like the Ram Heavy Duty.
Photo Source/Copyright: Stellantis