Ram Chassis Cab Lineup, a Customizable Heavy-Duty Lineup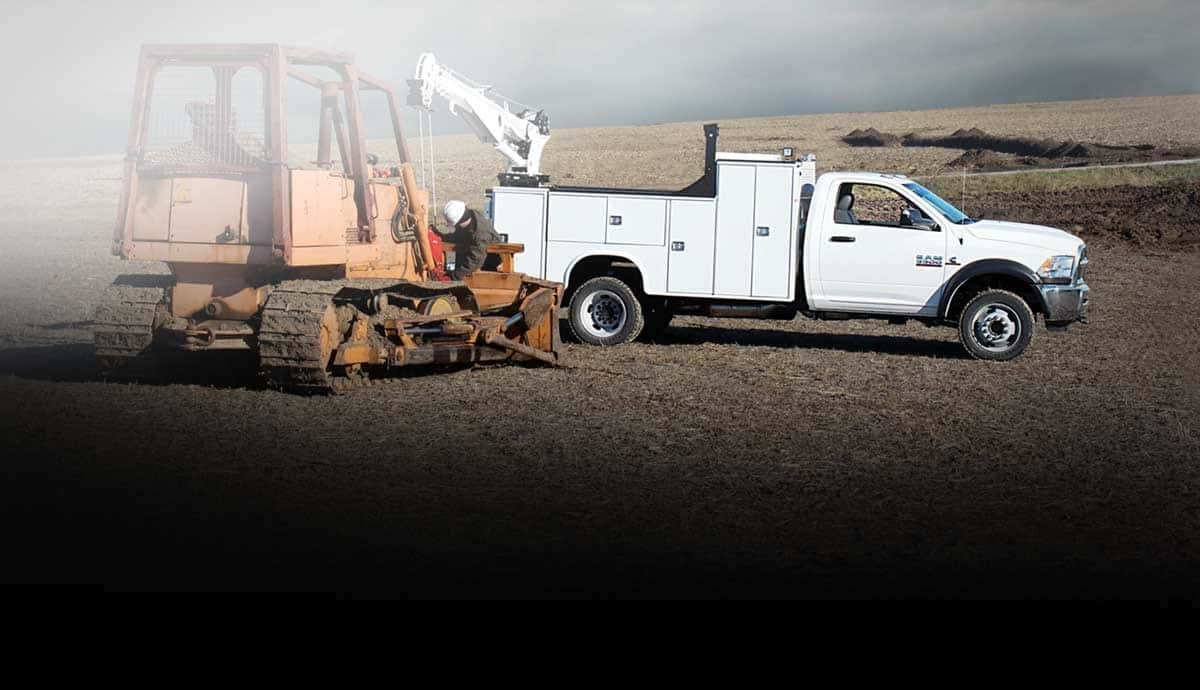 The Ram ProMaster and ProMaster City are two of Ram commercial models, but Ram also makes trucks for commercial purposes as well. The Ram 3500, 4500 and 5500 models are all considered heavy duty work trucks and they are available as chassis cab trucks.
Chassis cab trucks are trucks that don't have a truck bed behind the cab, only chassis rails. This is done to make it easier for the owner, usually a business, to customize what goes in the area behind the truck cab. Chassis cab trucks are commonly used for tow trucks, dump trucks, and other types of commercial uses.
Of the various chassis cab models, the Ram 3500 SRW 10K GVWR SLT is the only single-rear wheel (SRW) chassis cab model. All of the other chassis cab models are dually models, meaning the rear-wheel axle has a total of four wheels (two on each side). A dual-rear wheel truck has a significantly higher maximum towing and payload capacity.
All of Ram chassis cab models are available with a 2×4 or 4×4 drivetrain and two engine options. Buyers also have the option of several different wheelbase lengths, ranging from 143.5 inches to 204 inches.
The most powerful engine option on the lineup is the 6.7-liter Cummins Turbo Diesel engine and it is available with a manual or automatic transmission. When paired to an automatic transmission, the truck produces 325 horsepower and best-in-class 750 lb-ft of torque and when paired to an automatic transmission the truck produces 320 horsepower and 650 lb-ft of torque.
Fuel economy and maneuverability are two things that vary based on a truck's overall configuration, so it is best to make a purchase based on your towing and payload capacity needs.
The Ram 3500 SRW 10k GVWR SLT has a maximum towing capacity between 17,900 and 18,750 pounds and a payload capacity between 4,070 and 6,920 pounds. In comparison to the 3500 SRW, the Ram 4500 has a slightly lower maximum towing capacity ranging from 17,000 pounds to 18,150 pounds, however its payload capacity increases to a range of 8,850 to 9,660 pounds. Finally, the Ram 5500 has a maximum towing capacity between 16,950and 18,100 pounds and a maximum payload capacity of 11,110 to 11,250 pounds.

University Dodge is the largest Ram truck dealer in the Southeast U.S., so if you need a Ram chassis cab, we have you covered. You can view our inventory online here.
Photo source: ramtrucks.com