Questions + Answers About the New 2019 Ram 1500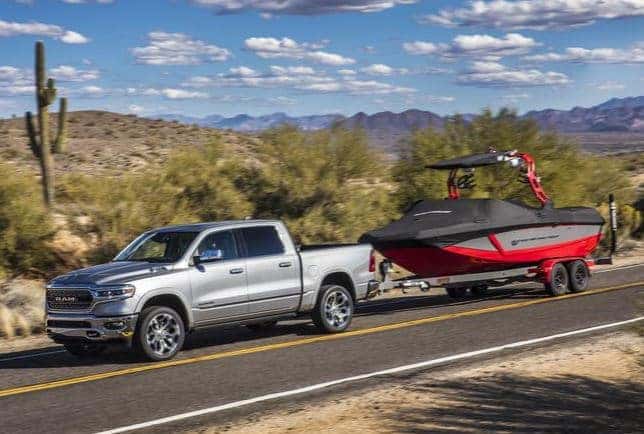 There always seems to be a little confusion about an all-new vehicle's specs. There seems to be a lot of rumors floating around before official details about a vehicle's redesign have been released by the manufacturer, and many of those rumors tend to stay around. As a vehicle that was as anticipated as the all-new Ram 1500, there were plenty of rumors going around, so here's a quick question and answer guide to some of the most commonly asked questions.
How Many Trims Are There?
The 2019 Ram 1500 is available in six different trims. Trims consist of the Tradesman, Big Horn/Lone Star, Laramie, Rebel, Laramie Longhorn and Limited. All trims are available with a 4×2 or 4×4 drivetrain.
Are There Still the Same Configurations?
The Ram 1500 is available with fewer configurations than there have been in the past, but that just means more of the most desirable configurations will be available. The configurations on the 2019 Ram 1500 lineup consist of a 4×2 or 4×4 drivetrain, two cab sizes (quad cab and crew cab), and two truck bed lengths (6'4" and 5'7"). The crew cab is available with a 5'7" or 6'4" truck bed and the mega cab is only available with a 6'4" truck bed. There are three available axle ratios (3.21, 3.55 and 3.92) and all three of them are available with a 4×4 or 4×2 drivetrain.
What is the Interior Like?
Ram made some excellent enhancements to interior room of the 2019 Ram 1500. Interior room in the Ram 1500 varies based on the cab and the crew cab is the largest cab in the truck segment. The crew cab provides front seat passengers with 40.9 inches of legroom and backseat passengers with 45.1 inches of legroom. The mega cab provides front seat passengers with 40.9 inches of legroom and backseat passengers with 35.6 inches of legroom.
In addition to ample room for passengers, the 2019 Ram 1500 has 151 cubic feet of storage capacity, which is a lot of storage space. The Ram 1500 features storage compartments under the back-row seats and there are also two covered in-floor storage bins called RamBins.
What Type of Towing and Payload Capacity Can I Expect?
Ram has not provided towing and payload capacities for all trims and configurations yet. However, we do know that the 2019 Ram 1500 is available with an increased maximum payload of 2,300 pounds and an increased maximum trailer towing capacity of 12,750 pounds.
Additionally, Ram introduced a new Max Tow Prep Package to Ram 1500 models that have 2WD, are powered by the 5.7-liter HEMI V8 engine with eTorque and equipped with a 3.92 final drive ratio. The package features a Dana Super 60 center section and open differential with a 256-millimeter gear set and 35-spline axle shafts.
Is there a Hybrid Ram 1500 and What is the Fuel Economy?
There is not a hybrid Ram 1500, but the 3.6-liter and 5.7-liter engines are available with eTorque, which makes the engine a mild hybrid engine. The eTorque system includes a battery that is able to assist the engine with certain tasks, which helps to improve fuel economy and also increase torque.
What is Safety Like?
The 2019 Ram 1500 is available with more than 100 safety features. Some of the available preventative safety tech systems like Blind-Spot Monitoring, Lane Keep Assist, Advanced Brake Assist and Adaptive Cruise Control, and there are many more. There are a variety of standard safety features, but one of Ram's most significant new safety standards is the new advanced frame, which provides impact countermeasures on all configurations.
Want to see what the all-new Ram 1500 looks like in person? Come by University Dodge and check out all of our Ram truck inventory today.