Perks and Features Coming to the Revamped 2023 Ram Heavy Duty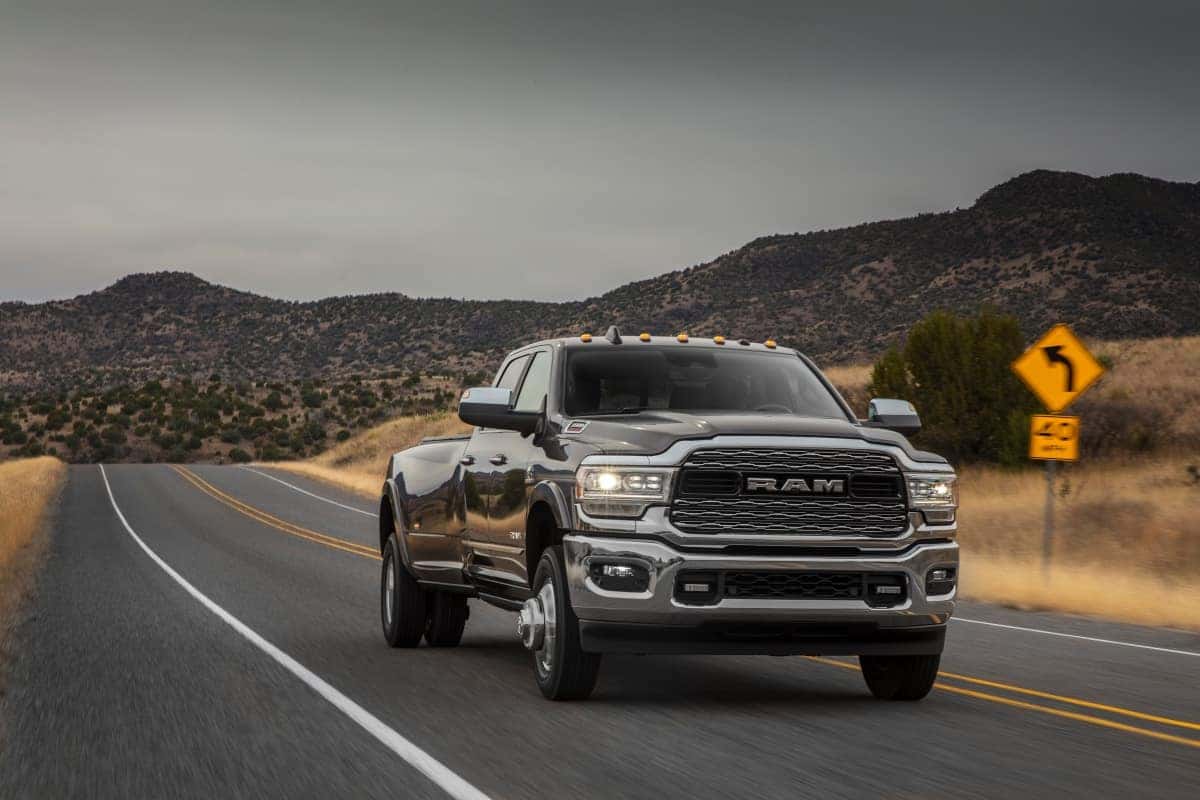 The pickup segment is constantly going through cycles as electrification looms large and debuts from other automakers add to the overall pressure to perform. As it happens, all Big Three American automakers –Ram, Ford and GM– are poised to debut new or updated versions of their Heavy Duty pickups in the coming year. Ford expects a new Super Duty for the 2024 model year, while GM will revamp its Silverado HD and GMC Sierra HD for 2024 as well. So, where does that leave Ram Trucks under its Stellantis parent company? It turns out that the Ram Heavy Duty –both the 2500 and 3500 configurations– will receive a significant update for the 2023 model year. Buyers can expect both the Ram 2500 HD and Ram 3500 HD to not only bring more power and performance, but the models will feature more technology as well. 
According to some industry professionals who have spied a few prototypes out in the open, the updated Ram Heavy Duty pickups are slated to feature a new Ram-air style hood scoop that helps the engine's cold air intake. Given the addition of the hood scoop, some suggest that the models will also have higher horsepower or torque output. More airflow yields improved cooling, which in turn also improves towing and payload figures, especially when paired with the potent Cummins Diesel Inline-6 engine. Additional upgrades on the upcoming 2023 Ram HD models also signal the addition of a Magna-sourced Clearview camera monitoring system, giving drivers the ability to toggle between a regular rearview mirror or a video display to use while towing. 
The upcoming rearview mirror display is customizable and allows for up to three camera views at once, as well as different fields of view. Some trims on the 2023 Ram 3500 are expected to receive the tech as standard. And while the pickup segment most definitely appears to be heating up, nothing is making the Big Three automakers race like the concept of electrification. Ford already took center stage with the introduction of its F-150 Lightning, while Chevy followed in its shadow with the Silverado EV that's due in 2024. Ram Truck is saving the best for last as the truck maker is poised to showcase its own electrification plans for its lineup during the fall of 2022. Ram already confirmed that the fully-electric variant of its Ram 1500 is well on its way, but enthusiasts will have to wait a little longer to see if electrification extends to larger platforms like the HD pickups. 
Stellantis, Ram's parent company, has stated in the past that future large trucks could be powered by a hydrogen fuel cell rather than entirely electric power, but nobody is expecting this all-new technology to debut on the 2023 Ram Heavy Duty. While we'll just have to wait and see what Ram Trucks has in store for enthusiasts, we can rest assured that innovation is key if hydrogen fuel cells are in play. Follow University Dodge on social media to be the first to know when Ram unveils its 2023 Ram HD lineup. 
Ram Electrification Plans
Ram is positioned to introduce and deliver its fully electrified solutions starting in 2025, with hopes of electrifying the entire lineup by the 2030 model year. Ram vowed to serve the next generation of Ram customers with products that can meet and exceed their real-world demands. The brand will push much harder than its competitors by incorporating technology along with more range, power, convenience, and productivity. 
Learn more about Ram's latest Ram Revolution program via University Dodge social media. Explore our latest Ram Trucks inventory here at University Dodge and schedule your test drive today! Come see what the industry's best pickup trucks have to offer, whether you're looking to hit paths unknown behind the wheel of a Ram 1500 TRX or need a bonafide workhorse like the Ram Heavy Duty.
Photo Source/Copyright: Stellantis