New Ram Power Wagon + Ram 2500, What's the Difference?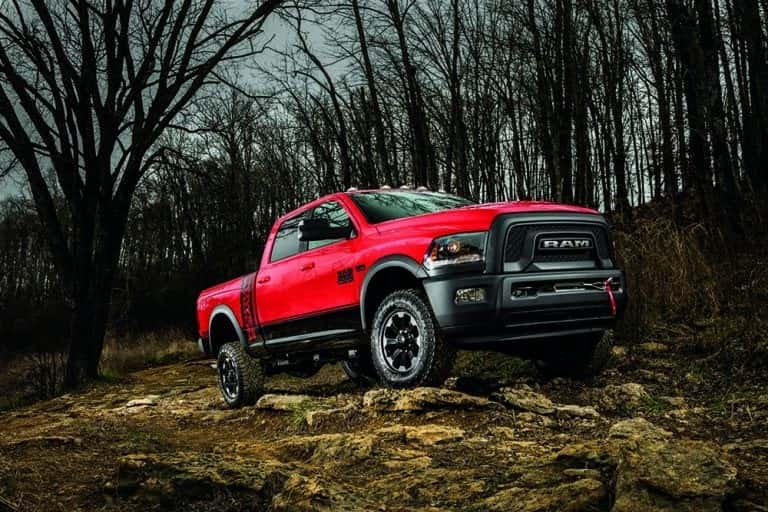 Entering the new model year with a new and improved design is the 2017 Ram Power Wagon. The Ram Power Wagon is a trim on the Ram 2500 lineup and it is definitely one of the most unique Ram truck models, but does that mean it is for you? Well, that depends on what you want and need from your Ram truck.
Body
To give buyers the opportunity to find the best truck for their needs, the Ram 2500 lineup consists of a variety of truck configurations. Buyers have the option of a variety of trims, three cab sizes, three truck bed sizes, three axle ratios and a 4×2 or a 4×4 drivetrain. But as a specific trim built to handle the toughest off-roading conditions, Ram Power Wagon is only available with a few modifications.
The Ram Power Wagon is available as either the Power Wagon Tradesman or the Ram Power Wagon Laramie. Both versions are fitted with the Power Wagon's special off-roading equipment, but the Power Wagon Tradesman doesn't have the badging or all of the interior features that are on the Power Wagon Laramie. Aside from those differences, both Power Wagon options are only available as a four-door crew cab, with a 4×4 drivetrain, a 6'4" truck bed and a 3,73 or 4.10 axle ratio.
Engine
The Ram 2500 Heavy Duty lineup has three engine options, including the standard 5.7L, 6.4L plus a 6.7L Cummins turbo diesel engine. Most Ram trims are available with each of those engine options, but the Ram Power Wagon is only available with the 6.4-liter V8 HEMI MDS engine paired to a 6-speed automatic transmission. So if you need the towing capacity of the 6.7L Cummins Turbo diesel or prefer a smaller engine like the 5.7L engine, the Power Wagon may not be the right truck for you.
The 6.4L engine produces 410 horsepower and 429 lb-ft of torque, making it best-in-class for horsepower and torque.The engine is built with MDS, or a multi-displacement system, which is a fuel saving technology. With MDS, an engine deactivates four of the V8's cylinders when the throttle is closed or at steady speeds, this helps the engine save on fuel when it is not needed.
When equipped with a 3.73 axle ratio the 6.4L engine helps the Ram Power Wagon Tradesman to achieve a maximum towing capacity of 12,650 pounds and a maximum payload capacity of 3,300 pounds and the Ram Power Wagon Laramie to achieve a maximum towing capacity of 12,450 pounds and a maximum payload capacity of 3,120 pounds. The maximum towing capacities increase by 300 pounds when the truck is equipped with a 4.10 axle ratio.
Off-Roading Equipment
If you want a Ram 2500 for off-roading, then the Ram Power Wagon is definitely the truck for you because it features top-of-the-line off-roading equipment.The truck's Hill-descent control feature makes it easier for drivers to control speed when going down steep inclines because they can moderate speed via the column shifter rather than the throttle or brake pedals.
The Power Wagon also has a specially tuned suspension that improves handling and the smoothness of an off-road trip on rocky terrain. The Power Wagon has Bilstein shocks, a two-inch lift and a five-link coil design. The Bilstein shocks help to provide cushion when the truck goes through uneven terrains that might cause the truck to drop a few inches, so big dips and divots won't break the truck's suspension. Rather than give the truck a leaf spring suspension, Ram used a five-link coil rear suspension because it is a lighter system and its natural rotation leads to less truck vibration and provides more lateral support.
The Ram Power Wagon has a 14.3-inch ground clearance, which is 2.3 inches more than standard Ram 2500 models and more than the Ford Raptor's ground clearance (11.2 inches in the front and 12.1 inches in the rear). The Power Wagon has water fording capabilities of up to 30 inches and it rides on 33-inch Goodyear Wrangler DuraTrac tires and 17-inch forged aluminum rims.
Another piece of the Power Wagon's exclusive off-roading equipment is a standard 12,000 lb. electric winch. This winch makes the Power Wagon capable of pulling out other trucks and off-roading vehicles when stuck in tight situations.
Exterior
One obvious difference between the Power Wagon and other Ram 2500 trims is their different exterior looks. The Power Wagon is available in five bold colors and all Power Wagon's have bold graphics that make it look fierce. Unlike the chrome or body-colored grilles that are on most Ram 2500 models, the Power Wagon also has the same blacked-out grille as the Ram 1500 Rebel.
No matter your needs or wants, Ram has something for you. From light-duty trucks, to heavy-duty trucks to commercial trucks and vans, Ram has options for functionality, needs and exterior appearance.
You can view all of our Ram truck inventory here.