New Ram Limited-Edition Packages, Mojave Sand + Ignition Orange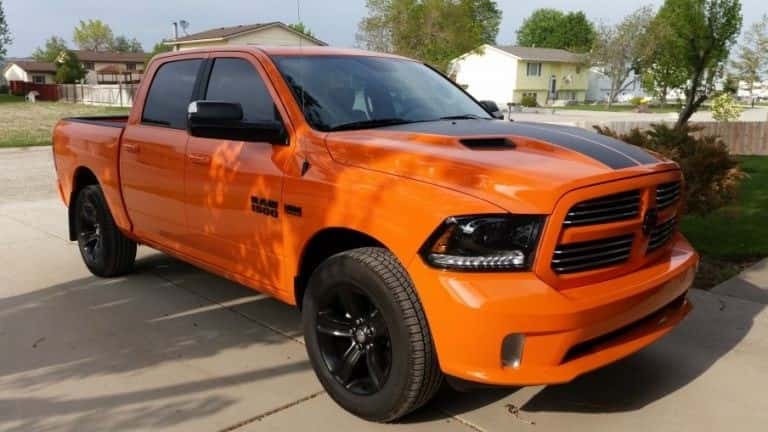 In 2016, Ram sporadically introduced the year's collection of limited-edition models, but it looks like Ram has some bigger plans for 2017. This week, Ram has announced the addition of two limited-edition appearance packages — the 2017 Ram 1500 Rebel Mojave Sand package and the 2017 Ram 1500 Ignition Orange Sport.
2017 Ram 1500 Rebel Mojave Sand
Unlike the regular Ram 1500 Rebel models that are available in jet black and bright red, the Mojave Sand appearance package is a little bit more refined looking. The special-edition color is a color that lies somewhere in the "cream" spectrum, and the smooth color is accented with two matte black stripes on the vehicle's hood and tailgate.
The special package will be available on all three of the Ram 1500 Rebel's three crew cab configurations and with the option of three engines. The truck's interior will be all-black and accent gray stitching will add a little touch of color.
Only 1,600 units will be made and orders will begin arriving at dealerships in December 2016. Starting MSRP is $45,590.
2017 Ram 1500 Ignition Orange Sport
Adding a little spice to the mix is the bright orange limited-edition Ram 1500 Ignition Orange Sport package. The limited-edition package is limited to the Ram 1500 crew cab V8 models and its vibrant orange paint job is accented with a Sport performance hood with black decals, a black Ram's head grille badge, a black tailgate badge and black body-side badges.
Despite the bold exterior, orange takes a "back seat" on the truck's interior. The package comes with a black interior that has a variety of orange details on the seating, side panels and dashboard. There will only be 1,500 units available and they are arriving to dealerships now. MSRP starts at $43,740.
Interested in one of these limited-edition Ram truck models?
Lucky for you, University Dodge is the largest Ram dealership (sales and inventory) in the Southeast United States, so we are the first and sometimes the only local Ram dealership with the latest limited-edition models. Come check out our inventory today to see if we have them available!
Photo source: Dodge Ram Forum