New eTorque System on All-New 2019 Ram 1500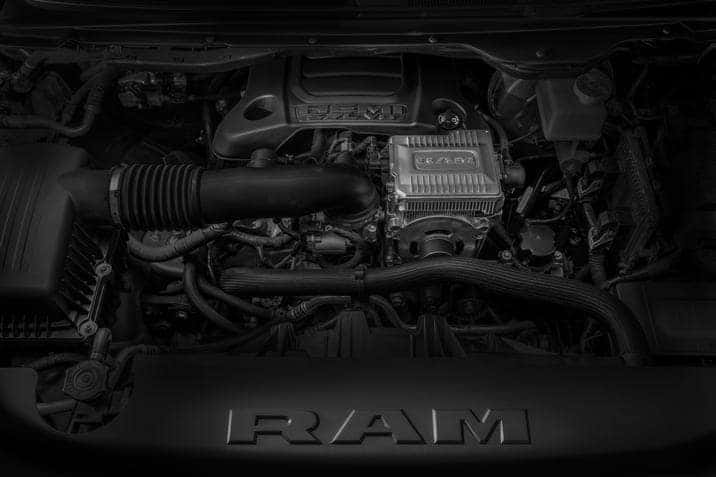 Ram made a pretty big impact on the truck industry with the new eTorque system that will be available in the 2019 model year. While Ram is not the first manufacturer to make a mild hybrid engine, Ram's mild hybrid system is more impactful than the others because it will be standard on all V6 engines and an available option on the V8 engine.
One thing that is excellent about using an eTorque system on a truck is that it helps conserve fuel while also increasing the amount of torque the truck produces, and torque is a significant factor in a truck's towing capacity, so really eTorque is a win-win for drivers.
New eTorque Tech
The new eTorque system is powered by a 48-volt battery that is located in the rear cabin of the truck. Though the new battery weighs about 100 pounds, thanks to Ram's use of new lighter materials for the trucks frame, the all-new Ram 1500 is 225 pounds lighter than the previous Ram 1500.
The eTorque system uses the battery pack for a few different functions. One function is that the eTorque system replaces the vehicle's alternator because the eTorque's battery-powered generator does the work an alternator would do. The eTorque system is also responsible for supplying power to the engine's new stop/start system that helps conserve fuel by turning off the engine when the engine is idle. The battery is recharged with regenerative braking, which is an innovative system that recycles the energy used to control the brakes into energy to charge the battery.
In addition to helping the engine conserve fuel due to the stop/start system and The eTorque system adds about 90 lb-ft of torque to the 3.6L engine and 130 lb-ft of torque to the 5.7L engine.
Aside from the benefits of the new eTorque system on the engine, it's a great new system to subtly introduce innovative new tech to people who may have been weary about hybrids and new engine technologies. The new eTorque system will not require drivers to do anything extra when behind the wheel and in fact, the regenerative braking system will actually extend the lifespan of the truck's brakes.
Overall, the all-new Ram 1500 seems like Ram made a big step in the right direction and the eTorque system is just a little piece of the improvements.
Want to check out new Ram 1500 inventory?
University Dodge Ram is the largest Ram dealer in the southeast U.S. and we're always one of the first dealerships to get the newest Ram and Dodge models. If you are ready to check out new Ram 1500 inventory, come by and visit us at our location on S. University Dr. in Davie, Florida. We are open seven days a week!