It's Here: Introducing the All-New 2021 Ram 1500 TRX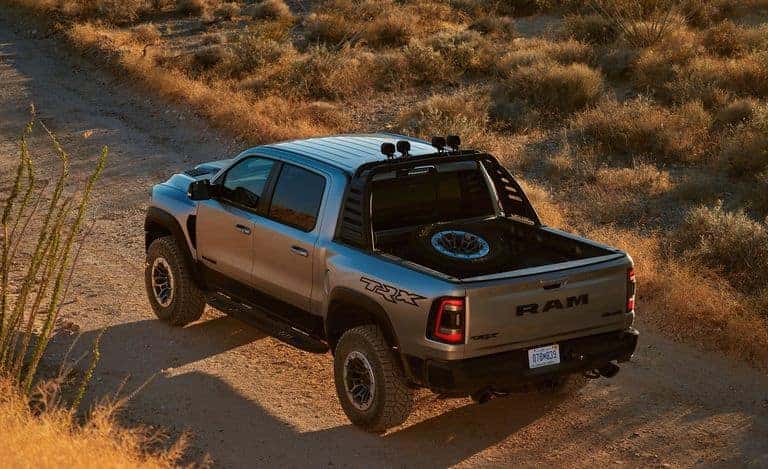 Ram Trucks was not playing around when its engineers designed the all-new 2021 Ram 1500 TRX. Enthusiasts will refer to it by its three respective letters, but the people that built it prefer to refer to it as the "T. rex" as a nod to the model's obvious rivalry with the existing Ford F-150 Raptor. When it comes to the dinosaur food chain, it's safe to say that T. rex trumps raptor, and that's exactly the same here — the 2021 Ram 1500 TRX blows its competition out of the water. Mike Koval, Head of Ram Trucks, said "T. rex destroys raptors," referencing not only Jurassic Park and the Jurassic era, but Ram's hoping that's the case during the fourth quarter of 2020 when the model goes on sale. All TRX pickups feature a crew-cab, short-bed configuration and have a base price of $71,690 (including the destination fee).
Ram's goal was to design the most grandiose pickup, starting with a supercharged 6.2-liter HEllcat HEMI V8 with 702 horsepower and 650 lb-ft of torque. The addition of the HEMI is a continuation of Fiat Chrysler Automobiles (FCA's) strategy to place the supercharged V8 into more and more engine bays. But, the TRX is so much more than a Ram 1500 with a Hellcat under the hood. It's got flared fenders that are considerably massive at 8.0-inches wide and an increase of 6.0-inches of track width. The frame and suspension components have been incredibly reinforced to put up with unforgiving terrain. Ram even opted to move the front axle forward a couple of inches to allow for the TRX to have more than 13 inches of suspension travel front and rear. Even the ground clearance improves by more than 3 inches, bringing the total to 11.8 inches of clearance. 
Ram also added adaptive Bilstein remote-reservoir dampers that continuously vary their rates, dependent on inputs from three different accelerometers and ride-height sensors in every corner of the pickup. The TRX also boasts a Dana 60 rear axle, the Ram 1500's coil-spring suspension, and an electronically-locking differential as well. The front axle relies on the brakes instead to mimic limited-slip functionality. Not only does the TRX offer buyers the option of launch control, there's even a dedicated button on the dash to get things started. Ram boasted not only that the Ram 1500 TRX is the fastest of today's pickups, the truck maker also claimed times of 12.9 seconds to complete a quarter mile at 108 mph and 4.5 seconds to go from 0-60 mph as well. 
The interior of the TRX feels as if Ram spared no expense thanks to the giant 12.0-inch center touchscreen display, a traditional shift level that does away with the Ram 1500's customary rotary knob, and paddle shifters to help control the eight-speed automatic transmission. Mid-grade cloth seats are standard, but buyers can upgrade to best-in-class leather-lined seats as seen on the Ram 1500 Limited — the truck maker's top-tier trim. There are also a lot of "firsts" for Ram as a brand when it comes to the TRX, including the very first head-up display, an automatic trailer-backing function, and a digital rearview mirror. Fuel economy numbers weren't mentioned at all during Ram's big reveal, but it's safe to say that anyone buying a truck that weighs over 6,000 pounds and offers 702 horsepower knows what they're getting themselves into. Ram wants to put an end to the battle for off-road supremacy, and with the introduction of the 2021 Ram 1500 TRX model they appear to have laid down the gauntlet.
The all-new 2021 Ram 1500 TRX is available to order right now. If you're interested in more information, please reach out to us via University Dodge social media, so our experts can help you with any questions you may have. If you're in the market for a truck that's a little (read A LOT) less menacing, check out the revered Ram 1500 and the popular Ram 1500 Classic here at University Dodge and schedule your test drive today!
Photo Source/Copyright: Ram Trucks