Is There a Ram 1500 Hellcat Planned for the Future?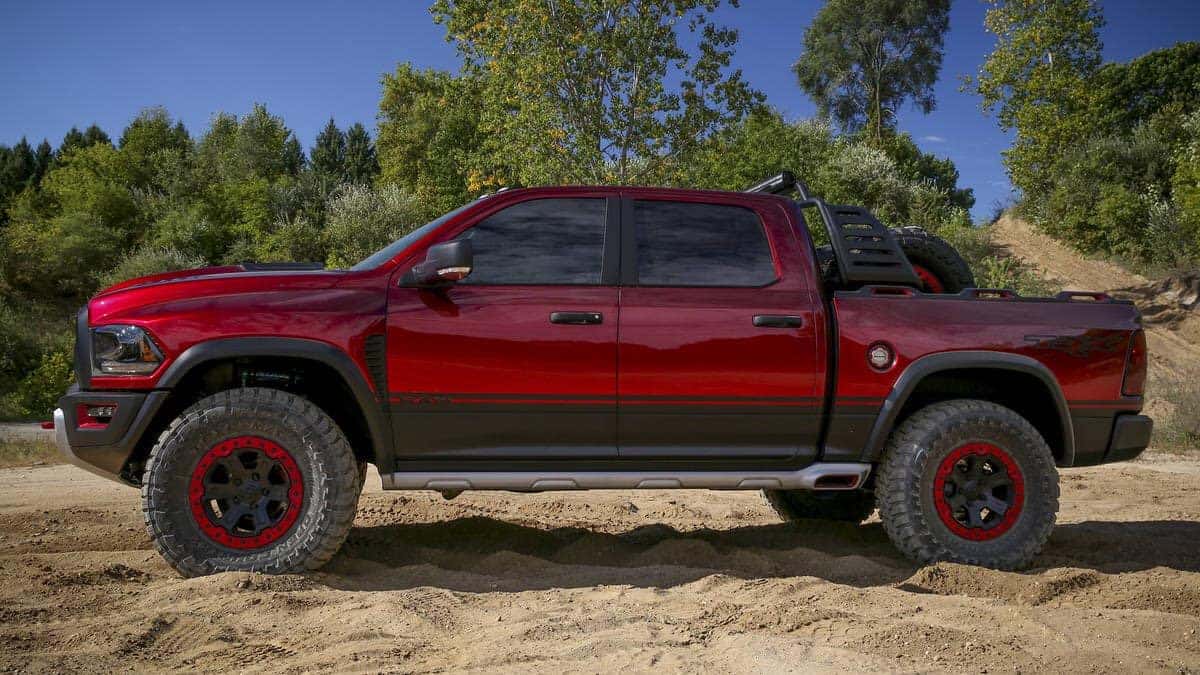 After years of speculation and even a concept vehicle revealed back in 2016 at the State Fair of Texas, Ram seems to slowly letting out information about the long awaited Ram 1500 pickup with a Hellcat engine. The Hellcat engine has been made popular by FCA's Jeep and Dodge Hellcat vehicles because the Hellcat HEMI V8 engine produces 707 horsepower and 650 lb-ft of torque.
With the all-new 2019 Ram 1500 on the way to dealers, enthusiasts have been looking for clues about possible plans for future trucks, and they think there's a sign. Pictures of the Ram 1500 truck showed a time of 7:07 on the vehicle's new 12-inch touchscreen display and considering all of the teasers Dodge had leading up to the announcement of the Dodge Challenger SRT Demon, a little sign like that could mean something.
A Ram 1500 with a Hellcat Engine?
If Ram did make the 707-horsepower 6.2-liter HEMI SRT Hellcat V8 engine an available option, it would make the Ram 1500 the fastest production pickup truck on the market. The interest over this concept has peaked for several years about when this vehicle would be made. Such a concept first introduced in a Ram Rebel TRX concept vehicle back in 2016, started the dream of a Ram with a powerful V8 Hellcat engine, and now that may become reality.
Back in 2016, Head of Ram in the United States, Jim Morrison said the Ram Rebel with the Hellcat was just a concept, but that Ram would consider a future production version. With  the release of the 2019 Ram 1500 series, a truck large enough to carry the massive Hellcat Hemi V8, the more interest grows. Will this be the year we find out?
No Speculation Here
The future may be here sooner than we think. While this is still speculation, there isn't any speculation about what makes the all-new Ram 1500 a must have. For years Ram pickups have the highest ownership loyalty of any half-ton pickup. Durability, craftsmanship and reliability are the cornerstones of what made Ram pickups what they are.
And the best part is many new features have been added to improve the current 2018 Ram 1500 with the Uconnect 4C including a 8.4 touchscreen, five-link coil spring rear suspension that helps reduce overall friction in the system without sacrificing heavy-duty towing capabilities. With improved turning abilities, feel as confident as ever driving this Ram pickup. Backed by a 5-year, 100,000 mile warranty
Visit University Dodge where you can test drive a new 2018 Ram 1500, currently available while we await the latest all-new 2019 Ram 1500. We'll be happy to show off our entire lineup of Hellcat engines in our Dodge vehicles, incase you want to test drive one of these exciting and fast vehicles.