Everything We Know About the Upcoming Ram 1500 EV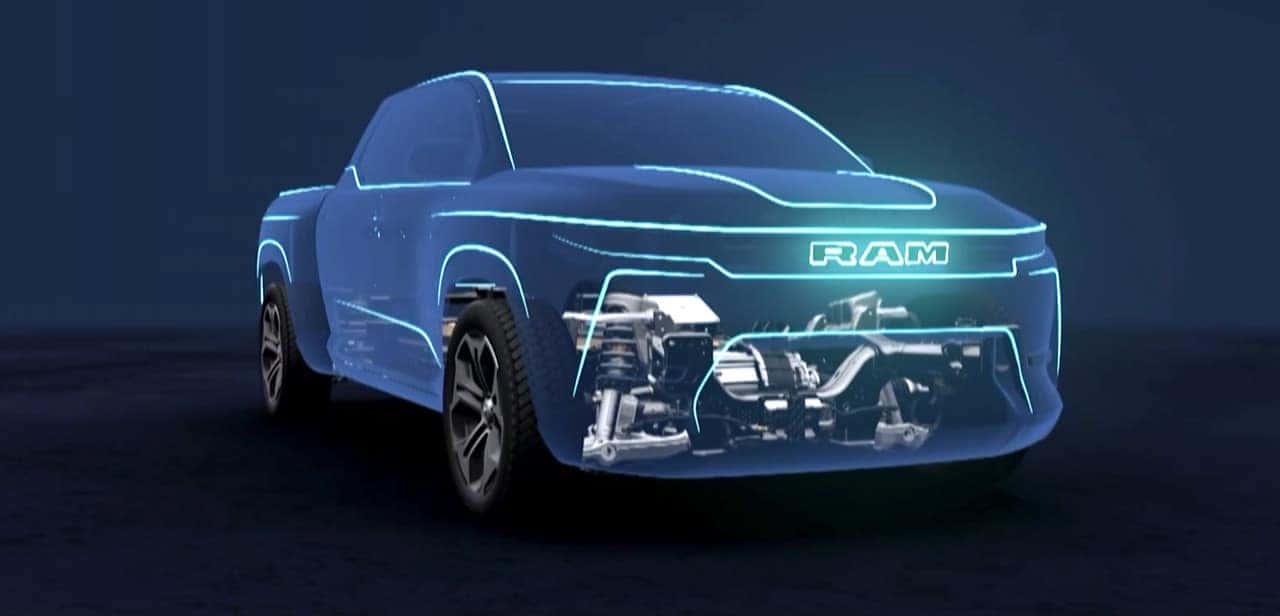 During a moment of incredible momentum and rising gas prices electric vehicles find themselves at the center of the conversation and the automotive industry is eager to comply with buyers' demands. Small hatchbacks, sports cars, even large trucks and SUVs are joining the electric craze. Heavyweights like GM and Ford have already unveiled their full-size pickup truck offerings, with Ram slated to enter the market in 2024. The Ram design crew is hard at work under the "Ram Revolution" banner as they craft an electric Ram 1500. Teaser sketches have given us a glimpse of the future pickup, but here's what we know so far. 
Ralph Gilles, Head of Design, is notorious for nailing automotive design and his team is sure not to miss the mark when it comes to unveiling a new-and-innovative truck. The upcoming Ram 1500 EV will feature an illuminated 'RAM' logo on its front fascia in lieu of a traditional grille. Meanwhile, the LED headlamps will be framed by twin DRLs as a contrasting hourglass graphic perfects dynamism on the lower bumper. Ram also teased a raked cabin and rear pillars that hone in on the futuristic aesthetics. Additionally, on many of the teasers we can see black inlays into the side sills and front fender moldings, while on the rear there's a high bedside, illuminated RAM lettering in red, and full-with LED taillamps. 
Less is known about the interior cabin, but considering the strides Stellantis (Ram's parent company) has made when it comes to the interiors of sister brand Jeep and the likes, enthusiasts are sure to be impressed. Besides, the current Ram 1500 lineup is also highly lauded when it comes to interior features. Buyers should expect large infotainment screens, a head-up display, over-the-air software updates Level 2+ semi-autonomous driving capabilities, and a digital instrument cluster. 
Stellantis' STLA Frame architecture designed for large trucks and SUVs will underpin the electric Ram 1500. Large enough to accommodate battery packs in the 159-200 kWh range, the pickup should be good enough to provide over 500 miles of all-electric range. IF the 800 Volt EV architecture remains the one of choice, class-leading DC fast-charging is expected to be baked in. Additionally, Ram is expected to follow Ford's footsteps and allow exceptional vehicle-to-grid and vehicle-to-load technology that can power worksite equipment and even sustain a home in case of a blackout. 
Interested buyers can expect the initial Ram 1500 EV to generate from 201-443 horsepower thanks to its electric dual motor output. Of course, as with everything Ram, performance is key and there are rumors swirling that there's an insane 885 horsepower dual-motor variant in the works as well. Experts find that insane for such a battery-heavy pickup, but time will tell – we certainly don't expect Ram to under-deliver. Stellantis also announced a Range Electric Paradigm Breaker is in the works, giving this pickup truck a range-extender that can possibly range from an additional (and conventional) internal combustion engine or even hydrogen combustion. An official reveal is due within the next year as the pickup arrives for the 2024 model year. 
Follow University Dodge on social media to stay up to date with the latest Ram news and offers. Visit us at University Dodge to check out the newest Ram Trucks inventory, including the Ram 1500 TRX and more! 
Photo Source/Copyright: Stellantis