Heavy Duty Battle: Ram 3500 vs. Ford F-350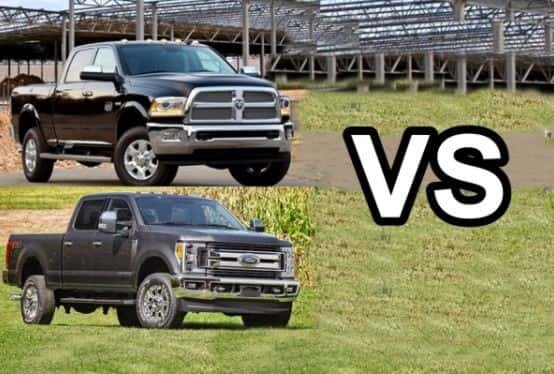 There are many benefits to a heavy duty truck like the Ram 3500 of Ford F-350. Heavy duty pickups have larger engines, haul more, have enhanced transmissions and they can be used for commercial jobs (boating companies, lawn services, etc.). With that being said, if you know you need a heavy duty pickup due to the benefits previously mentioned, then the next thing to decide is which brand is for you. If you ask us, we will say the Ram 3500 every time.
Design
Design, engineering, and durability all play a big role in a vehicle's ability to last long and protect passengers in case of an accident. Of course, America's longest lasting truck, Ram, takes home this category. Ever seen those commercials of the Ford truck with the aluminum bed? The commercial shows the truck bed is damaged when cargo is loaded in it and the results are accurate. The F-350 has an aluminum body, which lowers the weight of the truck, but the aluminum truck bed is more easily damaged than other metals. When you are throwing cargo in a truck bed, you don't want to be concerned about damaging it.
When it comes to the actual frame of the vehicle, the Ram 3500 comes with a high-strength hydroformed 50 KSI (translate to 50,000 PSI) steel frame. In basic terms, a sturdy and extremely durable frame that isn't overly heavy to weigh the truck down. The frame also has eight crossmember bars which allows for even more strength and protection of the vehicle. On the other hand, the Ford F-350 is designed with a lot less durability, in fact it has 14,000 less PSI strength than the Ram (36,000).  
Both of these vehicles come in different cab options. The Ford comes in regular cab, supercab, and crew cab configurations, which is the largest. The Ram comes with regular, crew and mega cab options. This is another reason to go Ram. If you need more interior space for cargo or people, the Ram 3500 is also available with the mega cab which is one of the the largest cabs in the truck game.
Performance and Engines
Now, let's talk engines and performance. Ram kills it in this category as well! Both of these vehicles have two engine options, a standard gas engine and an upgraded diesel engine. The standard Ram 3500 is a 6.4-liter HEMI V8 engine that has best-in-class horsepower (410 hp) and produces up to 429 lb-ft of torque. The F-350 base engine is a smaller 6.2-liter SOHC 2-valve flex fuel V8 engine that produces 385 horsepower and 430 lb-ft of torque. The base engine for the Ram is not only bigger, but much more powerful too.
Price
No matter what car, truck, vehicle your are talking about, price is always important. This is another reason we recommend the Ram 3500 over the F-350. Price for both of the trucks vary depending on trim, cab choice and engines and between the base trims there is not a huge difference but with an MSRP of $33,245, the Ram 3500 Tradesman (base trim) is slightly more affordable than the Ford F-350 trim, which has a starting MSRP of $33,705.
Ready for your new Ram 3500? Come down to University Dodge Ram or check out our Ram truck inventory online here.
Photo source: YouTube