FCA to Unveil new Ram Heavy-Duty Pickup at NAIAS 2019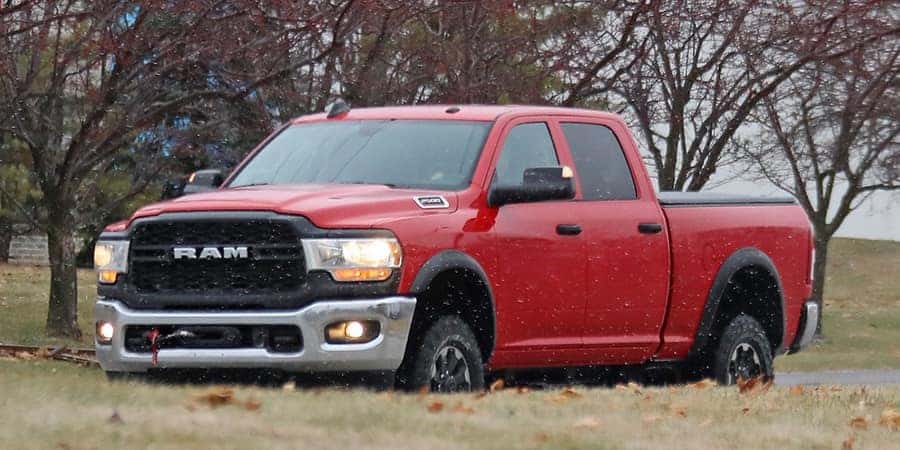 No one should be tempted to think of Fiat Chrysler Automobiles' (FCA) all-new Ram 1500 full-size pickup as a sleeper. Motor Trend certainly didn't think so when it named it the Truck of the Year, and neither should its rivals – GM and Ford – who have witnessed the Ram brand carve a significant portion of the segment for itself just in 2018. The latest version of the Ram 1500 has taken off with a burst of impressive and positive reviews, with its mild hybrid eTorque system being widely celebrated for boosting the pickup's fuel economy. Experts estimate that about a quarter of the full-size pickup business stems from the sale heavy-duty trucks, but how is Ram doing when it comes to heavy-duty trucks? Apparently, a brand new Ram heavy-duty pickup is on its way to being unveiled at the 2019 North American International Auto Show (NAIAS) later this month (January).
Those who need a pickup for more than personal transportation will be happy to hear that Ram is currently in the process of overhauling their heavy-duty trucks the same way they've overhauled their latest Ram 1500. The changeup was much more than a facelift for the aging truck that's now been thoroughly redesigned, thus industry experts believe that the heavy-duty trucks in the Ram lineup can also expect to shed the big-rig persona and project a much more sophisticated design. FCA is looking to ramp up production of the new Ram and will continue to sell the previous model until the changeover is complete – a plan that's likely to be the same when the heavy-duty trucks go through their own transition period.
Spy photographers within the vicinity of FCA's testing grounds in Michigan have gotten a few glimpses at what appear to be heavily-camouflaged versions of the new heavy-duty Ram trucks. Judging from the looks of it FCA will be the first to launch the latest ultra-capable truck, an advantage in this silent pickup war that these automakers are waging. Here's what we know so far about the Ram brand's latest heavy-duty gem:
The design is said to be a bigger and beefier version of current Ram heavy-duty models (think 2500 and 3500), with more pronounced muscle on the familiar body design. Headlight and taillight design comes directly from the new Ram 1500 light-duty pickup, one of the first shared design characteristics of what we suspect will be many. Once again borrowing from the all-new 1500, the heavy-duty pickups will also lose the traditional crosshair grille in favor of the centered Ram badge that's slated to be a lineup-wide standard by 2020.
No one has been able to figure out if FCA will be making any changes to the powertrain options in the latest heavy-duty truck as of yet. Heavy-duty trucks in the Ram lineup are currently powered by a 5.7L HEMI V8 engine or a 6.7L Cummins turbo diesel six-cylinder engine. While these are both excellent options in any truck that's asked to complete challenging tasks, FCA may actually bump the power in either of these proven engines in an attempt to round out class-best figures. Actual specs won't be available until the heavy-duty Ram lineup makes its official debut, but until now spy photographers have been able to confirm other features such as an 8.4-inch touchscreen display using the latest of FCA's Uconnect infotainment system, heated and cooled seats, even some ornate stitching and etching on the higher-tier prototypes.
For the latest Ram news follow University Dodge on social media. And don't feel you have to wait until we bring you the news – check out the latest all-new 2019 Ram 1500 to get an idea of the features the latest heavy-duty models will likely have!
Photo Source/Copyright: Trucks.com