Dodge Charger Looking to Make a Splash at 2020 California Spring Fest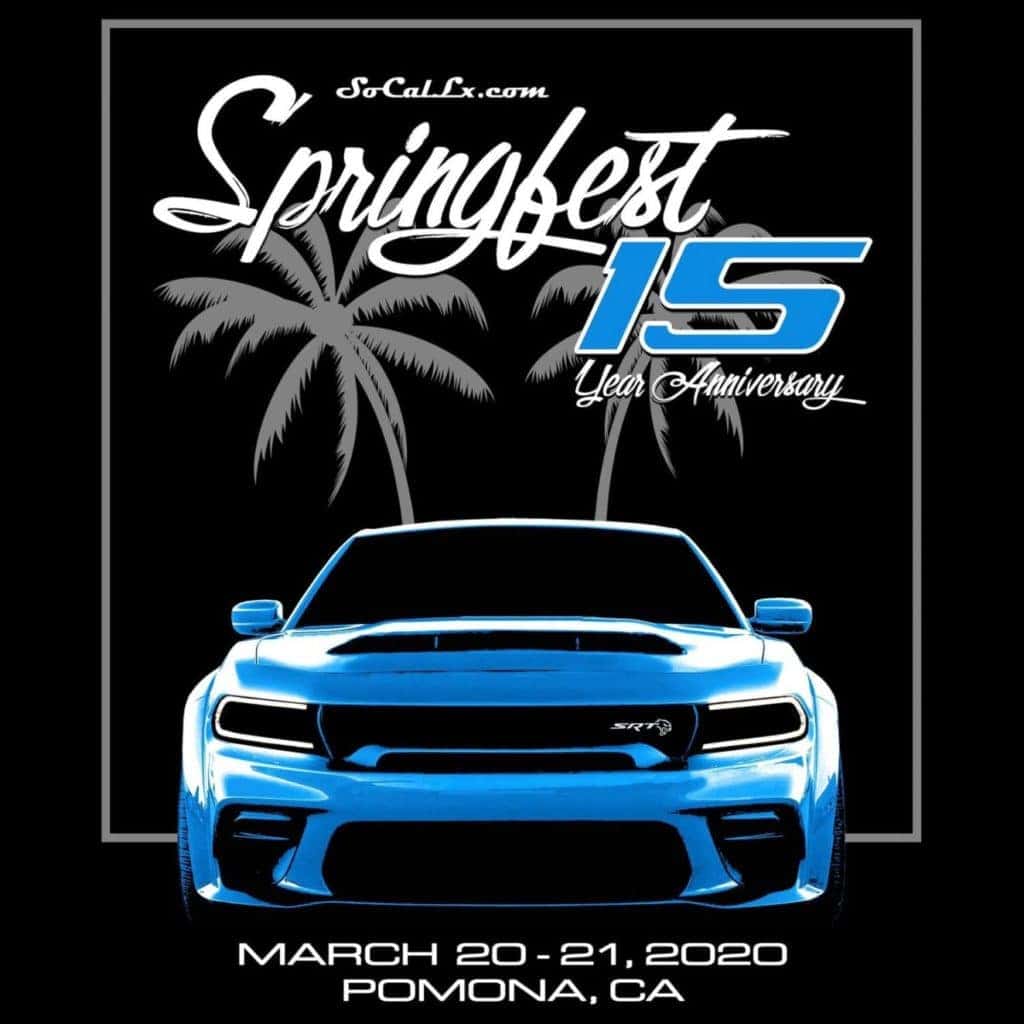 Dodge owners are counting down to this year's So-Cal Spring Festival 15, a mass gathering that serves as a hub to show off Mopar products. The gathering has been growing for the past 15 years, serving as the stage not only for classic muscle cars, but modern Dodge muscle cars as well. Dodge is known to have a fiercely loyal fan base thanks to its high-horsepower muscle cars that compete with the best of them. Updates and additions to existing vehicles are customarily announced at the festival and enthusiasts' expectations are higher than ever. 
So what rumor's got the enthusiasts hyped up? The poster for the event, pictured above, features a Dodge Charger with a hood that's distinctly larger and wider than the standard, just like the one on the Dodge Challenger Demon. Enthusiasts are torn between believing the hood to be a graphic design mistake on the poster or an easter egg that hints at a new option for the Charger model. Dodge has always been into easter eggs, choosing previous SpringFest occasions to tease prior special edition models, such as the Dodge Challenger 50th Anniversary Edition. For the time being, experts believe that it's unlikely that Dodge will release a Charger that rivals the Challenger Demon, but that remains to be seen. 
Attendees can expect a number of activities such as the opportunity to survey over 50 vendors for aftermarket parts and upgrades, as well as rides with professional drivers in Dodge Challenger and Charger models. The "Mecca of Mopar" is scheduled to take place on March 20-21 at the Auto Club Raceway in Pomona, California. It was only last year that Dodge chose the 2019 Spring Fest as it's stage to debut the 2020 Charger Widebody, a configuration long-expected from muscle car enthusiasts. 
As usual, we won't know of any new editions or upgrades to the existing lineup until the event takes place. Dodge does not comment on vehicles that are — or might be — in production, an approach that's considered standard in the automotive industry. Company spokespersons have said in the past "We are taking a Charger design concept to Spring Fest to gauge feedback from the huge Dodge Charger, Challenger, and Chrysler 300 enthusiast base that attends the California event each year. Other than that, we don't have anything to announce." 
That being said, the Charger Widebody that debuted at the 2019 SpringFest did eventually become a production model later on, so it's not farfetched to speculate on the arrival of a Charger Hellcat soon. Find the Dodge Charger of your dreams at University Dodge, explore the 2020 Dodge Charger inventory and schedule your test drive today! Follow University Dodge on social media to see what cars Dodge plans to introduce in the near future.
Photo Source/Copyright: Muscle Cars & Trucks