Dodge and Mountain Dew Team up for New "Charge Your Garage" Campaign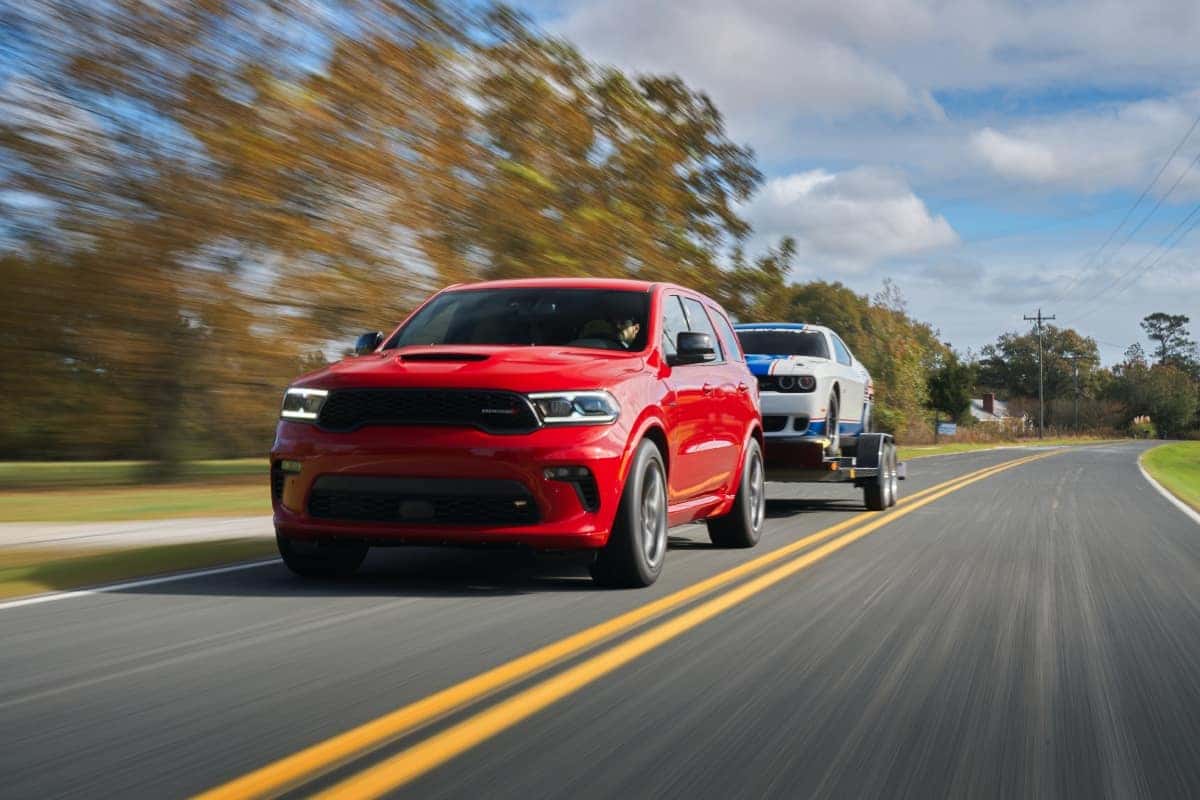 Dodge recently announced a new partnership with MTN DEW and Speedway titled "Charge Your Garage." MTN, Speedway, and Dodge are giving fans and enthusiasts a chance to take home a 2021 Dodge Durango R/T powered by the famed 5.7-liter HEMI V8 engine. Beginning March 1 (2021), enthusiasts who fuel up with a 20oz. MTN DEW at their local Speedway can scan their DEW bottle at YearofDew.com/Charge-Your-Garage and watch a garage door open to reveal if they're winners. The contest ends on May 2, 2021. Although the 2021 Durango R/T is the big prize, participants are also eligible to win bumper stickers, travel mugs, fuzzy dice, and even $50 Speedway gift cards. 
"Our recent 'Family Motto' campaign gave our enthusiasts a small taste of our ongoing partnership with the team at Mountain Dew who, like us, push the needle in everything they do. There's more to come, including this initiative that offers our shared fans the chance to 'charge their garage' by taking home a new Dodge Durango HEMI R/T of their very own," said Tim Kuniskis, Dodge Brand Chief Executive Officer — Stellantis. 
How to Win
DEW Nation can follow the next steps to score big prizes:
Grab a 20-oz MTN DEW at Speedway
Scan your DEW at YearOfDew.com/Charge-Your-Garage
Win what's behind the garage door
Plus, every scan scores an entry into the grand prize sweepstakes – a 2021 Dodge Durango R/T Tow N Go
Bonus entries are available for participants as long as they snap of photo of their DEW or DEW fandom and share it on Instagram using the hashtags #YearOfDEW and #Sweepstakes. For a comprehensive breakdown of the contest rules and regulations, interested parties can visit www.yearofdew.com/rules. 
2021 Durango R/T Tow N Go
New for 2021, the Dodge Durango R/T comes with the available Tow N Go Package that adds to the menacing aesthetic thanks to muscular front and rear fender flares, along with an unmatched 5.7-liter HEMI V8 engine, an increased top speed of 145 mph, best-in-class towing of 8,700 lbs., a re-tuned SRT-performance exhaust with an unmistakable V8 exhaust rumble, and Track, Sport, Snow, and Tow drive modes. The R/T Tow N Go Package also includes SRT wheels and tires, flares, sills, additional drive modes, Brembo brakes, and exhaust tips with a lower valance. 
Driving Modes
Sport – This mode tightens up suspension damping while delivering increased vehicle performance capability. Ram also increased the steering gradient for an improved cornering capability and overall steering response feedback. In addition, Dodge also set the all-wheel-drive (AWD) to 35/65 for improved performance and quicker shifting. 
Track –  This mode is the mode that gets the Durango to perform to the best of its ability on dry, smooth surfaces. Full hard suspension damping is activated for maximum cornering ability as well as the steering response feedback. AWD is set to 30/70 for maximum performance while the electronic stability control (ESC) system works to keep the Durango's center of gravity balanced. 
Snow – This mode is just as its title describes it — a configuration that sets the ideal snow-driving mode by automatically forcing the Durango's transmission to second gear (rather than the first) during launches to reduce wheel slippage. Stability control is tightened and AWD is evenly distributed at 50/50.
Tow – The most careful of the bunch, this mode optimizes the transmission for towing via shift schedule/engine braking, while the AWD is set to 50/50 for top stability. 
Additional features on the Durango R/T with Tow N Go include Performance Pages, re-tuned SRT Active Noise Cancellation, SRT Active Damping Suspension, and a new Electronic Limited Slip Differential as well. Four-wheel disc anti-lock Brembo performance brakes with black calipers are also standard on the Durango R/T with Tow N Go, while additional SRT-engineered Brembo brakes with red calipers and upgraded brake pads for improved performance are optional. The 2021 Durango R/T with Tow N go comes with standard 20-by-10-inch aluminum wheels in a Hyper Black finish and are clad in Pirelli Scorpion Zero all-season tires.
Get behind the wheel of your very own Dodge Durango here at University Dodge. Check out our latest Dodge Durango inventory and schedule your test drive today! Follow University Dodge on social media to stay up to date with the latest Dodge news and offers.
Photo Source/Copyright: Stellantis