Which 2021 Dodge Durango Trim is Right For You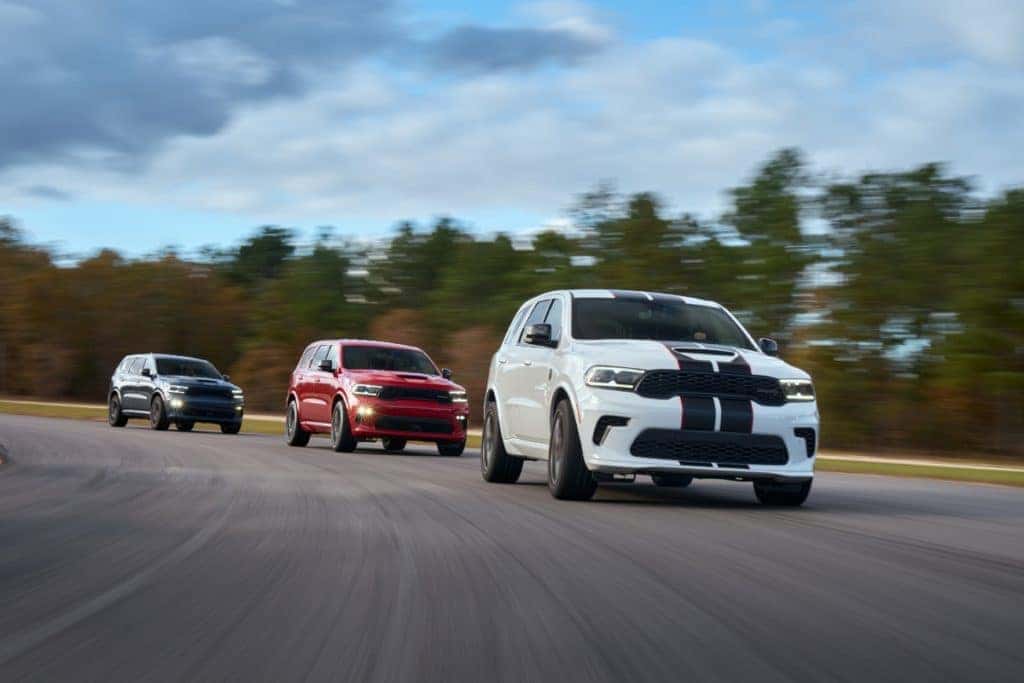 These days it's getting harder and harder to find traditional midsize SUVs that still feature a heavy duty body-on-frame construction, but the 2021 Dodge Durango reigns supreme when it comes to that. The rugged SUV maintains its old school muscle-inspired charm not only because of its aggressive front fascia, but also because of its numerous engine options, both V6 and V8 variants, and its effective available four-wheel drive that makes off-road adventures possible. Entry-level Durango trims pave the way for other more pavement-scorching trims such as the SRT and Hellcat-powered Durango trims that offer eye-popping performance. Here's a breakdown of the 2021 Dodge Durango to help you determine which trim is right for you.
Basics of the 2021 Dodge Durango
The bulk of the attention is deservedly placed on the Durango SRT Hellcat, but as it turns out the entire Durango lineup receives stylish updates across the board. Inspired by the Charger Widebody, the 2021 Durango now features a forward-leaning profile. Other updates include the addition of LED daytime running lights, an upgraded grille, various wheel options depending on trim level, a pronounced rear spoiler, and LED low/high headlamps. Power comes from the standard 3.6-liter Pentastar V6 engine, with 295 horsepower and 260 lb-ft of torque, and a towing capacity up to 6,200 lbs. Higher-tier trims can be optioned with the famed 5.7-liter HEMI V8 engine instead, with its 390 lb-ft of torque and 360 horsepower. Towing capability goes up with the larger engine — up to 7,400 lbs, while an optional Tow 'n Go package bumps the figure up to 8,700 lbs. 
Before the Durango SRT Hellcat arrived on the scene, the Durango SRT 392 reigned supreme. The 392 trim still has a respectable 6.4-liter V8 capable of 475 horsepower and 470 lb-ft of torque under its hood. That said, the real spectacle here is the beating heart that lies beneath the hood of the Durango SRT Hellcat — the very same one that powers Dodge's muscle cars — the supercharged 6.2-liter HEMI. This beast pumps out 710 horsepower and 645 lb-ft of torque, and is mated to an eight-speed TorqueFlite automatic transmission. All-wheel-drive remains optional for most trim levels as the standard for the majority of the Durango lineup rear-wheel-drive, except on both the Durango SRT and SRT Hellcat, where all-wheel-drive is a necessity to harness all that power. 
With a top speed of 180 mph, a quarter-mile time of 11.5 seconds, and 0-60 mph acceleration in just 3.5 seconds, the Dodge Durango SRT Hellcat is a bonafide muscle car more than it is an SUV. "Durango is our Dodge three-row muscle car. Nowhere but Dodge can you find an SUV that can tow more or carry more with a faster quarter-time than the Durango SRT Hellcat," said Tim Kuniskis, Global Head of Alfa Romeo and Head of Passenger Cars — Dodge, SRT, Chrysler and FIAT, FCA — North America. The 2021 Dodge Durango comes in six different trims: SXT, GT, R/T, Citadel, SRT 392, and SRT Hellcat.
2021 Dodge Durango SXT starting at $31,795 (plus destination fee)
2021 Dodge Durango GT starting at $35,965 (plus destination fee)
2021 Dodge Durango R/T starting at $45,305 (plus destination fee)
2021 Dodge Durango Citadel starting at $47,805 (plus destination fee)
2021 Dodge Durango SRT starting at $62,995 (plus destination fee)
2021 Dodge Durango SRT Hellcat starting at $80,995 (plus destination fee)
Stop by University Dodge and check out the latest Dodge Durango inventory, or if you're feeling more adventurous and don't have the need for such a roomy SUV, take the Dodge Challenger for a spin instead. Follow University Dodge on social media to stay up to date with the latest Dodge news and offers.
Photo Source/Copyright: Dodge/Stellantis