Convenient and Modern Ram Truck Features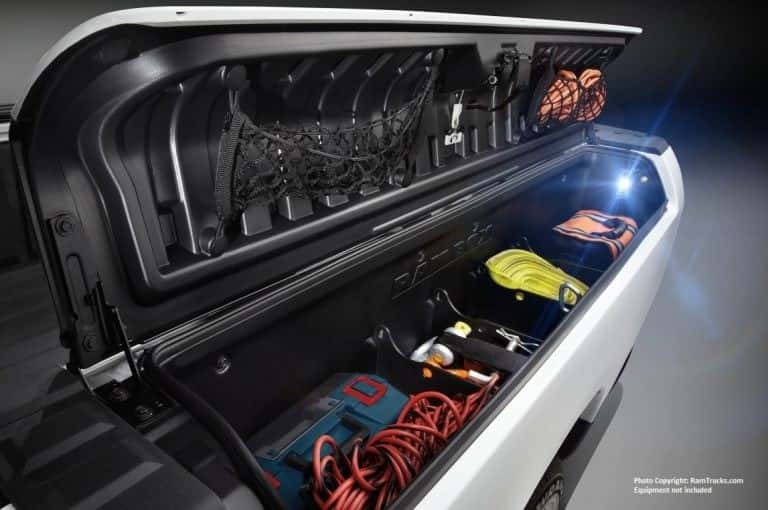 The Ram. Tough. Sturdy. Maybe even a little stubborn, but it will surprise you. All the traits of the animal are also found in Ram trucks. For the past few years, Ram has been upping their game since their split from Dodge, and they're impressing everyone with their own form of ingenuity and performance. Especially with all their shiny new features.
Active Grille Shutters
Only a few years old, the active grille shutters in Ram trucks are part of the performance tuneup. In the front of vehicles is a grille, which usually allows air to enter the vehicle. An active grille shutter automatically opens the grille to promote cooling when the engine gets a little too hot. Once the engine cools down enough, the grille closes again, and re-routes air flow around the vehicle to improve its aerodynamics, which in turn increases fuel efficiency.
Automatic Height Adjustment
Height, ground clearance, and suspension are many of the terms heard when talking about off-roading or towing and hauling. Ram trucks developed a suspension that performs at peak efficiency. It's the Active-Level Four Corner Air Suspension system, and it automatically changes the truck's height depending on its current speed. Like the active grille shutters, this feature is to improve the vehicle's aerodynamics and increase fuel economy. For instance, when on the highway, smart sensors will register the speed and lower the truck's clearance to reduce drag and increase fuel efficiency. There is also the choice to manually adjust the ground clearance to one of five height settings per the driver's request.
Cargo-View Cameras
This is a really nice feature for truckers that spend many of their days with a payload in the truck bed. This is a camera behind the cab that allows the driver to keep an eye on things, giving them peace of mind. It was a feature that only belonged to the light duty truck, the Ram 1500, but recently was added onto the heavy duty 2500 and 3500 Ram trucks.
Collision Sensors
Collision sensors are popping up in a lot of new, advanced safety systems. Forward collision mitigation/warning and adaptive cruise control are the big ones, but there are two systems now in Ram trucks that make parking a whole lot easier. ParkSense Front and Rear Park Assist help drivers with parking and make it a little easier when in a tough spot. As the vehicle gets close to another vehicle or even a large object, a loud beep will go off, alerting the driver that they're too close. When coupled with ParkSense Rear View Backup Camera, the driver can also see how close they are and gauge how much space is available to maneuver.
Electronic Side Steps
Side steps aren't very new to trucks. Side steps are little platforms that run along the side of a truck, between the wheel wells, to offer the passengers and driver a lift into the truck – easy access. However, electronic side-steps are new. They are automatic, and they slide out when the door is opened. When in motion, or the door is closed, the side-steps retract back underneath the cab and out of view.
Hidden Storage – Truck Cab and Truck Bed
This is a nice one that many Ram owners love, especially those who use their truck for hunting, fishing, or even camping. One convenient, and hidden, cargo storage space is under the rear seats and in the floor of the cab (only available in crew cabs and mega cabs). This is a great way to keep valuables out of sight, but within reach while inside the cabin.
Another great cargo storage unit is the RamBox Cargo Management System. It runs along both sides of the truck bed, and has several places to store equipment or even ice cold drinks (you can drain it later). There is also a divider extender available on Ram trucks to keep all cargo organized, or make room for large items while keeping it secure.
Improved Fuel Economy
Fuel economy on trucks can be pretty tricky, but with the Ram 1500's 3.0-liter EcoDiesel V6 engine, only available on the Ram 1500 HFE, that's no longer a large problem. Offering best-in-class fuel economy, the Ram 1500 HFE now gets up to 21/29 mpg city/highway. The engine generates 240-horsepower and 420 lb-ft of torque. It has a max towing capacity of 7920 pounds.
Touchscreens
Not very new, but they deserve a spot in the list. Touchscreens have made the cabins of trucks a lot more enjoyable. Now with systems like Uconnect installed, there's plenty of apps to turn any truck into a mobile entertainment center. Plus, they come with voice-command, hands-free calling, navigation, and music.
What other add-ons would you like to see next? Let us know on our Facebook.