Characteristics of the Upcoming All-electric Ram 1500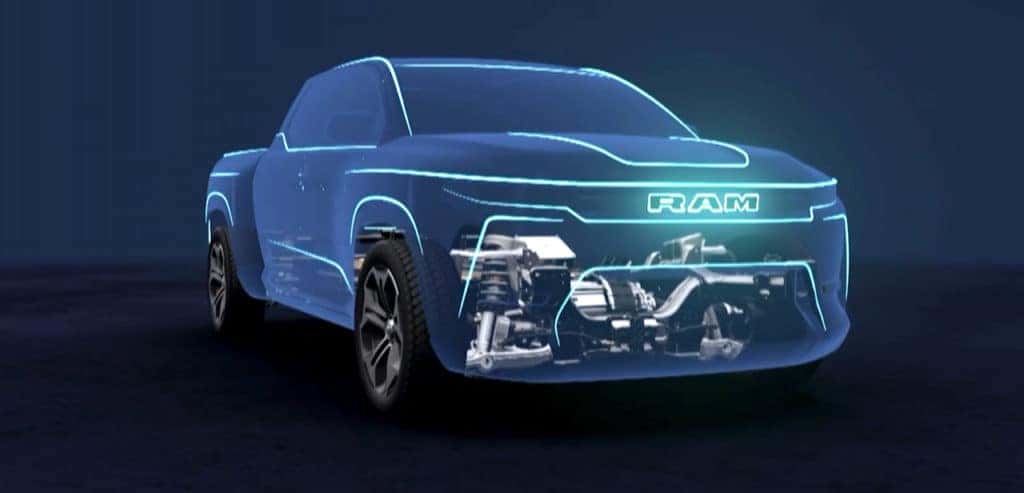 Slated to debut and enter production by the 2024 model year, the all-electric Ram 1500 will enter a somewhat shaky and fast-growing market segment. Many of its rivals are planning — or have already debuted — their all-electric pickup offerings. In this context, some experts believed Ram would change its current marketing strategy to promote its upcoming truck. Still, the truck maker won't have to, and here's why according to the brand's senior Ram brand marketing manager Carl Lally. Lally told Automotive News during a recent interview that the truck maker's focus remains the same; it's all about capability. The new electric powertrain is expected to improve all of Ram's current figures, hence capability as the primary marketing focus staying the same. 
"What we've heard from our consumers is that they're not looking for a compromised truck solution, so really, some of the core attributes that we communicate to our customers about our trucks, the capability, and the durability, those aren't going to change, I think, as you look forward to an EV-oriented truck product," said Lally. 
However, Lally did add that Ram will be tweaking its messaging slightly when it comes to the efficiency factor. While the core of the messaging remains very common or similar, the upcoming marketing slogans, etc., will have an added focus on the planet. For example, during the Stellantis EV Day, Ram's latest tagline went from "Built to Serve" to "Built to Serve a Sustainable Planet." With the addition of a few words, Ram remains clear that it plans to electrify its lineup over the next decade. 
The all-new electric Ram 1500 will follow in the footsteps of the Ford F-150 Lightning, which launches in spring 2022. Other rivals include a six-figure GMC Hummer EV pickup, Tesla's Cybertruck, Chevy's Silverado Electric, and high-end Rivian. Interestingly enough, Ram doesn't appear to be the least bit concerned about the competition. The brand was clear that its e-pickup will go above and beyond rival offerings. Evidently, Ram is playing in the vein of "it will be worth the wait," and judging from its three-peat success as MotorTrend's "Truck of the Year" in 2019, 2020, and 2021 innovation is second nature to Ram. 
For the time being, the only information out there regarding an all-electric Ram 1500 pickup is that it'll be built on the all-new STLA body-on-frame platform that's capable of accommodating battery packs ranging from 159 kWh to over 200 kWh. Experts believe the platform can provide a range of up to 500 miles on a single charge. STLA also enables all-wheel-drive thanks to its front- and rear-axle electric motors, with horsepower figures up to 442hp. 
Are you excited about the all-new electric Ram 1500? So are we here at University Dodge! Follow University Dodge on social media and stay up to date with the latest Ram Truck news and offers. In the meantime, explore all that Ram has to offer here at University Dodge, including the all-new Ram 1500 TRX, and schedule your test drive today!
Photo Source/Copyright: Stellantis