Brass Monkey Wheels Return on the Dodge Charger and Challenger Models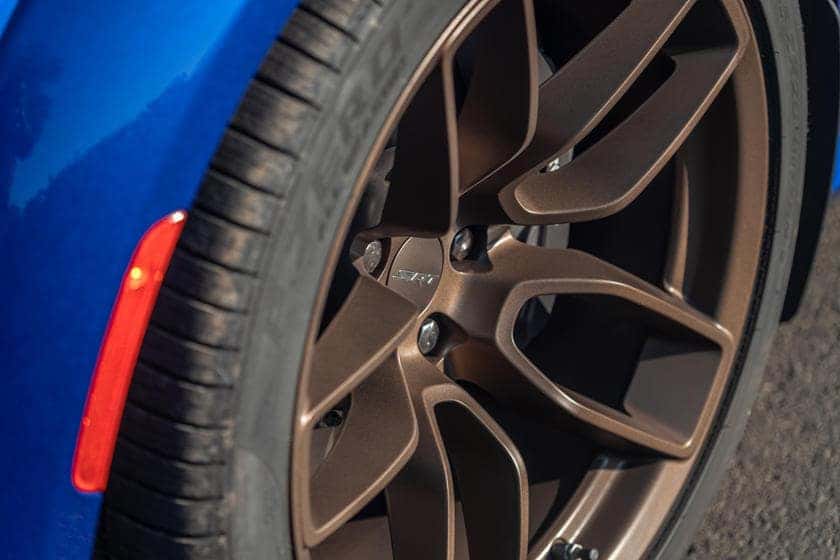 Of course changes to vehicles are expected as new model years kick off, especially as previous options and special editions are phased out, but sometimes enthusiasts are lucky and automakers restore previous options and other little joys that come with owning their vehicles. Such is the case for Dodge, who removed the option of its Devils Rim aluminum wheel design in the Brass Monkey finish on the Hellcat-powered Challenger and Charger models for the first part of 2020. The tide seems to have turned on that decision, as Mopar Insiders is reporting that the wheels will return as an available option as soon as Dodge ramps up production of its two muscle cars once more. 
Standard on the entry-level trims of both the Challenger and charger models are 20-inch Low Gloss Black Performance wheels, while 20-inch Machined with Granite Pocket wheels or 20-inch Matte Vapor SRT aluminum wheels remain optional upgrades. Widebody editions come standard with 20-inch Carbon Black aluminum wheels, while 20-inch Warp Speed Granite wheels are part of the upgrade options. The 20-inch Brass Monkey wheels in question are also an option on Widebody trims, thus replacing the 20-inch Matte Vapor SRT Aluminum wheels on the non-Widebody. 
According to Mopar Insiders, the Brass Monkey wheel choices are currently already available on the Dodge configurator. However, the Dodge configurator does not specify which trims do offer the upgrade, so we will have to wait and see once production ramps up again. The optional wheels on the Challenger model cost $1,095, while upgrading a Charger model will set back buyers only a little more — $1,295 to be exact. Additionally, when production resumes at the Ontario plant, the highly-coveted Brass Monkey wheels will bring with them something a little extra — exterior badges in a Black and Dark Bronze finish to match!
Other treats from Dodge this year include the 50th Anniversary Dodge Challenger and the recently-introduced 2020 Dodge Charger Widebody. The 50th Anniversary Dodge Challenger is available if four trims — GT, R/T Shaker, Scat Pack Shaker, and Scat Pack Widebody Shaker — and seven exterior colors: Go Mango, Gold Rush, F8 Green, TorRed, Sinamon Stick, Frostbite, and Hellraisin. Dodge is manufacturing just 70 units of each color and trim, totaling 1,960 units. 
As for the recently-introduced Dodge Charger Widebody — the first time Widebody is offered on the Charger — there's also a variant honoring the model's heritage. Dodge launched the limited run of the Daytona 50th Anniversary Special Edition Dodge Charger Widebody with only 501 units. The Daytona 50th Anniversary Charger is a Widebody, Hellcat-powered, 717-horsepower monster that pays homage to the 1969 Charger Daytona. The vehicle is only available in four colors: White Knuckle, one-of-a-kind B5 Blue, Pitch Black, and Triple Nickel. 
Looking for the best that Dodge has to offer? Look no further than University Dodge. Whether you're looking for an entry-level Dodge Charger or Dodge Challenger, or something more performance-oriented like the Hellcat-powered Dodge Challenger or the Dodge Charger Hellcat Widebody, University Dodge has got you covered. Follow University Dodge on social media to stay up to date with the latest Dodge news and offers.
Photo Source/Copyright: Dodge