2020 Ram Trucks Continue Their Winning Streak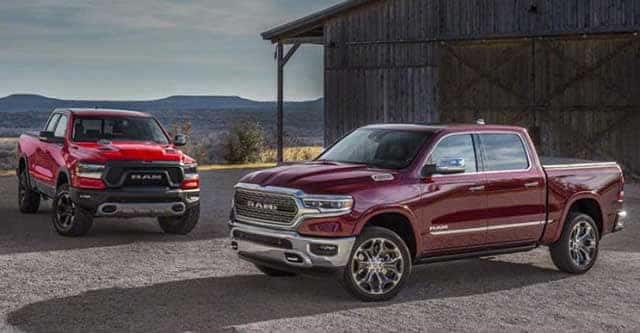 The wins just keep on coming for the 2020 Ram Trucks lineup as MotorWeek named the Ram 1500, Ram 2500 and Ram 3500 models as their 2020 Driver's Choice Award for Best Pickup Truck recipients. MotorWeek continued its tradition of pausing halfway through its television season, as it has done for 39 years now, to evaluate and award the best cars and trucks of the year. 
"Competent, hardworking pickup trucks that also have all the comfort and amenities you desire are speaking our language, and it all comes down to one name… Ram. We picked the Ram 1500 as our Driver's Choice Pickup Truck last year (2019), for all those reasons, on top of that the newly added EcoDiesel, and finish it off with the new smooth-riding Ram Heavy Duty with up to 1,000 pounds of torque — so it's Ram two years in a row. No pickup truck lineup understands us and our wants better than Ram," said John Davis, creator and host of MotorWeek. 
MotorWeek evaluates current innovations, purchasing trends, value and reliability when choosing its winners. The purpose of the awards, besides the prestige they bring, is to help create a buyer's guide for potential car and pickup shoppers. "At Ram, we're focused solely on building the best trucks and commercial vehicles in the market. This award from MotorWeek acknowledges that effort. An unrelenting effort to deliver more comfort, refinement and value to our customers continues to pay off as the awards and sales figures continue to grow. It is immensely satisfying to have MotorWeek recognize the Ram 1500, 2500, and 3500 with the Driver's Choice Award," said Reid Bigland, Head of Ram Brand.
2020 marks the first time that Ram offers the all-new V6 EcoDiesel engine on its revamped lineup, offering best-in-class diesel torque (480 lb-ft) and diesel towing capacity of up to 12,560 pounds. Additionally, the 2020 Ram 1500 EcoDiesel also leads all trucks when it comes to fuel range — when paired with an available 33-gallon fuel tank, the Ram 1500's driving range exceeds 1000 miles. The Ram 1500 also leads when it comes to cargo management and storage, as well as interior storage capacity and riding and handling. 
The Ram Heavy Duty lineup continues the brand's dedication to blending extreme performance and towing capabilities mixed in with the segment's best comfort features. With a towing capacity of 35,100 pounds, a payload capacity of 7,680 pounds, and the pickup segment's first 1,000 lb-ft of torque engine, Ram proves that it means business in the pickup segment. The new Ram Heavy Duty models also set benchmarks thanks to their use of luxury materials, innovative technology features, and class-leading ride and handling. All Ram trucks are designed to eclipse their rivals with confidence as the truck maker steps forward with modern capability. 
Visit us at University Dodge and experience everything that the 2020 Ram Truck lineup has to offer. Schedule your test drive today! Follow University Dodge on social media to stay up to date with the latest Ram news.
Photo Source/Copyright: Ram Truck