2020 Ram 1500: EcoDiesel Engine is Back!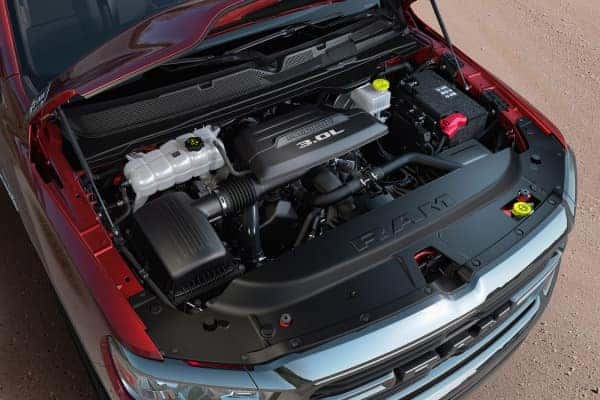 The Ram 1500 lineup was fully redesigned just last year (2019), but there was one option that was absent from the lineup. Although it debuted to much fanfare, the 2019 Ram 1500 did not have the option to choose the 3.0-liter EcoDiesel V6 option that past Ram owners had come to know and love. Good news is in order for the 2020 Ram 1500 model if our first look is anything to judge by. This year there's a new-and-improved 3.0-liter EcoDiesel V6 engine, with upgraded power and torque figures that can support high tow ratings more than ever before. Additionally, for the first time ever Ram is adding the off-road Rebel trim to the list of models that can be equipped with the diesel option. Pricing and fuel economy figures are slated to arrive by this fall before the trucks ship out to dealers nationwide.
What's new for 2020?
The only major change to the 2020 Ram 1500 lineup is the singular addition of the newly redesigned diesel engine. On the surface not much has changed, as the 3.0-liter EcoDiesel will be paired with the same trusted eight-speed transmission, but the fact of the matter is that every single component of the engine has been rethought and redesigned. Any Ram truck powered by this engine under the hood will enjoy 260 horsepower and a class-leading 480 lb-ft of torque. These figures show that the newly redesigned diesel engine makes significant gains over the engine it replaces – the old engine made 240 horsepower and 420 lb-ft of torque. Not only does the torque increase by 14 percent, but it's also generated at 400 rpm lower in the rev range, making its overall effects more useful when towing or hauling.
What's the big deal?
Diesel engines are much more common under the hood of the 2500 and 3500 heavy-duty pickups and for a long time, the Ram 1500 EcoDiesel had the half-ton pickup market to itself until it was phased out due to emissions certification problems. Finally, consumers will be able to opt for this impressive powertrain – one that's much stronger than before! Although some may see the initial higher upfront costs of diesel engines as a deterrent, many enthusiasts find diesel engines appealing thanks to the better fuel economy, overall range, and all that extra torque that makes towing and hauling feel effortless. Diesel engines also last longer, so potential buyers could essentially see a diesel-powered pickup as a long term investment.
We're happy to see a diesel option back in the Ram half-ton pickup lineup for the 2020 model year. Often lauded for its smooth driving and good fuel economy figures, it's hard to fathom that a new-and-improved version of this engine would be making the headlines for nothing but good reasons. Follow University Dodge on social media to stay up to date with the latest Ram news.
Photo Source/Copyright: Edmunds