2019 Ram Chassis Cab Goes Hi-Tech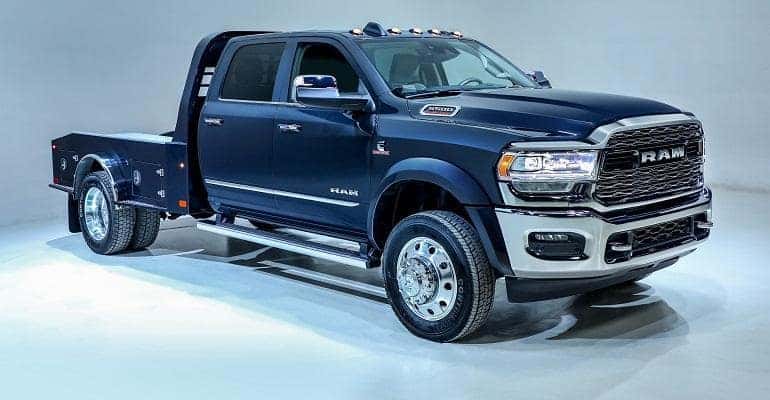 The 2019 Chicago Auto Show is in full swing, and once again Ram trucks are garnering all the buzz. After recently introducing the redesigned heavy-duty lineup at the 2019 Detroit Auto Show, it's the redesigned Ram Chassis Cab's turn at bat. So what's new on the Ram Chassis Cab that's got tongues wagging? Let's find out.
Fiat Chrysler Automobiles (FCA) states that the 3500, 4500, and 5500 Chassis Cabs will offer segment-leading towing capacity at 35,220 pounds, and a massive payload of 12,510 pounds. An updated Cummins diesel inline-six engine now offers up to 800 lb-ft of torque – the most in Class 4 and 5 trucks. Additionally, the new Chassis Cab pickups are 120 pounds lighter than their predecessors' thanks to new and improved 97 percent high-strength steel frames used to construct the truck body.
The 6.7-liter Cummins engine isn't the only option, in fact, the standard under the hood of the 2019 Chassis Cab trucks is a 6.4-liter HEMI V8 capable of generating 410 horsepower and up to 429 lb-ft of torque. Paired with either a standard TorqueFlite eight-speed automatic transmission or an option Aisin six-speed automatic with power take-off, the Chassis Cab also offers cylinder deactivation as a means to improve fuel efficiency. Cylinder deactivation, or Multi-Displacement System as it's officially known, will shut down four cylinders when cruising at highway speed to save on fuel consumption. Once the throttle is applied, the cylinders will reactivate and automatically kick back in.
According to Ram, the above-mentioned Aisin transmission uses a new controller, for improved response time and precision when shifting under all conditions. Upgraded four-wheel disc brakes offer a better feeling pedal and shorter stopping distances as well. Ram Chassis Cab trucks are available in four industry-standard lengths. All trims feature a flat mounting surface in the back complete with upfit-readiness and accessory installations availability. New powertrain mounts and C-pillar body hydromounts work in tandem to help reduce noise, vibration, and ride harshness.
Adaptive cruise control, forward collision warning, automatic emergency braking (AEB), and AEB for trailer brakes are some of the advanced safety systems available on all trim levels. The new Chassis Cab trucks also come equipped with parking brake sensors, a 270-degree camera, trailer reverse guidelines, and a cargo-view camera that can be accessed via the truck's touchscreen. Speaking of touchscreen, the new Chassis Cab features FCA's 12-inch Uconnect touchscreen that debuted on the all-new Ram 1500 – but with specific functions tailored to big trucks. A new instrument panel and a choice of four different audio systems, including a 750-watt Harman Kardon sound system, are some of the latest features.
There's also a new bank of buttons and switch-controlled accessories, including a new HVAC system that offers 30 percent more airflow at lower noise levels. Wireless charging for cellphones, additional cabin storage space, a total of five USB ports, and two available 115-volts outlets are some of the Ram Chassis Cab's tech- and comfort-inclined features. The all-new 2019 Ram Chassis Cab is set to go on sale during the second quarter of 2019, with pricing to be announced at a later date.
Let University Dodge be your source for all your commercial vehicles needs. Explore the all-new heavy-duty Ram trucks, commercial incentives and follow University Dodge on social media to know when the 2019 Ram Chassis Cab becomes available.
Photo Source/Copyright: Ram