2018 Ram 1500 Wins Industry Leader's Interior Award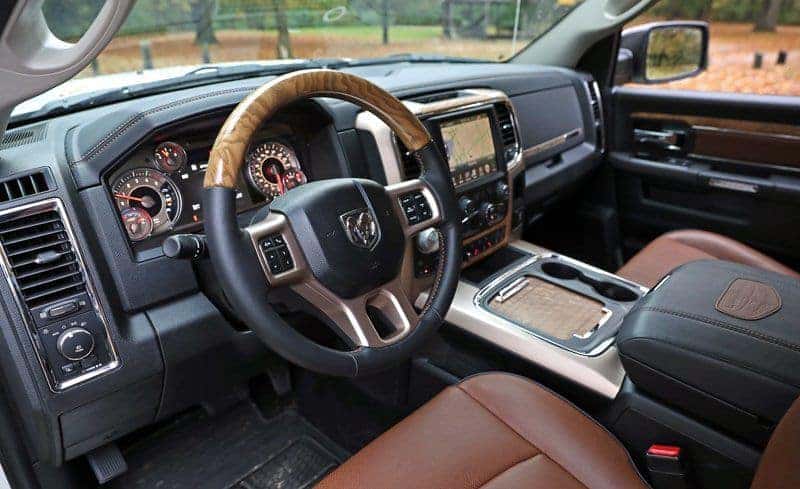 The 2018 Ram 1500's amazing craftsmanship is a sight to behold, so much so it was recently the only pickup selected in Autotrader's list of 10 Best Car Interiors Under $50,000. The editors rated interiors on interior comfort, quality of materials and logic of use to inform consumers about which vehicles have provided the best options. Interior design and quality were the deciding factors earning the Ram 1500 a spot on this year's list.
Mike Manley, Head of Ram Brand, Fiat Chrysler Automotive commented on the award,. "We are pleased that the Ram 1500 has been recognized among the industry's best interiors, and proud to be the only truck to earn this distinction." He also added, "Ram trucks have earned a reputation for long-lasting reliability, hard-working capability, comfort and refinement"  
2018 Ram 1500 Interior Features
The 2018 Ram 1500 has interior features that exceed the expectations, regardless of trim. A comfortable and quality ride for owners to experience every day starts seating features. Not only does the 2018 Ram 1500 include standard 40/20/20 split folding bench seat, but seating options range from premium cloth seats to leather seats to leather seats that are also heated and ventilated seats. Buyers also have the option of luxury seats with luxury finishes like the seats o on the 2018 Ram 1500 Tungsten Limited Edition, which has hand-stitched leather that runs throughout the console.
The 2018 Ram 1500 provides owners with a great infotainment system on all 11 trims. The vehicle's base trim is equipped with an award-winning 8.4-inch Uconnect touchscreen system, which is responsive and easy to use. Speaker options begin with a six-speaker system and go up to nine powerful Alpine speakers that provide crisp sound.
Some trims provide dual-zone automatic temperature control and another nice feature is the available rear sliding window, capable of being opened with the simple press of a button. No other pick up truck provides as much power and comfort as the Ram 1500 series.
More Unique Features of the 2018 Ram 1500
The 2018 Ram 1500 is the only light-duty truck on the market to provide drivers with a diesel engine option, which provides awesome torque and a fuel efficient engine. The Ram 1500 HFE comes standard with a 3.0-liter EcoDiesel engine and it provides 240 horsepower and 420 lb-ft of torque. That's an option that many pickup truck owners want, especially upon learning that this Ram 1500 provides drivers with up to 27 mpg on the highway. Due to the diesel engine's torque, the Ram 1500 HFE has a maximum towing capacity of 9,290 pounds.
Where to Test Drive a Ram 1500
Overall, regardless of which trim or model 2018 Ram 1500 you want, there's one place you should go to that has this awarded pickup today, University Dodge! Right now you can experience this award winning interior at University Dodge. Our supporting professional staff will accommodate you and ensure any questions are answered. We have a dedicated service team for any repairs or oil changes, check up visits or vehicle servicing you might need going forward. Let our entire staff welcome you to University Dodge.