University Dodge Sponsors NSU Athletics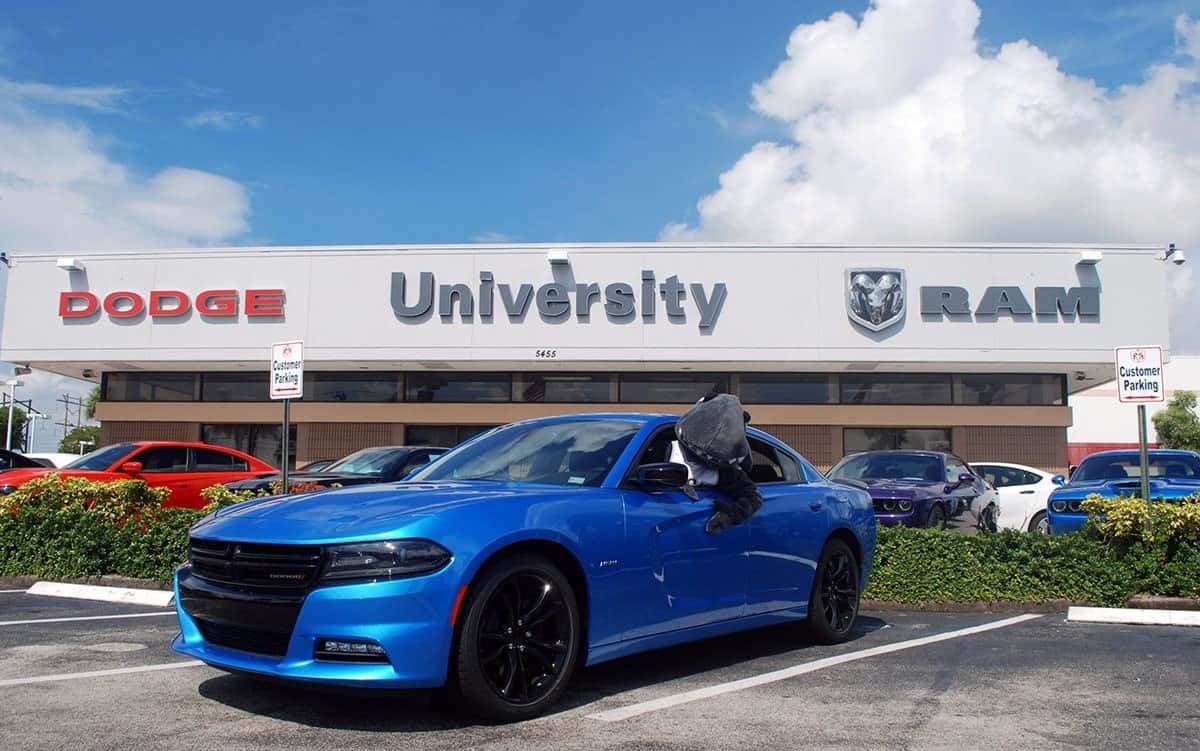 This year, University Dodge is out and about in the local South Florida community. In addition to sponsoring the Davie Pro Rodeo events at the Bergeron Rodeo Grounds, we are the proud title sponsor of Nova Southeastern University's athletics department for the 2016-2017 academic year. From August to June, we are working with NSU's alumni, professors, employees, students and talented athletes to support NSU's athletics program and to get Sharks affordably into vehicles.
To support the athletics department, University Dodge will be attending volleyball, soccer, basketball and baseball games giving away prizes and cheering on the athletes throughout the year. Occasionally, we'll even have one of our vehicles on display at the Don Taft University Center so everyone can get a closer look at all of the excellent features available on Dodge vehicles and Ram trucks.
In addition to showing our Shark spirit at the games and our affiliate program, University Dodge will also be participating in various events around Nova Southeastern University's campus.
So if you're a student looking for some free stuff, be sure to think about us. Not only will we be giving away free stuff when we are on campus, all year we are giving NSU students, alumni and staff an hour of free bowling at SpareZ (located behind our store) to anyone who test drives a car, SUV or truck. Yep, one hour free bowling for having fun in one of our vehicles.
So if you really want to capitalize on all of the goodies we're giving away this school year, come check us out at all of the games we'll be at the NSU Arena at the Don Taft University Center and at the NSU Soccer Complex.
Volleyball games at the NSU Arena at the Don Taft University Center
Oct. 6 NSU vs. Florida Tech Shark Night
Oct. 18 NSU vs. Barry Think Pink Night
Nov. 18 NSU vs. Saint Leo
Men's and Women's Soccer at the NSU Soccer Complex
Sept. 1 NSU Women's Soccer vs. Webber International
Sept. 2 NSU Men's Soccer vs Mississippi College
Sept. 7 NSU Women's Soccer vs Florida Memorial
Sept. 9 NSU Men's Soccer vs West Alabama
Sept. 17 NSU Men's Soccer vs Tampa
Sept. 21 NSU Women's Soccer vs Embry Riddle
Oct. 8 NSU Men's Soccer vs Saint Leo
Oct. 12 NSU Women's Soccer vs Florida Tech Shark Night + Think Pink Night
Oct. 22 NSU Women's Soccer vs Eckerd
Oct. 28 NSU Men's Soccer vs Florida National University Think Pink Night + Senior Night
Whether you are looking for something fuel efficient, or with spacious seating for large groups or even a truck, we've got something for everyone. And, if you are shopping on a budget or looking to have the most eye catching car on the Nova campus, we can help you. If you are shopping for a new car, feel free to check out this page for an overview of all of the new Dodge and Ram vehicles available at University Dodge.
Additionally, if you are just looking for a place to get a quick oil change between classes, stop by University Dodge. We are located just 2.8 miles south of the university on University Drive. We offer affordable express oil changes, so we won't keep you from your precious study time.