Uconnect Performance Pages for Dodge//SRT Performance Vehicles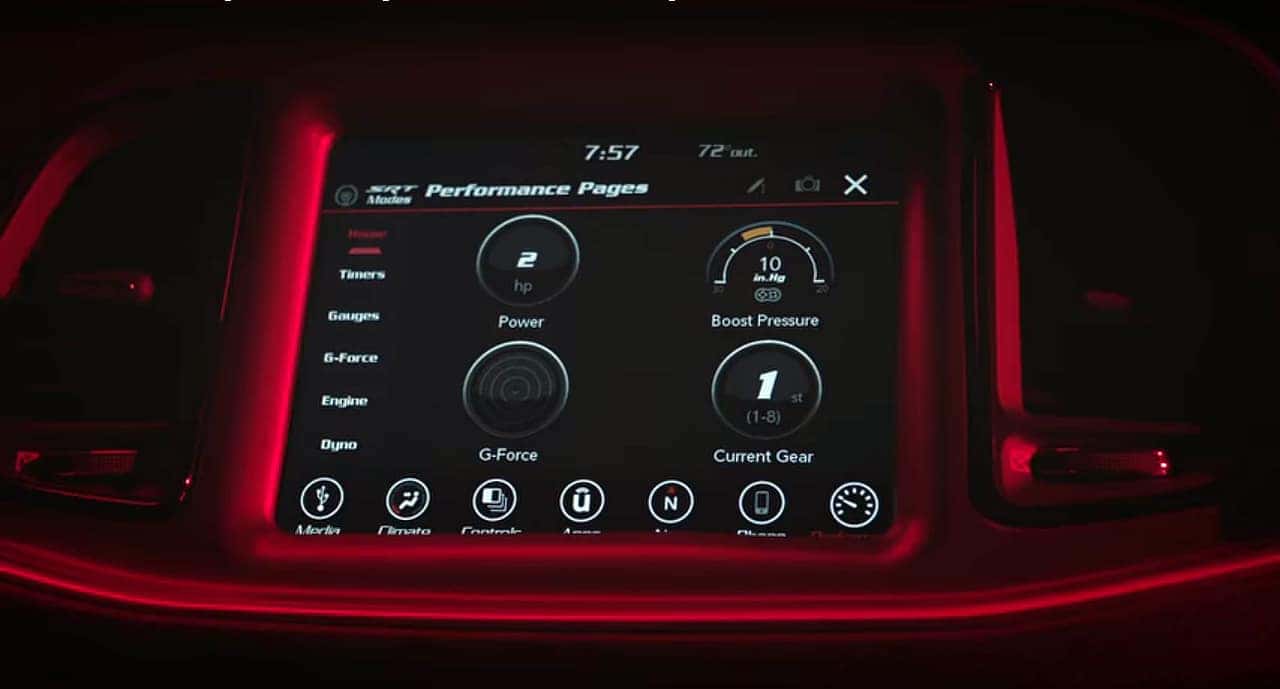 For owners or potential owners of Dodge//SRT vehicles, knowing the performance of their vehicle is critical, or entertaining at the very least. Everything that goes into owning a performance car is built off of an appreciation for the precise tuning and high-performance engine capabilities.
Now, almost like a video game, an owner can monitor the specifics of his or her own Dodge//SRT vehicle within the Uconnect Performance Pages App, which provides all the info a driver wants to know about their vehicle's performance. Within the app, users are able to access real-time data about how their vehicle is running as well as a visual of the engine on screen.
A driver can skip from managing audio controls to looking at their engine data and see their engine performance, gauges, G-force and timers that measure 0-60 mph or 0-100 mph acceleration times.
For example, if a driver chose "Timers" on the Timers tab, they can see the "Best," "Last" and "Current" run times. Drivers don't have to worry about any timers turning off because they automatically run at all times.Timers page is only visible when the driver selects the Timers soft-key, and when the vehicle is on, but at a complete stop. Data from the Performance Pages App can be shared or downloaded onto a memory stick, SD cards or USB transferring is easy to do as well as using the web from within the vehicle.
UConnect allows for the system to run effectively, with visuals providing detailed images for every performance data measurement. The cellular connection in the vehicle will automatically save the file to either DriveSRT.com, Dodge.com or Chrysler.com and you'll use a log-in to retrieve the data. Files will download in HTML format.
The only drawback is only the 10 most recent saved runs are stored and available to transfer over. Make sure a vehicle is at a complete stop when you want to access this information, but ensure the vehicle is on and running.
Requirements for the Performance Page App are owning a SRT vehicle, Dodge Challenger, Dodge Charger with a JAZ sales code properly equipped with an 8.4A or 8.4AN Uconnect Access System. Registered vehicles with UConnect will have access and an active subscription to use the Performance Pages App as often as they want with a proper 3G cellular signal. The app is pre-loaded from the factory, so owners don't have to worry about installing the Performance App.
To learn more about Performance Pages or driving a wonderful SRT vehicle, look no further than University Dodge. We're the largest SRT dealer in Florida, so we have all of the latest models that other dealers can't get. Come by and visit us and we'll be happy to show you all our latest SRT models and let you test drive your favorite model!