The Upcoming Dodge Durango SRT vs the Jeep Grand Cherokee SRT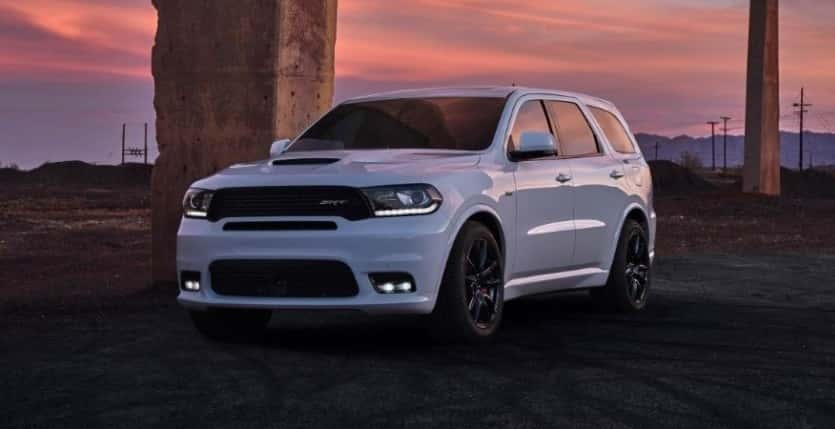 The 2018 Dodge Durango SRT and Jeep Grand Cherokee SRT are fast performance SUVs engineered by FCA (Fiat-Chrysler Automobiles). If you are wondering what the differences are between these two SRT SUVs and which one is the best option for you, read on.
Performance Features and Specs
Both SRT models are equipped with the 6.4-liter HEMI V8 SRT 392 engine and they both are equipped with an eight-speed automatic transmission and produce an impressive 475 horsepower. Both of these SRT vehicles come with additional performance features as well. The Jeep Grand Cherokee SRT has performance features like launch control, eight drive modes and all-wheel drive. The Durango SRT has features like a functional cold-air duct hood and an active damping system that opens and closes the suspension's damper valves in relation to seven different provided driving modes, so the driver has plenty of performance options.
Space and Style
Both vehicles are quite similar when it comes to performance and parts, but very different when it comes to style and interior space. The Durango is a three-row six-passenger SUV and the Grand Cherokee is a two-row five-passenger SUV.
Both SUVs have aggressive styling with a smooth, comfortable and luxurious interior.  The Durango SRT has a special SRT hood, massive Brembo brakes, New Pirelli 295/45ZR20 Scorpion Verde all-season tires, 20-inch wheels, gloss-black and chrome finish exhaust tips, and more. The Grand Cherokee SRT rides on 20-inch wheels, performance tires, and has a sport body kit and fog lights.
A leather wrapped flat-bottom steering wheel, carbon fiber interior accents, a 8.4-inch touchscreen, and more are standard inside the Jeep Grand Cherokee SRT. Inside the 2018 Dodge Durango SRT are Nappa leather seats, the same 8.4-inch touchscreen, and a configurable TFT screen.
Price
In comparison to other luxury and performance SUVs, both the Durango SRT and Grand Cherokee SRT are some of the most affordable in their class. The price of the Durango SRT price hasn't been announced yet and the price of the Grand Cherokee SRT starts at $67,990.
Keep up with us on Facebook and Twitter for news regarding the Durango SRT and its release date as it is released. Until then, check out our large inventory of Dodge Durango models at University Dodge here.
Photo source: Car and Driver