The Challenger Hellcat Gets the Sleigh Treatment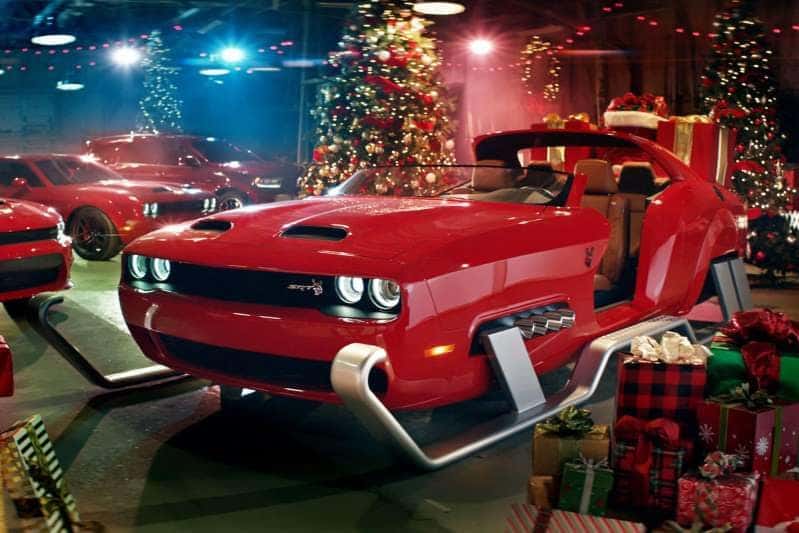 The holidays are a time for creativity – activities run the gamut from baking goods, making crafts, to simply decorating in theme. Who says that automakers can't get in on the holiday fun as well? Year after year automakers attempt to redesign Santa's sleigh with a vehicle from their lineup, and while Dodge isn't the first car brand to take a crack at it, it's safe to say that no other brand has done a better job. Dodge transformed one of their Challenger Hellcat vehicles into what's sure to become Santa's fastest ride yet – it's a sleigh that can't be topped or beaten in a race.
The sleigh initially premiered in one of the automaker's new holiday ads showing a beefed up Santa (former professional wrestler Bill Goldberg plays Santa) with an equally beefed up sleigh – based on the Dodge Challenger Hellcat Redeye. A supercharged 797-horsepower muscle car doubling as a sleigh? Needless to say, Santa will have plenty of leftover delivery time this year thanks to his new ride. A chopped up Challenger coupe doubles as a sleigh with its massive metal runners replacing the four wheels, while the roof, the doors, and half of the windshield are all removed for that open-air feel.
Switching from reindeer power to horsepower is easy with the supercharged 6.2-liter Hellcat HEMI V8 that's under the hood, but reindeer aren't forgotten altogether – there's a new Hellcat logo with antlers on the front grille as a nice finishing touch. For those who dig the Hellcat emblem with antlers, Dodge will be offering t-shirts with it in their online store for a limited time during the holidays. Additional holiday merchandise will follow, including the version of the sweater that unconventional Santa wears in the commercials.
As we mentioned earlier, other automakers like Mercedes-Benz, Jaguar, and Lexus have all taken a stab at Santa's sleigh for the past holiday seasons, but none have gone as above and beyond as Dodge by building an actual sleigh. The ad campaign isn't the only material that will feature the sleigh, Dodge also plans to premiere their first-ever series during the month of December (2018) across several social media platforms. Dodge says that the series is modeled on a car restoration program intended to showcase the sleigh's various features, the process of overhauling the original Challenger, and to explain how the idea came to be.
Dodge did not have any new products for their aficionados at this year's (2018) LA Auto Show, but they did exhibit their unusual Dodge Challenger Hellcat Sleigh. Granted only Santa can get behind the wheel of this muscle sleigh, it was still a great opportunity to channel the brand's penchant for innovation and ease into the holiday spirit. Check out the commercial that started it all – the Dodge brand year-end "Upgrade" commercial below:
Is your ride due for an upgrade as well? Here at University Dodge it doesn't matter if you're on this year's naughty list, we say you deserve to treat yourself too! Check out the latest Dodge models and schedule a test drive today! You know you want to test that reindeer – err, horsepower for yourself.
Photo Source/Copyright: Dodge