The 1,000-HP Hellephant is Now Available For Pre-Order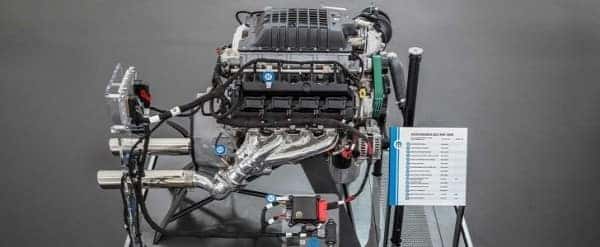 Is there such a thing as too much horsepower? Dodge and Mopar clearly don't think so and they wanted to celebrate Hemi Day by launching pre-order access to its 1,000-horsepower Hellephant engine. Steve Beahm, head of Mopar and passenger car brands over at Fiat Chrysler Automobiles (FCA), issued a press release stating "Power and performance are ingrained in our brand's DNA, and there is no better time to open preorders of this 1,000-horsepower, supercharged engine than on Hemi Day." Does the idea of Hemi Day sound a little dubious? Well, it's the real deal and it takes place on April 26 as "the annual celebration of all things Hemi," according to FCA. The renowned 426 Hemi engine debuted more than 50 years ago.
The Hellephant debuted at the 2018 Specialty Equipment Market Association (SEMA) Show in Las Vegas this past October, much the same way that the Hellcrate engine was unveiled at the same show in 2017. Mopar sells the Hellephant 426 Supercharged Crate Hemi engine at a cost of $29,995. Sold as an engine kit, the Hellephant "provides relatively easy plug-and-play for experienced installers." According to Mopar, the installation costs an additional $2,265. The Hellephant also features an all-aluminum block with 426 cubic-inch displacement complete with a supercharger to push the engine to 1,000 horsepower.
The aforementioned installation kit includes various sensors, a throttle pedal, wiring looms and additional electronics required to complete the V8 installation. Although enthusiasts might be over the moon with such a potent engine, the truth is that this engine and kit are both specifically designed to fit in pre-1976 Challenger models. Pre-1976 models actually predate EPA requirements for emissions equipment such as catalytic converters among others. DIYers that live in states with lax emissions laws can also take on the project and swap this engine into a newer Challenger model with a bit of tinkering.
Mopar and Dodge say that public interest in the Hellephant has been strong – so far nearly 1,000 people have expressed interest in buying one since the engine's initial debut at the 2018 SEMA show. Unveiled along with a 1968 Dodge Super Charger Concept, the Hellephant is the perfect inspiration for those enthusiasts willing to work on their project cars. Beahm also stated, "The reaction when we revealed the 'Hellephant' engine at the SEMA Show was just amazing, and the momentum continued after the show, with close to 1,000 people expressing an interest in buying this engine."
Preorder information will be available on www.createhemi.com for those interested in investing in their project cars. Mopar will finalize the launch of the Hellephant with the release of a video across the brand's social media channels to complement the teaser videos initially released in the lead up to the 2018 SEMA Show. If you would prefer to order your Hellephant crate engine from University Dodge, we are here to assist. Follow University Dodge on social media for the latest Dodge news. Explore the current Dodge lineup in our University Dodge inventory and schedule your test drive today!
Photo Source/Copyright: AutoEvolution.com