SRT Demon Power Chiller Wins Popular Science Award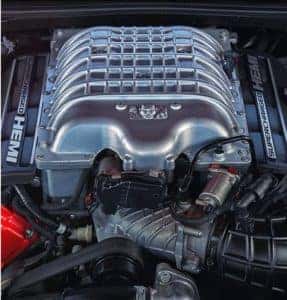 The 2018 Dodge Challenger SRT Demon has over 90 new parts that were specially designed and integrated into the engine's built for maximum performance. One of these components is known as the innovative SRT Power Chiller™. Many parts go into delivering cool air in the SRT Demon engine, but the Power Chiller can be said to be where the magic happens. It works so well that the SRT Power Chiller actually won the "Best of What's New Award" 2017 from Popular Science.
Without the SRT Power Chiller, reaching a maximum horsepower of 840hp would be a near impossible feat for the 2018 Dodge Challenger SRT Demon. Think about this for a second. Variable valve timing (VVT), the process that alters the valve open and close events of an engine's cylinders prior to and following the combustion cycle, has been implemented into the SRT Demon engine. Optimized for quicker valve lift events, the engine is burning air and fuel constantly. The process is able to work harder and faster without overheating engine parts because of the power chiller, that literally cools down not just the air but also the many components that make up the supercharged 6.2-liter HEMI® Demon V8 engine.
There are two main liquids that also play a large part to keep an engine running. Known as liquid coolant and gas refrigerant, these two are constantly heating up after each cycle or circuit when air and fuel is fed into the Demon V8 engine. They need to be kept cool to work efficiently, and part of their travels lead them both through the SRT Power Chiller to not only cool off but also cool the air down even more. All three meet as they pass through a component known as an "intercooler" and are then delivered to their respective systems for more power.
With the refrigerant and coolant kept cool, the engine won't overheat. With compressed, cold air there is more oxygen being delivered to the engine, and that equates to more horsepower being generated. Assuming all of the Demon Crate components have been installed, all the Dodge Challenger SRT Demon needs to generate all 840hp is 100+ high-octane unleaded fuel and the press of a button via the integrated Performance Pages system.
"The Best of What's New awards honor the innovations that shape the future … From life-saving technology to incredible space engineering to gadgets that are just breathtakingly cool, this is the best of what's new." – Joe Brown, Editor in Chief, Popular Science.
The SRT Power Chiller definitely fits into that category, and that's why it won the 2017 Best of What's New Award from Popular Science. What do you think about it? Could the 2018 Dodge Challenger SRT Demon revolutionize how high-performance vehicles are built today? Let us know your thoughts on social media.
Photo Source/Copyright: Dodge.com