Roadkill Nights Powered by Dodge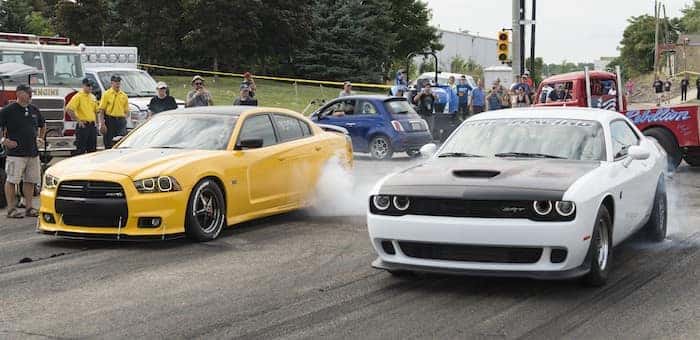 "Roadkill Nights Powered by Dodge" is back and bigger than ever to kick off cruise week for 2019. MotorTrend Group's event will be adding Friday night activities in addition to bringing back legal street drag racing on the iconic Woodward Avenue pavement that takes place on Saturday night of the eventful weekend. This year's event is set to deliver high-octane thrills with exhilarating experiences such as thrill rides in the 707-horsepower Dodge Charger SRT Hellcat and 717-horsepower Dodge Challenger SRT Hellcat models, celebrity showdown races, and an overall $40,000 purse that includes $10,000 of that going toward the United Way. 
This is the fifth year of "Roadkill Nights Powered by Dodge." The event is intended to celebrate Motor City's automotive culture by including a classic and modern muscle car show, its popular legal street drag racing, and many other activities that are set to take over the M1 Concourse in Pontiac, Michigan. The "Roadkill Nights Powered by Dodge" event marks the kick off to the town's traditional weeklong celebration of classic cars and car culture – like a timely ode to the industry that brought Michigan to life in the twentieth century. 
"Roadkill Nights Powered by Dodge continues to grow each year since we introduced this event five years ago, so we're answering enthusiast demand by adding a day of fun so even more people can participate in the celebration of America's muscle car culture. It's also a great opportunity for participants to race in a sanctioned environment on historic Woodward Ave," said Mark Malmstead, the head of Dodge/SRT Marketing. 
Fans will be overjoyed to learn how much more they can do with the addition of Friday night activities such as meeting some of the drivers of the fastest street legal drag cars in America while watching famed Woodward Avenue shift from a street into a drag strip overnight. On Saturday night two drag races are slated to take place – the Big Tire and Small Tire races – competing for a cash purse of $30,000. Each race has the same payout structure in the amount of $15,000 per class with the $10,000 we mentioned earlier going to the United Way. The payout is as follows:
Winner – $5,000
Runner Up – $1,500
Semi-Finalists – $750 (2 payouts)
Quarter Finalists – $500 (4 payouts)
Fastest Dodge-powered vehicle – $5,000
Attendees will have the chance of a lifetime to ride aboard supercharged HEMI-powered vehicles like the Challenger SRT Hellcat and Charger SRT Hellcat models we mentioned earlier. The vehicles will be in two locations within the M1 Concourse, both on the skidpad and north loop portions of the track. Celebrity racers like Leah Pritchett and Matt Hagan will be present for the festivities with their respective Dodge/Mopar Top Fuel Dragster and Dodge Charger SRT Hellcat Funny Car. A Dodge Challenger SRT Demon simulator will also work to induce high-octane virtual head-to-head racing thrills, while a family-friendly Kid's Zone, flamethrower and wheelstander exhibitions along with an eclectic array of food trucks make this an event apt for the whole family. 
The event is scheduled to take place during the weekend of August 9, 2019 with general admission to the event at $10 per person, per day (or $20 for a two-day pass,) while passes for Pontiac residents start at $5. Children under 12 years old are free. Street racing has serious legal and safety risks, the event is designated for enthusiasts to enjoy these activities in a safe and controlled environment. ROADKILL and Dodge want enthusiasts to enjoy drag racing run by professionals complete with driver evaluations, track safety measures and vehicle safety inspections. 
Follow University Dodge on social media to see footage from the event when it takes place this upcoming August (2019). 
Photo Source/Copyright: Fiat Chrysler Authority