Ram Truck Center at University Dodge Ram – Explore Every Truck and Trim
Whether it's work or play, Ram trucks can do it all. The incredible selection across the Ram lineup ranges from the all-new Ram 1500 (Motor Trend's Truck of the Year), the classic 1500, to the heavier duty haulers like the 2500 and 3500. Commercial vehicles on the Ram lineup include the Chassis Cab variants and the Ram Promaster vans – both city and cargo editions. There's a trim for every need, whether owners are interested in commuting, off-roading, working and everything in between.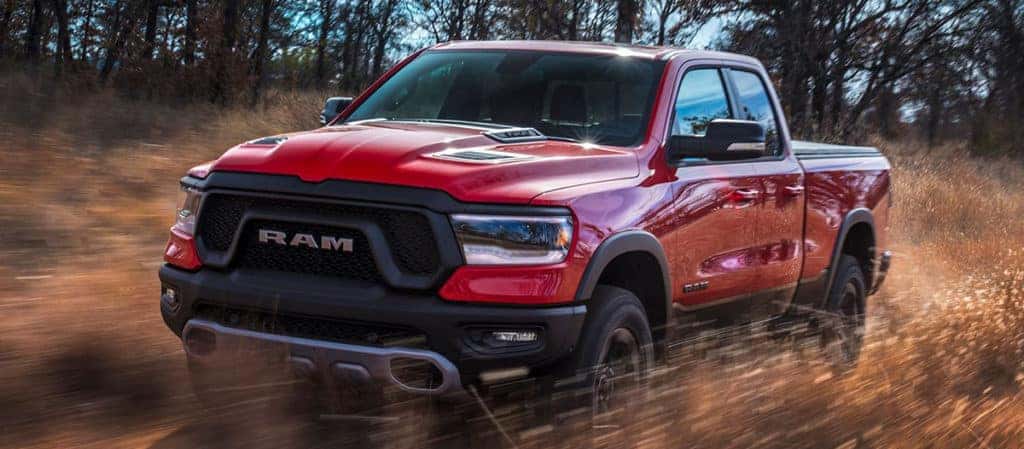 All-new 2019 Ram 1500
The all-new Ram 1500 is a light-duty full-size pickup truck prized for its efficiency and capability. Offered in seven different trims – Laramie, Big Horn, Tradesman, Limited, Laramie Longhorn, Rebel, and Big Horn Lone Star, the Ram 1500 is made of a high-strength steel frame, boasts improved aerodynamics thanks to its elevated hood and sculpted roof design, and rides smoothly like a sedan thanks to its class-exclusive air suspension system. The standard 3.6L V6 engine generates 305 horsepower and 269 lb-ft of torque, but those seeking a bit more power and improved towing capacity can upgrade to the 395 horsepower 5.7L HEMI V8 engine that's offering up to 410 lb-ft of torque. With a towing capacity of 12,750 pounds (when equipped with the V8 engine), the all-new Ram 1500 boasts the most towing capability ever in a Ram 1500. Fuel Efficiency also improves thanks to the mild hybrid eTorque system that accompanies the engine by replacing a traditional alternator with a 48-volt battery-powered belt-driven motor generator. The eTorque motor generator improves performance, efficiency, payload, towing capability and drivability overall. With its bold new exterior, smart cargo management system, and more than 100 safety and security features, the all-new Ram 1500 is hard to beat. An off-road package that's standard on the Rebel is available for the other trims as an upgrade as well. The all-new Ram 1500 has a starting MSRP of $31,796 (plus destination fee).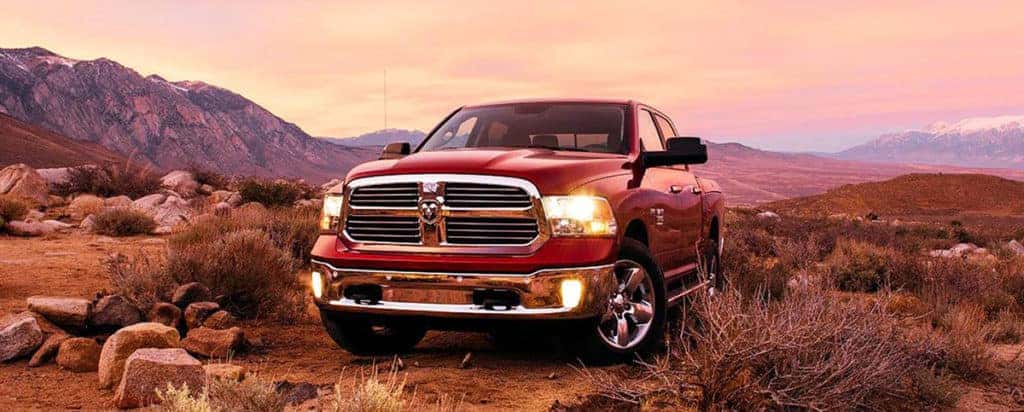 2019 Ram 1500 Classic
Also a light-duty truck, the classic Ram 1500 is available in three different trims: Tradesman, Express, and Big Horn – all trims feature a more aerodynamic frame of down-gauged steel where high-strength isn't required for lighter weight. Active-air grille shutters work to help the pickup cool its engine and reduce drag while improving efficiency. And speaking of engines, the Ram 1500 classic comes with a 3.6L V6 engine but offers the optional 5.7L HEMI V8 engine as an upgrade just like the all-new version mentioned prior. Additionally, Ram will be releasing a 3.0L EcoDiesel V6 engine during the first quarter of 2019 that will be an optional upgrade as well. A standard five-link coil spring rear suspension works to reduce the overall friction without sacrificing towing capability. Advanced tech and safety features available include the latest UConnect infotainment system with navigation, an 8.4-inch touchscreen display, a ParkView backup camera, and ParkAssist. The 2019 Ram 1500 Classic has a starting MSRP of $27,295 (plus destination fee).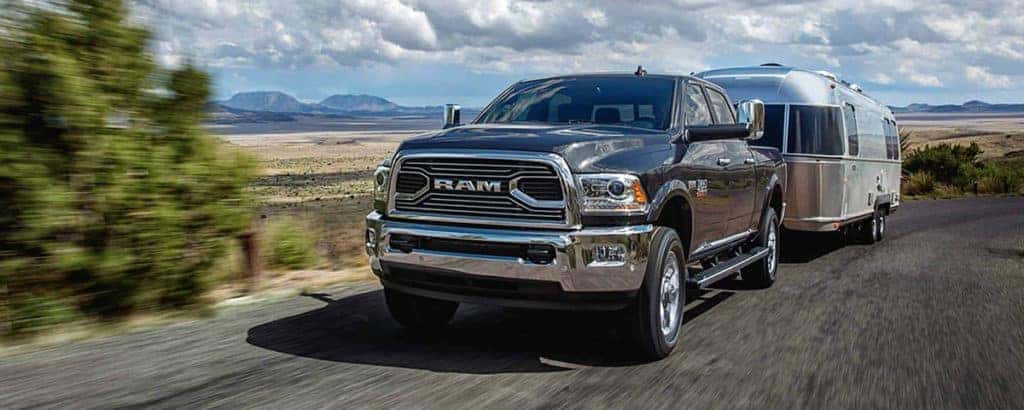 2018 Ram 2500
Commonly known as the Ram HD, the Ram 2500 opens up the heavy-duty category of Ram trucks. Offered in five different trims – Tradesman, SLT, Big Horn, Laramie, and Laramie Longhorn, the Ram 2500 shares the same five-link coil spring rear suspension with the 1500 that reduces overall friction in the system without sacrificing heavy-duty towing capabilities. An additional three-link front suspension helps give drivers and passengers alike a cushioned ride thanks to its stronger shocks and more outward-positioned springs. Standard is a 6.4L HEMI V8 heavy-duty engine, while an available 6.7L Cummins Turbo Diesel I6 engine offers an impressive 800 lb-ft of torque. A state-of-the-art, computer-controlled valve system called Ram Active Air was specifically designed to work with the Cummins diesel engine to automatically switch where air is pulled from to ensure optimal performance in all scenarios regardless of circumstances. Comfort and style are not sacrificed just because this truck is intended for heavy-duty tasks, the interior can be outfitted with finest trimmings like leather seats, a nine-speaker audio system, a heated steering wheel, and much more. The Ram 2500 has a starting MSRP of $33,045 (plus destination fee).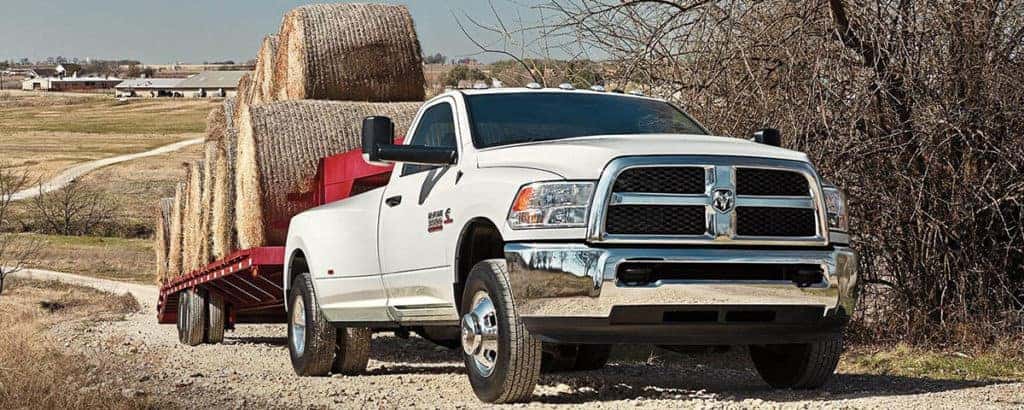 2018 Ram 3500
Unsurprisingly this is the beefiest of all the Ram trucks, but it's also the best performer. Available in multiple trims – Tradesman, SLT, Big Horn, Laramie, Laramie Longhorn, and Limited, the 3500 comes standard with a 5.7L HEMI V8 engine, but offers a best-in-class gas heavy-duty 6.4L HEMI V8 engine and the 6.7 Cummins Turbo Diesel I6 like the 2500. The Cummins-powered diesel option packs the biggest punch with 385 horsepower and up to 930 lb-ft of torque and up to 31,210 pounds of towing capability. Just like the smaller pickups, the 3500 is engineered to offer a quiet and smooth experience. A class-exclusive rear auto-level air suspension ensures that loads remain leveled no matter the cargo or terrain. With a simple push of a button, a driver can select between two smart ride height selections (normal or alternate) to better align a trailer while automatic electronic adjustments help maintain a level load. A nifty cargo-view camera is also available for the driver to view the truck bed contents on the 8.4-inch Uconnect display. The 2018 Ram 3500 has a starting MSRP of $34,445 (plus destination fee).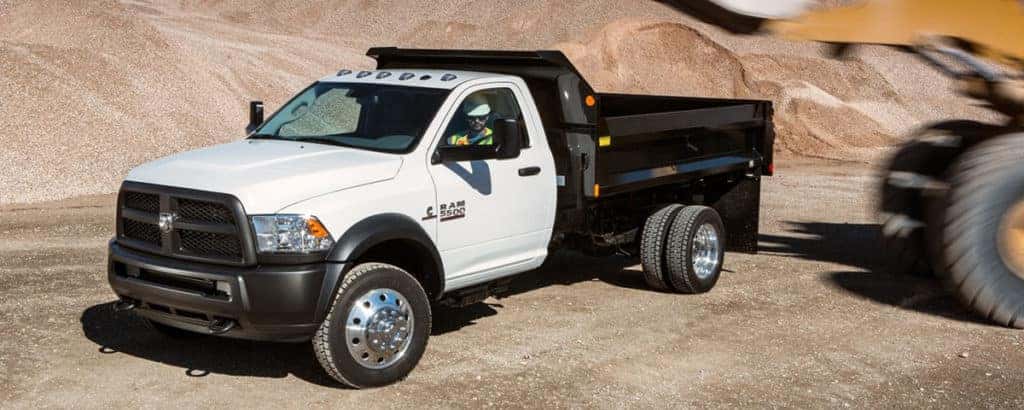 2018 Ram Chassis Cab
Those looking to get to work with a Ram truck should look no further than the Ram Chassis Cab as it's the ideal heavy duty work truck. Available in three variants and three trims – 3500,4500, 5500 and Tradesman, SLT, and Laramie trims, with single- or dual-rear-wheel setups, the Ram Chassis Cab gives owners the ability to tailor their truck specifically to their needs thanks to the various custom configurations offered. Just like the 3500 mentioned earlier, the Ram Chassis Cab (irrespective of variant) is also powered by the 6.4L HEMI V8 heavy-duty engine, while the 6.7L Cummins Turbo Diesel I6 engine remains a powerful upgrade. Numerous upfit options allow owners to take on any type of commercial business profession including landscaping, construction, emergency services, electrical, and plumbing. Standard tech features include six speakers, an audio jack input for mobile devices, a media hub with a 5-inch display (8.4-inch on the Laramie trim), and a remote USB charging port. The 2018 Ram Chassis Cab has a starting MSRP of $ 34,345 (plus destination fee).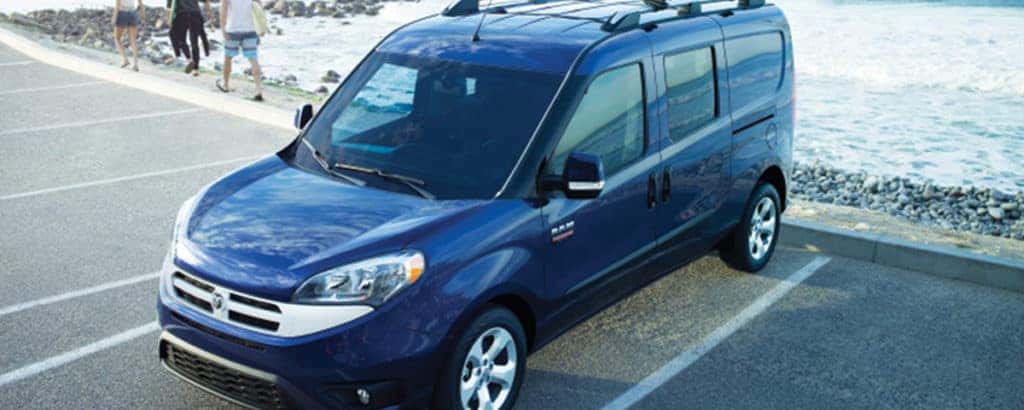 2018 Ram ProMaster City
Nearly a best-in-class winner all around, the 2018 Ram ProMaster City touts itself as the "Most Capable Work Van in America." Available in two different configurations – a wagon and a van – and in two different trims, the base Tradesman trim and the upper-level SLT trim, the ProMaster City boasts best-in-class 178 horsepower, 174 lb-ft of torque, and most importantly best-in-class 131.7 cubic feet of cargo capacity. Both, the wagon and the van configurations, are powered by a 2.4L four-cylinder engine paired to a nine-speed automatic transmission. Also, a winner when it comes to fuel economy, the ProMaster City averages 21 mpg in the city and a best-in-class fuel economy rating of 28 mpg on the highway. Standard features on the revamped 2018 model include a rearview camera, a 5-inch touchscreen Uconnect display, and Bluetooth connectivity. The 2018 Ram ProMaster City has a starting MSRP of $23,995 (plus destination fee).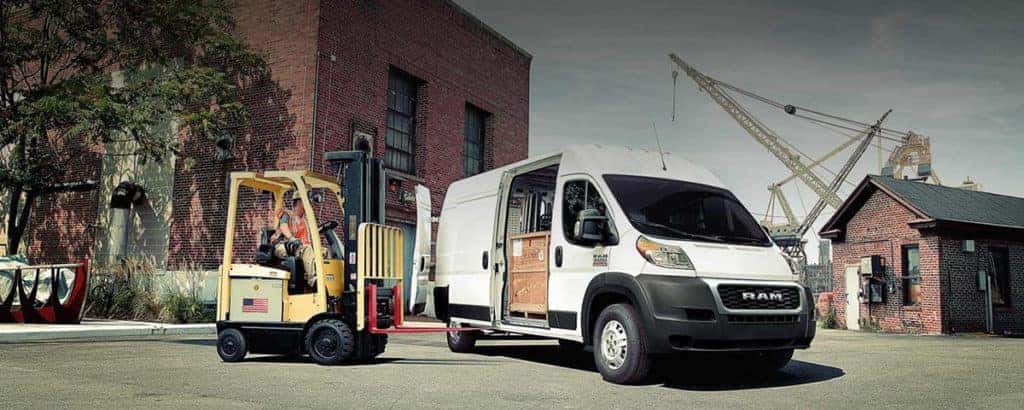 2018 Ram ProMaster
Loaded with a class-exclusive front-wheel-drive system, the Ram ProMaster has impressive traction and mobility while on the road. Just like its city-inclined sister, this ProMaster also stakes a claim on some best-in-class features like a 36-foot turning diameter that helps the van navigate busy job sites and narrow streets, plus a standard cargo height of 65.4 inches to optimize the storage space available. Just like the Ram Chassis Cab, the ProMaster is available in three different configurations – a cargo van, a chassis cab, and a cutaway van. Under the hood, a standard 3.6L Pentastar V6 engine provides strength and a smooth ride all while boasting a best-in-class horsepower of 280. Vertical walls in the cargo area help owners optimize their storage and upfit space against the walls, while up to 49-inch openings on the sliding side doors and an over 60-inch doorway in the rear function as access points large enough to accommodate standard pallets. The 2018 Ram ProMaster has a starting MSRP of $29,295 (plus destination fee).
Explore the selection of the latest Ram trucks here at University Dodge. Trucks of all trims and configurations are available in our Ram inventory so that we may help you find a new pickup to meet your needs. If you've got any additional questions feel free to reach out via University Dodge social media.  
Photo Source/Copyright: Ram Trucks