Overview of Dodge's History of Funny Cars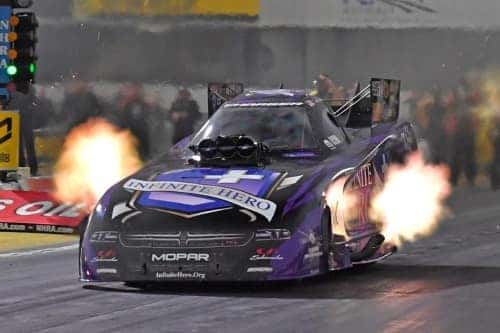 For those who appreciate fast vehicles, Funny Cars have a special place among the fastest vehicles in the world. NHRA racing has grown in popularity over the last decade and includes some prominent Mopar-powered Dodge vehicles in their arsenal. Most recently, a trio of Dodge Charger R/T Funny Car drivers advanced to the semifinals at Gainesville Raceway for the 49th Annual NHRA Gatornationals (National Hot Rod Association) which was ultimately won by Jack Beckman driving a Infinite Hero Dodge Charger R/T, hitting a mind-blogging 332.18 MPH.
Just How Fast Do Funny Cars Really Go?
339 MPH is the fastest recorded time a Funny Car dragster has hit while racing at the NHRA Heartland Nationals in July 2017 by Robert Hight, and every year or so a new record time is set. It takes great innovation to continue setting these records. With the help from Dodge and Mopar, the SRT brand is continuing to provide top notch engineering that has lead to very competitive racing vehicles. The spirit of driving fast vehicles has pushed Dodge and SRT to continue their work for non-professional drivers as well.
Dodge and Mopar
Dodge has worked with Mopar to be the source of genuine parts and accessories for all FCA US LLC Vehicle brands and since the 1960s Mopar established itself as the top performance parts provided, not only state side, but around the world.
For Fiat Chrysler Automobiles (FCA) Dodge and SRT are the standard, mainstream performance brands in North America. With Dodge becoming the flagship brand for performance vehicles and SRT as the benchmark for the fastest production vehicles on the market today. Their work has culminated into vehicles like the Dodge SRT Hellcat models in the Dodge Charger and Dodge Challenger, but also in top of the line, full-sized SUVs like the Dodge Durango.
Dodge SRT Hellcat and Dodge SRT Demon
The most recent impressive example of reaching new heights came in the form of a 707-horsepower HEMI V8 engine that powers the 2018 Dodge Challenger SRT Hellcat and 2018 Dodge SRT Charger Hellcat with an impressive 645 lb-ft of torque.
The 2018 Dodge Challenger SRT Demon is the latest vehicle to make waves, both on the race track and for lucky drivers to get their hands on this exclusive SRT vehicle. Only 3,000 models are available in the U.S. and this otherworldly vehicle produces up to 840 horsepower and can go from 0-60 in 2.3 seconds. Hard to believe, but this is just Dodge and SRT engineering working at peak levels to give customers around the world something to truly marvel at.
Where Can I Get My Hands on a SRT Vehicle?
Visit University Dodge to find the largest collection of SRT vehicles in the southeast U.S. Our inventory ranges from the 2018 Dodge Charger SRT 392 to the 2018 Dodge Challenger SRT 392 to the 2018 Dodge SRT Charger Hellcat and 2018 Dodge SRT Challenger Hellcat. If you're in the market for a full-sized, luxurious SUV, look no further than the latest 2018 Dodge Durango SRT. And for those who want to be one of only 3,000 owners of the 2018 Dodge Challenger SRT Demon, talk to us, we can place an order for you.
Our professional staff at University Dodge knows a thing or two about fast vehicles. Stop by today for a test drive to experience for yourself what an SRT vehicle is all about. If you're in need of vehicle servicing or want to buy, trade-in, sell or lease a vehicle, we're your one stop shop. Best of all, we are open everyday for our customers. We look forward to treating you to a great time over here at University Dodge!