OITNB: Power in Transport Vans
When Jenji Kohan, the creator of the hit Netflix TV series, Orange is the New Black (abbreviated as OITNB) used a white passenger van (similar to one of the Ram cargo vans) in the second season's finale, she kind-of made the clunky, mundane vehicle, cool.
For three seasons, OITNB has kept the country in a binge-watching frenzy. The TV series is based on the lives of females living in prison and
mixes comedy and drama to narrate the characters' past stories. Not only does the show captivate audiences but it is highly awarded for comedy and acting.
One of the most important and discussed scenes from the series is the final scene of the second season's finale and stars a dull white passenger cargo van.
While being familiar with the show and season really makes this scene powerful, for non-watchers, here is a short explanation of how OITNB gave white passenger vans some new life.
Throughout the second season, prisoner Miss Rosa Cisneros is taken in the van to receive chemo treatment for cancer. From sporadic flashbacks of Rosa's life, the audience learns that Rosa is in prison for bank robberies and that she thrives off the excitement from stealing and making a getaway. Narration throughout the season also shows that Rosa is not as fearful by the thought of death, but as anti-climatically dying alone in prison.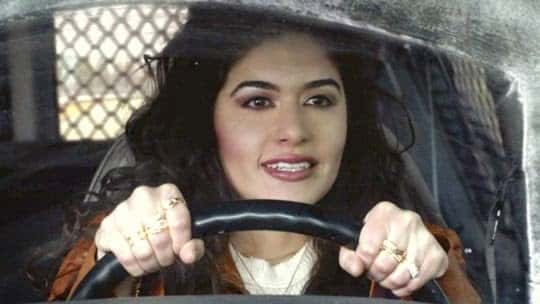 In the second season's final episode, Rosa learns that her chemo is ineffective and that she only has about 3-6 weeks to live. When Rosa returns to prison from the devastating appointment, the prison is in lockdown because one of the prisoners (also the main villain) has escaped. Amidst the prison's chaos, the van's driver (who knows Rosa's news) decides to let Rosa have a chance at living her remaining days as a free person and tells Rosa she is free to make an escape — just as she used to during bank robberies.
Not only is this scene representative of the idea of living out life to the fullest, but also that even though we may physically change (chemo has left Rosa looking completely different) who we are as a person doesn't
change.
And to make it better, as Rosa is escaping in the van, the hated prisoner who escaped, has made it to the road, Rosa sees her and runs her over in the van.
So if you drive one of these big clunky vans and hate it, just remember it has gained some powerful meaning for others, including Rosa.
Looking for a passenger transport van? Rob Lambdin's University Dodge has an awesome selection of Ram transport vans such as the Ram Promaster City available on our lot in Davie.