NSU and Shark Wrapped 2016 Dodge Charger SRT 392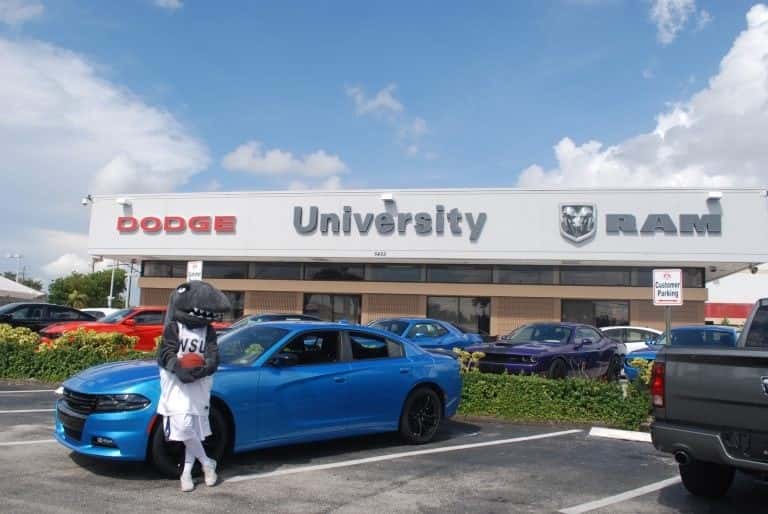 University Dodge is making a loud appearance with our bright and spirited NSU Shark wrapped 2016 Dodge Charger SRT 392 at select NSU volleyball and basketball games.
The 2016 Dodge Charger SRT 392 is equipped with one of the most powerful engines on the market and like nature's use of bright colors to indicate "danger," this powerful wrapped Dodge Charger is a vibrant blue hue called, Hyper Blue.
Adorned with NSU's official Shark logos and University Dodge badging, under the hood of the Charger SRT 392 is a 6.4-liter V8 SRT HEMI supercharged engine. SRT is short for "Street and Racing Technology," and it is special team of engineers that specialize in tuning Dodge engines and vehicles to maximize power and performance.
You'll never be late to class with the Charger SRT 392. It  produces 485 horsepower and 475 lb-ft of torque, which is more than the Chevy Camaro, Chevy Corvette and Ford Mustang GT. This baby accelerates from 0-60 mph in 4.2 seconds and does a quarter mile in 12.5 seconds.
Don't worry though, when you're cruising campus and you want to stop and say, "Hey" to a cute collegiate passerby, the six-piston Brembo brakes stop the vehicle at the drop of a dime. And unlike most muscle cars, the Dodge Charger is a four-door five-passenger muscle car, so you'll be able to take a couple friends to Panera or Mr. M's with you!
If you saw the vehicle on campus and you want to test drive it for yourself, come by University Dodge. We are located a few miles south of NSU on University Drive. We have a huge selection Dodge vehicles and Ram trucks!
Go Sharks!