Mopar Waits on the Green Light at the 2019 SEMA Show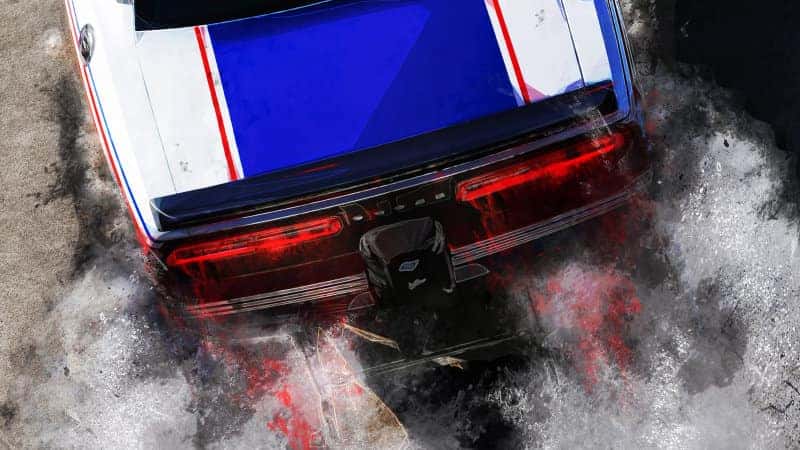 The Specialty Equipment Market Association (SEMA) show always goes above and beyond the expectations of spectators and this year (2019) is no different. Mopar fans especially always have numerous reasons to get hyped up and for 2019 the official aftermarket parts manufacturer from Fiat Chrysler Automobiles (FCA) is bringing 14 models. There'll be a 1968 Dodge D200 "Lowliner," an EcoDiesel Ram 1500 OTG overlanding pickup, and a custom off-road Wrangler among the models, but it's the 2020 Dodge Challenger Drag Pak that's sure to steal everyone's hearts. 
Nothing will be official until the show kicks off on November 5th, but Mopar did release a photo and a small teaser clip to get its fans riled up. Both the teaser and the photo show the Challenger from an overhead POV. The white Challenger pictured has a wide blue stripe down the middle of the vehicle, along with two pinstripes on each side. The words "Powered by SRT" are written across the top of the windshield, while Mopar logos can be found on both sides of the vehicle beneath the side windows. The teased vehicle also features hood pins on the SRT Hellcat hood and is completed by a parachute attached at the rear. 
The parachute is present because this is likely to be a drag-race focused Dodge Challenger race car — or at the very least a variant of said race car. Mopar hasn't really released much more information about the hardware of the Drag Pak, not about what's powering this Challenger under the hood. What Mopar did give enthusiasts is a preview of how the exhaust note will be in full tire-smoke mode. Check out Mopar's teaser video aptly titled "Tighten Your Belts!" below: 
Drag Paks in the past have managed to reduce the production starter vehicle's overall weight by roughly 1,000 pounds. Plenty of weight-saving techniques are likely to have taken place with this 2020 Challenger model. The removal of all interior comfort features that have no place on a race track was probably the very first thing Mopar tackled. Additionally, in other years Mopar and Dodge have altered the position of the engine and even managed to change the wheelbase around for improved weight distribution. 
Mopar will livestream the debut at 4:26 p.n. PST (7:26 p.m. EST) to coincide with the displacement figure of the vintage 426 HEMI engine on November 5th. Follow University Dodge on social media for all of the 2019 SEMA highlights. 
Photo Source/Copyright: Mopar/Dodge/Autoblog