Mopar Debuts 'Hellcrate' 6.2L Supercharged Crate Engine Kit at SEMA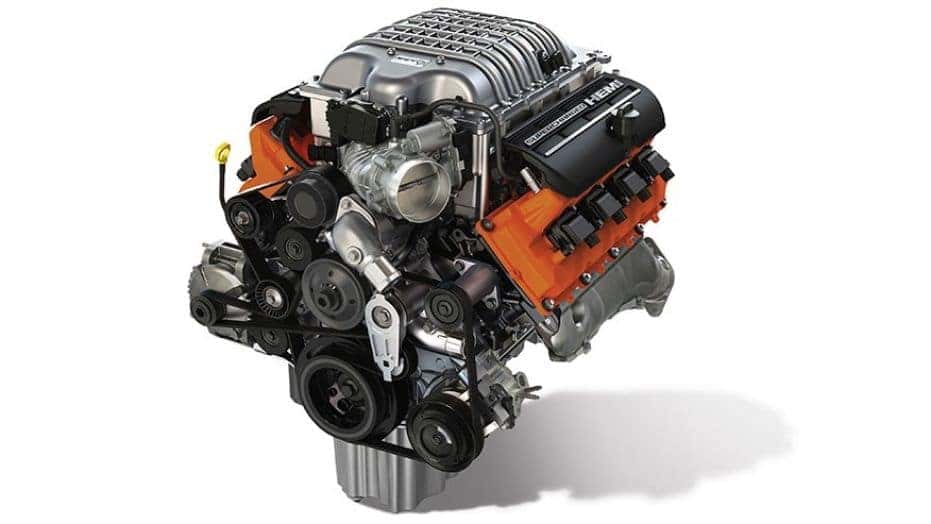 By popular demand, Mopar brand debuted the new Mopar 6.2L supercharged Crate HEMI Engine Kit at the 2017 Specialty Equipment Market Association (SEMA) show. The new engine kit is being referred to as the "Hellcrate" and it is the first ever supercharged kit that injects 707 horses and 650 lb-ft of torque under the hood of any car lucky enough to get this repower.
"Never before has a supercharged, factory-direct 707-horsepower crate engine kit been offered, and we are proud to be the first to deliver a solution enthusiasts have demanded," said Pietro Gorlier, Head of Parts and Service (Mopar), FCA. "This ultimate powertrain option fits the needs of owners and fans who demand iconic performance."  
The new Mopar "Hellcrate" HEMI kit offers an easy-to-use "plug and play" assembly that marries contemporary 707 horsepower with one-of-a-kind factory-backed quality.
The kit includes:
Powertrain Control Module (PCM)
Power distribution center
Engine wiring harness
Chassis Harness
Accelerator Pedal
Ground Jumper
Oxygen Sensors
Charge air temperature sensors
Fuel pump control
In order for buyers to get a better idea of how the "Hellcrate" actually works, there are some practical examples with a few added components below.
1970 Plymouth Superbird Tribute featuring Mopar "Hellcrate" HEMI Engine Kit
The star of Velocity's Graveyard Carz, Mark Worman, helped introduce the 345 and 392 Crate HEMI Engine Kits at this year's Specialty Equipment Market Association (SEMA) Show in Las Vegas.
Worman is a long time Mopar enthusiast and ambassador. Along with his Graveyard Carz team, Worman restored and replicated his limelight green Superbird, not before enhancing it with 707 horses and 650 lb-ft of torque. According to FCA, Worman dropped in the Mopar "Hellcrate" HEMI Engine Kit and 6.2-liter supercharged Crate HEMI Engine assembly in the Superbird clone. In order to provide added power, the Tremec Magnum six speed manual transmission kit and Front End Accessory Drive (FEAD) Kit were used.
While able to provide exceptional crisp shifts, the Tremec Magnum six-speed Transmission Kit is able to withstand 707 lb-ft of torque with a combination of strength and versatility. The FEAD kit is an engine accessory that includes an alternator, power steering pump, belts and more.
1968 Plymouth GTX featuring Mopar 392 Crate HEMI Engine Kit   
Another project that Mark Worman also took on was the revival of fellow Velocity TV personality and Mopar fan, Chris Jacobs' 1968 Plymouth GTX. After a small fire nearly destroyed the engine, Jacobs reached out to Worman to switch out the original 440 big block engine for the 392 Crate HEMI kit instead. As a result, the 6.4 Liter HEMI engine kit added 485 horsepower and 472 lb-ft of torque.
Along with the FEAD kit, the 392 Crate HEMI kit also includes:
Power distribution center
Engine and chassis wiring harnesses
Oxygen sensors
Charge air temperature sensor
According to FCA, the Plymouth GTX will be auctioned off for a charitable cause live on Velocity Network at the Barrett Jackson Collector Car Auction in January, with the Mopar engine swap also documented on a future episode of Worman's Graveyard Carz TV Show.
Share your thoughts on our social media page. We look forward to hearing from you!
Photocred: Mopar.com